Words by Iain Evans
---
The dust is finally settling after an epic 4 days in Athens at SCA's World of Coffee and the World Coffee Competitions (WCC) and it was incredible to see a close knit crew of South Africans there cheering and supporting on our 2 SA coffee champions, Stevo and Retha, as they competed in WBC and WCTC respectively. We are so proud of them and their performances! (You can read more about that here)
On the WBC stage, I was lucky enough to make my Emceeing début, alongside the legendary 2017 World Champ, Dale Harris, for the very first session of Day 1... and in that first session, was none other than Borum Um (Brazil), the eventual World Barista Champion and Jack Simpson (Australia), who came third! The other significant competitor from that first session, was Mariam Erin Pinza (UAE) who was not only competing in WBC but also in the Cezve/Ibrik World Championships the following day! (Which I was also Emceeing)
The biggest responsibility of the Emcees, other than informing the audience about what's happening on stage and keeping the flow of the competition going, is to make the baristas on stage feel welcome, comfortable and calm...because, as you can imagine, they are incredibly nervous, waiting around on stage before they start their set and afterwards, when the adrenaline is pumping and they are feeling very vulnerable, having laid it all out there on the line, and feeling such intense scrutiny.
So, as the Emcee, there is this very delicate, fleeting and intimate few minutes before and after the set, where you really get to be the only person that is there for them...so you give them a few words of encouragement, tell them that they are going to be amazing and, once they're done... that they have done an excellent job (even if they don't think so!) before you interview them live for the webstream and the live audience and these few minutes are really close moments.
Then there is the interview itself...trying to pick out the moments that you could see they excellened or the specific point they were making, to give them reassurance that they have been heard and understood. Also, to re-iterate to the audience that they have just witnessed a baristas last few months of absolute commitment, dedication, time and money to this last 15 minutes on stage.
So, when it was Boram and Jack in the Semi-Finals and then the Finals...I was delighted! (But sad too for Stevo and for the other couple of baristas that I had shared these moments with on that first day, that hadn't made it through)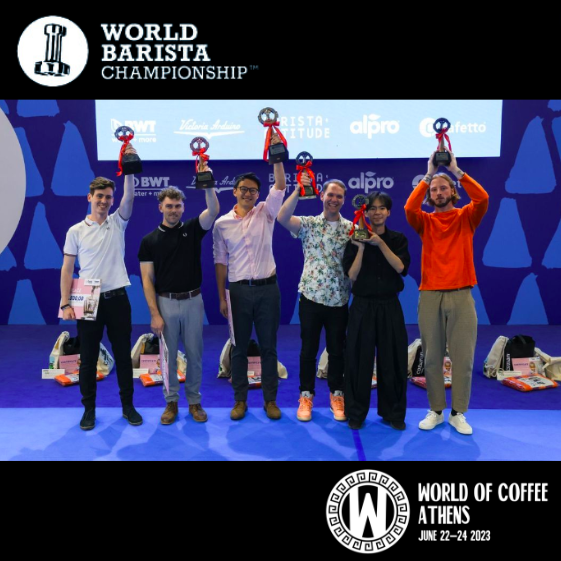 2023 World Barista Championship (WBC)
1. Boram Um, Brazil
2. Daniele Ricci, Italy
3. Jack Simpson, Australia
4. Isaiah Sheese, United States
5. Dawn Chan, Hong Kong
6. Patrick Rolf, Denmark
When it came to the final announcements - 6th going to Patrick Rolf (a huge upset, considering he was hot favourite to win, especially after legendary Ben Put was knocked out in the semi-final round) then 5th Dawn Chan of Hong Kong, then 4th, Isaiah Sheese of USA (with a cracking team of US professionals behind him), Boram and Jack were still in it! Then Jack, coming in third and Boram winning it over Daniele Ricci (With both the Italians and the Brazilians going absolutely crazy!) I was so stoked... and immediately needed to get back onto the stage to say my congratulations.
Boram Um (Brazil) World Barista Champion 2023!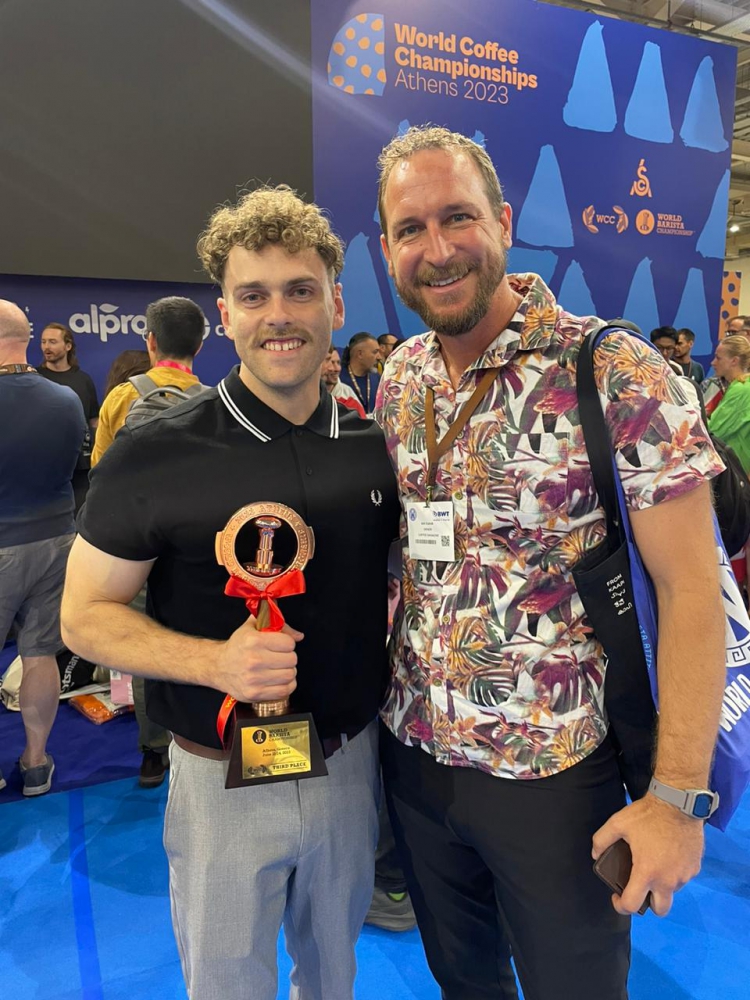 Jack Simpson (Australia) who placed 3rd!
The Cezve/Ibrik stage was a new experience for me, since we don't run this competition in SA, but like all coffee competitions, it has a format and the Emcee role is much the same as for WBC or any other event. What really blew me away, was how incredible the performances were...and to illustrate this, even Aga Rowjewska, a previous WBC Champion, didn't make the finals round! Mariam, mentioned previously, did as well as did Pierre de Chanterac from France, who I introduced on stage and had a good rapport with, to the extent that after he was crowned World Champ and I went over to congratulate him and his team at their stand, he gave me his last 7 grams of competition coffee!
2023 Cezve/Ibrik Championship
1. Pierre de Chanterac, France
2. Cezara Cartes, Romania
3. Mariam Erin Pinza, United Arab Emirates
4. Dimitris Karampas, Greece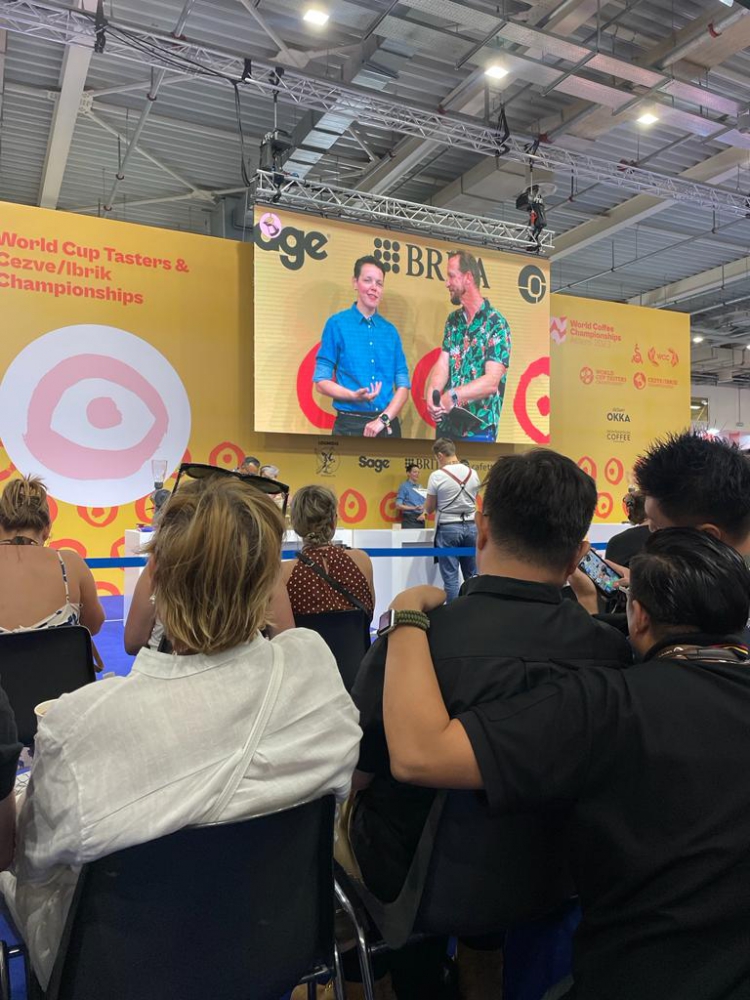 Having a chat with Aga after her Cezve/Ibrik set.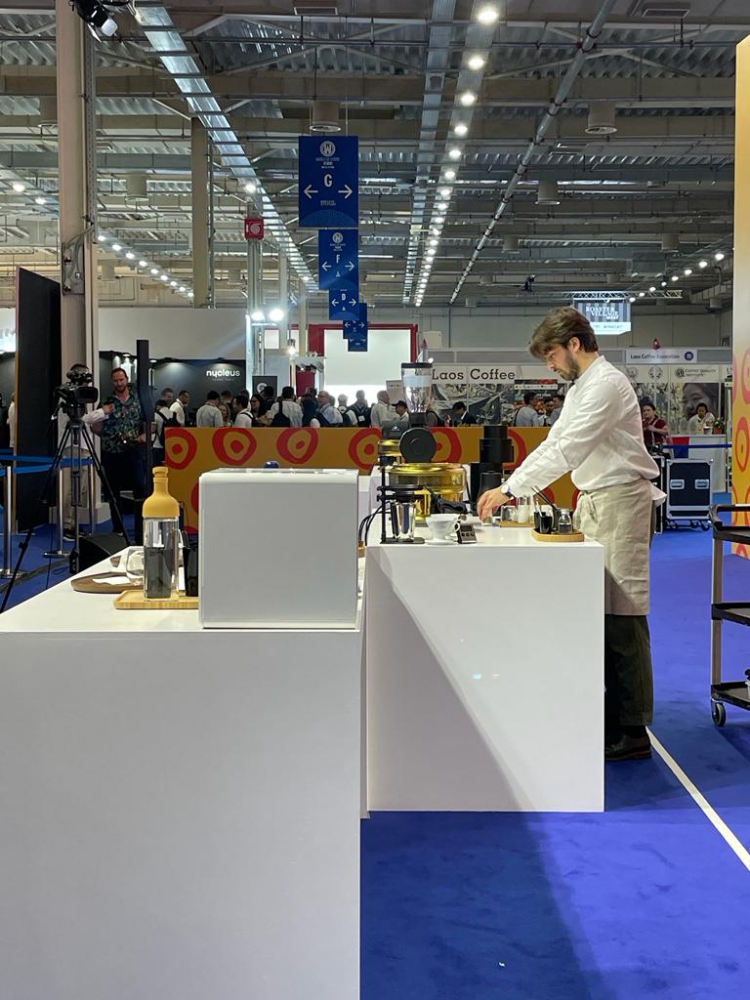 Pierre de Chantèrac - eventual winner of the Cevze/Ibrik title.
My colleague from Switzerland, Philip, ran the World Cup Tasters competition, and he did an amazing job building up the excitement around the correct number of cups and the times, and it was fantastic to see Retha on this stage. It's also a very nerve-wracking competition because you know the results IMMEDIATELY. So it's very stressful for the competitors on stage. In the end it was Young Baek of Australia who got 7 out of 8 in a time of 4.08 min to claim the title in the Final Round!
2023 World Cup Tasters Championship
1. Young Baek, Australia
2. Mandie Soengkono, Indonesia
3. Andrii Vasyliev, Ukraine
4. Oretis Sfiris, Greece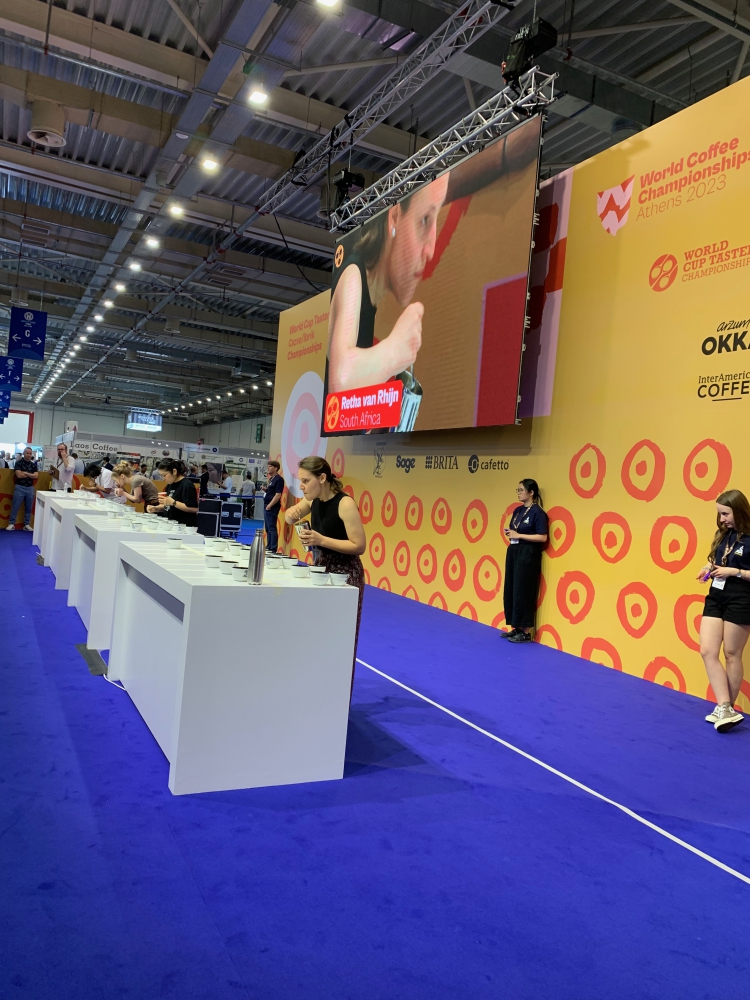 Retha, on stage and tasting her way to a very commendable 6 out of 8!
Finally, the World Brewers Cup, also a comp we don't yet have in SA, but which many consider to be as prestigious as WBC, had it's own stage, and we were there to see the announcement of the new World Champ...which in the end was Carlos Medina from Chile. This is a very cool competition format that sees a compulsory service round, where all competitors are given the same coffee and the judges are presented with it blind ie they don't know who has brewed it, so really showcasing the skill of brewing and not only personality or quality of coffee.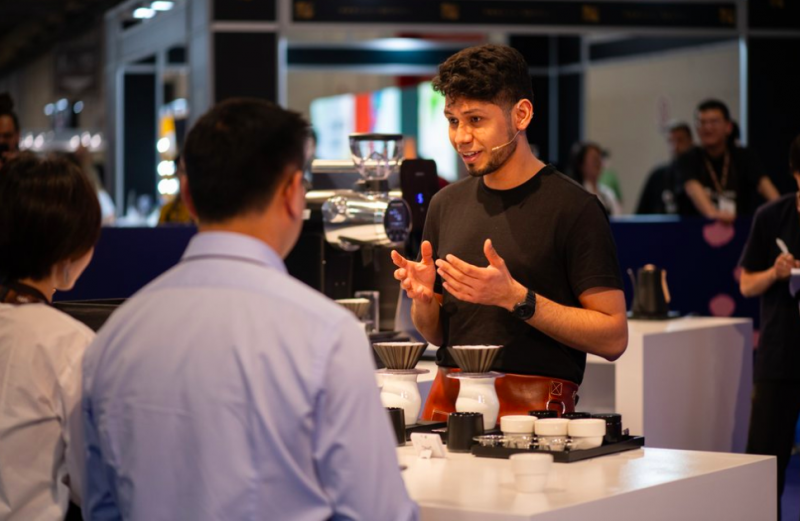 And perhaps it was because the stage was smaller, or there was no barrier between the audience and the stage, but he literally got swamped and the noise was deafening! He was hoisted above on shoulders, thrown in the air, there was dancing, chanting, flag waving, and a lot of crying! Man, it was intense!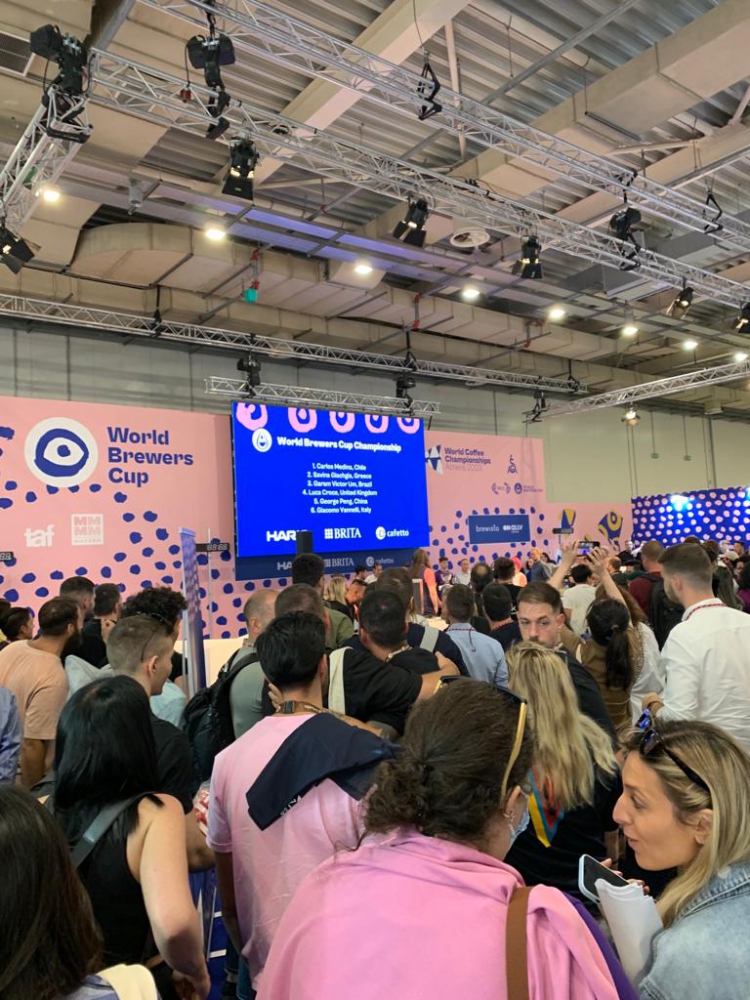 Savina Giachgia of Greece came second here using coffee from the revered Ninety Plus team and so the local crowd had reason to celebrate which added to the very fun and entertaining mayhem!
2023 World Brewers Cup
1. Carlos Medina, Chile
2. Savina Giachgia, Greece
3. Garam Victor Um, Brazil
4. Luca Croce, United Kingdom
5. George Peng, China
6. Giacomo Vannelli, Italy
In between all these results there were many moments of heartache and triumph for the over 127 competitors who took part, not to mention all the team members, so much emotion! One that stood out was Ukrainian competitor Ruslan Demonenko, who after a 2hr technical delay and not speaking any English, went on to make it through to the semi-finals, flying the Ukrainian flag high, eMOtional!
Like I said...the dust may have settled on Athens, but I'm sure the party is still going in Brazil, Chile, France and Australia, at least for a few more weeks!
You can find the full Rankings for all competitions held at World of Coffee Athens here.
You can find all the videos of each of the competitors here.
A proud moment for me, Dale Harris and I, going over the script, just before going on stage my first session: