We're just scratching the surface with this one! Looks like a good story of great coffee minds coming together across the years.
Name of Roastery: Conversations Coffee Co.
Name of Head Roaster: Louis Scholtz and Graeme Droskie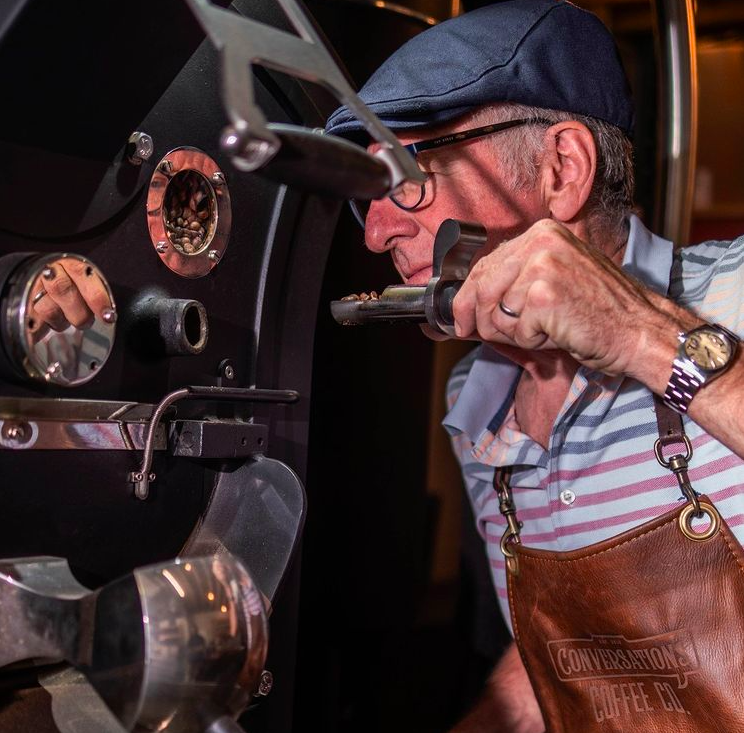 How did you get into coffee roasting?
Louis: Being an avid cyclist and an enthusiastic home chef, I always enjoy a good coffee and the conversations around the table and the fun it brings out in people. With my friends always asking me why I never opened my own restaurant, I thought it would be a great idea to combine the two and taking the pleasure of cooking (roasting) and coffee to friends and strangers and discovering the multitudes of aroma's and flavours that the coffee beans allow, I imagined it would be fun running around on my motor bike delivering coffee to my mates and other customers in the latter part of my life. As you well know, most, if not all people light up when you say "where's the next coffee stop."
Graeme: I started as a home barista at age 12, then became part time barista during high school. During my Barista years I realised there was more to coffee than just Latte Art and this started my passion for coffee and how coffee was made. I did a bit of pan roasting and chatted to every roaster that I knew as well as watched YouTube to try and gain a better understanding of how coffee is roasted. After high school I was given the opportunity to help start-up Conversations Coffee Co and have been apart of the team ever since then.
What is your favourite coffee to roast currently?
Louis: I still enjoy roasting the Yirgacheffe with its bold dry fruit flavour's once it has cooled down and rested a while.
Graeme: Currently we have a Rwanda Pea berry that's really awesome.
If you had to drink one coffee for the rest of your life, what would it be? (Origin, varietal, processing, roast profile)
Ethiopian; Yirgacheffee Grade 2 Washed, medium/dark roast. (but I wouldn't like to be in the situation where I only have one choice, as the saying goes, to much of a good thing…)
What has been your favourite moment in coffee?
The arrival of my new 15kg Giesen in Cape Town, meeting Graeme (@gingerbeardroaster pictured below) while I was installing it, creating our first blend (speakeasy) with a panel of friends doing a blind tasting, scoring amongst other well known roasteries that we believe are the yardstick's in the industry.
Tell us one of your favourite songs!
Louis: Yoh, this could be a long list… but, growing up in the sixties, I'm hooked on Pink Floyd – Dark side of the moon (full album); Genesis – Lamb lies down on Broadway (full album)…
Graeme: Addicted-Saving Abel
If you had to eat one thing for the rest of your life what would it be?
Louis: Peking Duck
Graeme: Lamb Spit
Where can we find your roastery? Unit A9, Prime Park, Diepriver, Cape Town
Can we buy your coffee online? Yes!