Blue Door Coffee Roasters
Harbour Bay Mall
c/o Main & Dido Valley Rd
Simon's Town
Cape Town
All images from their Instagram page, with permission.
---
We chatted to Dewald van der Westhuizen about the evolution of their coffee business on the southern tip of Africa...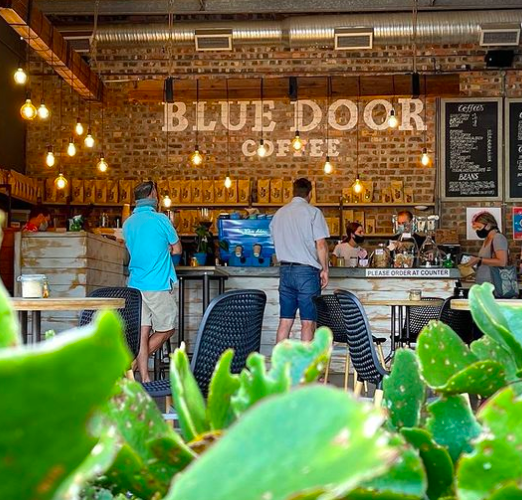 Tell us about how the Blue Door story began? And you have since moved locations?
Blue Door started out in Simon's Town up a little side street, learning and burning coffee until a Eureka moment was achieved. The name actually originated from the iconic Blue Door that was at our first venue. We had a vibe similar to Greece with the white walls and windows accompanied by the iconic Blue Door. It's when our House blend was found. A real Chemical X and Powerpuff Girls moment and since then we've been slowly honing in on our craft, refining and "perfecting" what we can to produce the best possible product and service! The developers of Harbour Bay Mall approached us with the opportunity to have a space and we leaped at the chance! Going from a measly 8 cups a day to where we are now, oh how it's changed from our humble beginnings.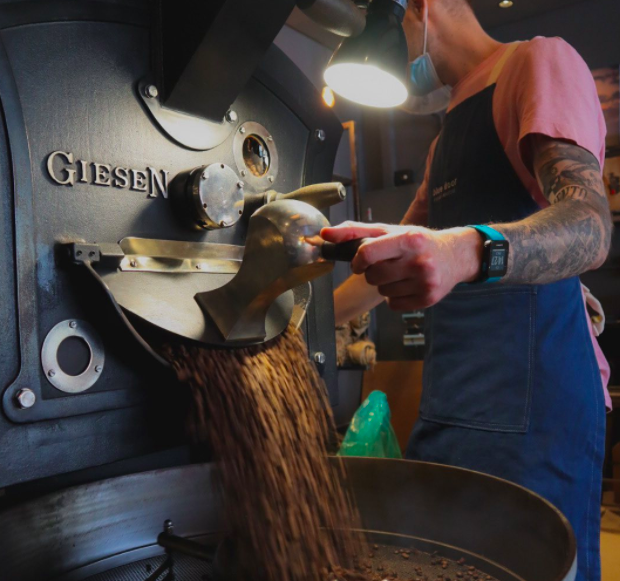 Who is in charge of your beautiful Giesen roaster?
So the head roaster is Dewald, Robert's son. Rob passed the torch about 2 years ago and with a watchful eye oversees Dewald as he learns the ins and outs of roasting. The house blend is like Midnight Special by Creedance Clearwater Revival, a timeless classic! Dewald gets experimental with the single origins, highlighting the more unique, different flavour notes that can be found in the coffee. The single origins are more like top shelf booze, enjoyed on special occasion!
What is your favourite coffee in stock?
At the moment, we have a Natural processed Colombia El Puente. It's the perfect winter coffee and reminds me of mulled wine! Think red wine, cinnamon, star-anise and plums.
Who are the team behind the delicious cups?
Our team is family. We believe the vibe of a shop doesn't have anything to do with the music, or the customers, but the people working there. If everyone is smiling, like friends, like family, the vibe and energy-is homey and inviting.
What is your favourite part of being a roaster?
Taking a step back, appreciating what you have built and seeing what a positive impact it has and is making on people on the daily. Putting smiles on people dials, sharing stories, building relationships are just a few of the many rewarding parts of being Blue Door.