---
Coffee Magazine has grown in leaps and bounds in the last 4 years - providing a valuable, influential and credible resource for everyone interested in Coffee in SA and around the world. It is a very exclusive advertising environment, with limited ad space, huge impact and very little clutter. It's safe to say, Coffee Culture is booming, and we are excited to be SA's only Media company 100% dedicated to the Coffee Lifestyle across, Magazine, Web and Mobile !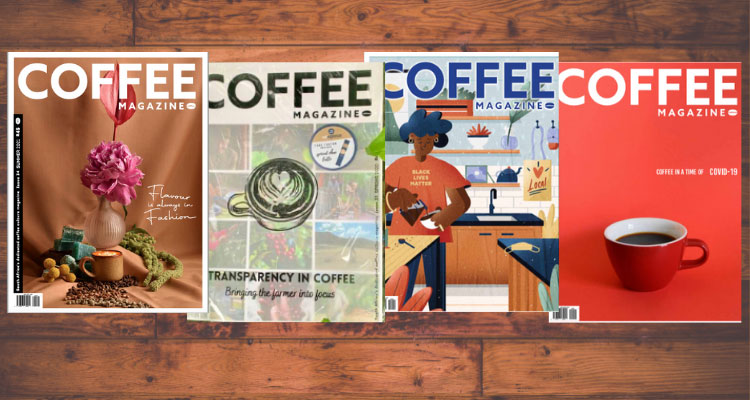 Our readers:
There are now over 230 distributors of the Coffee Magazine - These are Cafe Owners, Roasteries, Coffee shops and Independent coffee businesses that stock and distribute The Coffee Magazine to their customers.
Our readers are Coffee Consumers, Domestic Coffee Users, Cafe Patron's, Baristas and Barista trainers, Coffee Roasters, The Hospitality and Commercial Food and Beverage Trade leaders and Decision Makers.
They have high disposable incomes (LSMs 9&10, SAARF ) which they spend on their lifestyles. A daily coffee shop visit, expensive coffee equipment at home or in the office, coffee consumables and travel are LUXURY items.
Our readers are your customers. They choose to subscribe to a Magazine EXCLUSIVELY about coffee, you know they are directly your potential customers.
Some highlights from the last few years!
The Coffee Magazine renewed it's Exclusive Media Partnerships with SCASA and Hostex!
We print 10 000 copies every issue, our ABC certification is 8555, and the balance of magazines is distributed at SCASA events and Food & Hospitality Trade Shows.
Progressive digital publishing - our highest achievement was a "How to make Aeropress" video which currently has over 40 000 views! https://www.youtube.com/watch?v=wQ6P1SQAlOc
The Coffee Magazine was acclaimed Internationally at the World Barista Champs in Rimini Italy in 2015, Seattle 2016 and Dublin 2017 ... and in the process Mel Winter, our editor formed part of Team SA, supporting our National Champs, Craig Charity, Ishan Natalie and Wayne Oberholzer in representing SA at the WBC and our growing coffee industry's reputation.
Livestreaming the SCASA National Coffee Competitions to a Global audience in realtime!
Our Smartphone App is exclusively dedicated to finding the Best Coffee in SA, based on your GPS position. (it's really cool!) http://app.discovergreatcoffee.co.za
Our Advertising works!
The Coffee Magazine is very focused and your advertising message is very targeted to coffee lovers and people invested in the Coffee Industry in SA.
We receive daily enquiries from our readership asking for referrals about purchasing of Coffee Machines, where to drink coffee, which beans to buy, barista training, Coffee accessories, travel destinations, apparel they have seen in the magazine...they are hungry for they products and brands they see through our media, and they can afford it!
We only have 14 advertisers per Magazine issue and it's FIRST COME FIRST SERVED, with preference given to Multiple bookings* and Multi-Media Bookings**
2017 Publishing schedule:
Issue #19
Material Deadline: 10th Feb
Print-in: 17th Feb
On-street: 3rd March
Issue #20
Material Deadline: 12th May
Print-in: 19th May
On-street: 2nd June
Issue #21
Material Deadline: 11th August
Print-in: 18th August
On-street: 1st Sept
Issue #22 + Christmas Gift Guide
Material Deadline: 14th November
Print-in: 21st Nov
On-street: 4th Dec
Magazine DPS specs 275mm high x 420mm wide, with 5mm bleed all round, supplied as a print-ready PDF via email (if under 10MB) or via Dropbox, Wetransfer.com or Yousendit.com for files over 10MB.
* A 6% discount applies to bookings of 3 or more Magazine bookings on the ratecard rate.
**A 6% discount applies to bookings across Print, web and mobile that cover the same 3 month shelf-life of that Magazine issue.
Both discount apply concurrently i.e 12% discount off the ratecard rate on Concurrent Multimedia and Multiple bookings.
*** A further 3% early settlement discount is also applicable if Media is paid for within 7 days of sign-off of the Media Booking form.
Iain Evans
Owner & Publisher
0823972792