We have a soft spot for the team at The Bond Shed, because they helped to make Creative Coffee Week such a success in its first year. So when we heard that they were doing a build out for a cafe on their premises we were very excited to visit!
Point Road in Durban is one of those iconic old school pre-apartheid names, laced with myth, legend and connotations of illicit behaviour. The Vic Bar, randy sailors, drugs, prostitution, 330 and legendary tales of sordid lifestyles "down by the docks" - these are the images we were warned about by our parents!
Today, it is known as Mahatma Ghandi Road, and it has become one of the areas of Durban that we, as locals, really love and spend a lot of time at. Those folks who attended Creative Coffee Week over the past 2 years will know that the area has undergone a major re-vamp, with many of the old buildings being restored and a number of interesting businesses moving into the area. UShaka Marine World is the obvious one, attracting millions of visitors a year and the recent extension of the promenade which now link it all the way from Blue Lagoon all the way to the harbour's north pier that are significant. Yet it is the hidden gems like The Chairman, Mahà Cafe and The Bond Shed that give it it's artisanal, authentic feel.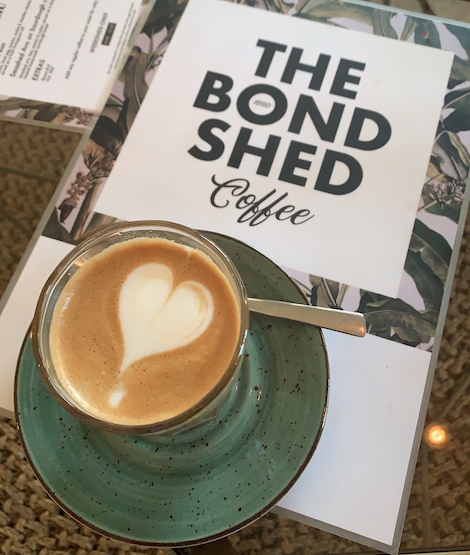 It was a humid, busy Sunday morning. Durbanites were out in force in the area with Skiboats in tow, all manner of wave -riding equipment in hand, families with umbrellas, tourists and locals thronging the new promenade on foot, bikes and boards. Parking was scarce in the vicinity of Durban Underwater Club and Mahà Cafe was brimming with customers. My two surfing companions are particularly fond of the Mahà chocolate brownies, and being 6 and 8 years old, are pretty determined to get their reward after a long 2 hour surf! There was no way I could face the crowds there and then remembered that The Bond Shed Cafe was recently opened! Begging forgiveness and a promise of brownie-substitutes, my reluctant surf buddies and I trekked the 2 blocks north and found a little slice of peaceful paradise amid the chaos that is a Sunday morning at the Durban Docks.
There were just two free tables when we arrived, with both the inside and outside seating being well patronised and we quickly scouted the confectionary on offer to find the much-promised sugary substitute.
And there they were. Brownies. Chocolate brownies sent from heaven! We settled into our corner of the cafe and I ordered a cortado while surveying the layout.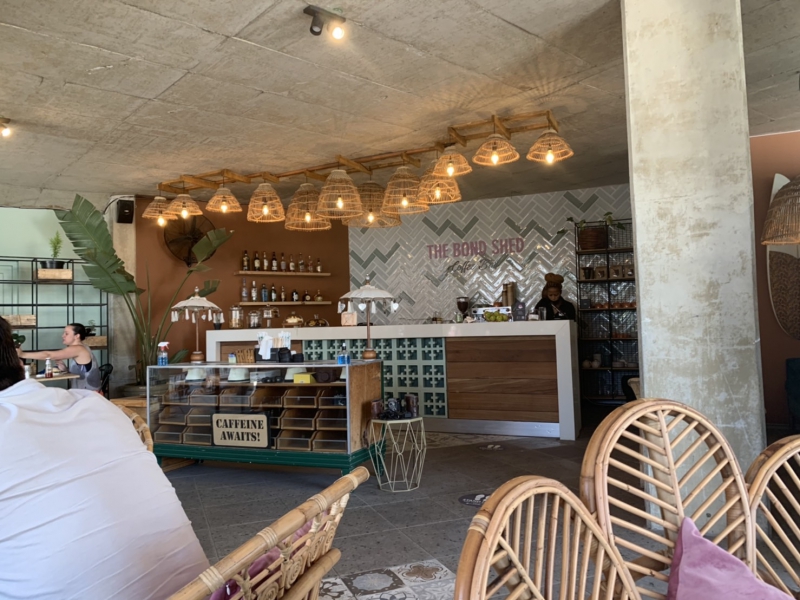 Very tasteful, on-point jungle decor. Check.
Vintage furniture and furnishings. Check.
Friendly, attentive service. Check.
Delicious Ethiopian cortado. Check.
R10 Brownies. Check. Wait, what? R10? I double check the receipt. Yup. R10 Brownies. "We should be able to have 3 each then" , says the 8 year old "Because that's what we would have spent at Mahà on brownies" Sound logic kid. But no.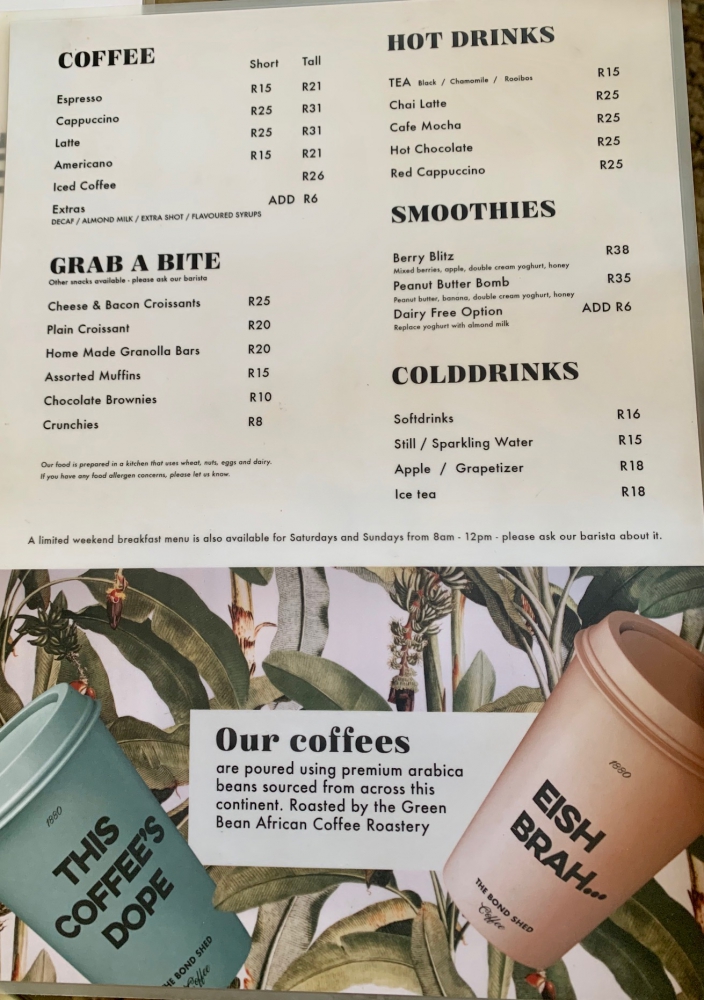 The Bond Shed is a must-visit cafe if you find yourself in the Point area. You may not find the illicit behaviour you were looking for, but you will find an oasis of delicious coffee and the best priced Chocolate Brownies in South Africa.