The "Black Lives Matter" issue.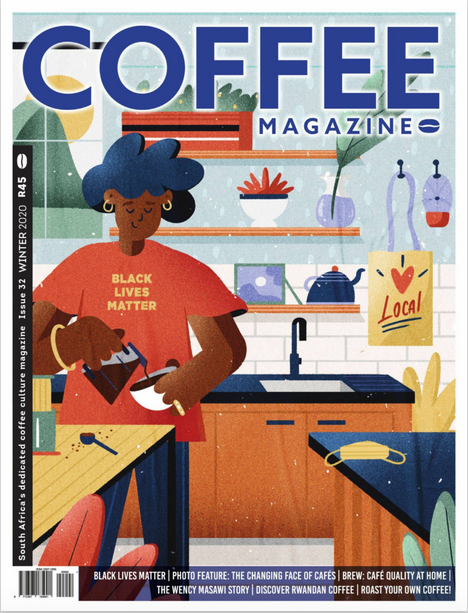 The cover that caused a storm in a coffee cup.
"C'mon, you can't be serious!" she says, casting me a sideways glance and half-pushing the magazine's back into my hands. It's one of my long time friends who owns a barber shop in our neighbourhood. She always buys 3 copies of the latest Coffee Magazine for her waiting area in her store.
"Just read the editorial and the cover story before you judge" I say.
She opens her mouth to protest. Then shuts it again. She takes the magazines and turns away.
The next morning my phone buzzes. It's a text:

This cover illustration on the current issue of Coffee Magazine has caused a lot of reaction. A lot of it good. A lot of it not-so-good. People are very sensitive to the words "Black lives matter". We had several of our customers around South Africa send back their magazines, refusing to stock them, and we had some customers telling us that they in turn, had lost customers because they had chosen to stock it. We had some stores sell out of it so quickly, that they asked for double the replenishment stock.
We even had a few people unsubscribe from the weekly email newsletter (not even magazine readers) because the image of the front cover was on the emailer, and then emailed us back to tell us they had unsubscribed and proceeded to spew forth vitriol about BLM and their very forceful opinion on the subject. Shew!
So why should an illustration of a young black woman making coffee in her kitchen, with a BLM tee shirt on and a face mask next to her cause so much controversy? We don't know the answer, but what we would love to know, is what you, those of you who actually read the Editorial and the Cover story by Sibongile Rakgatjane, what you think about these topics (not BLM, which is the jump-off point only here) but the articles themselves.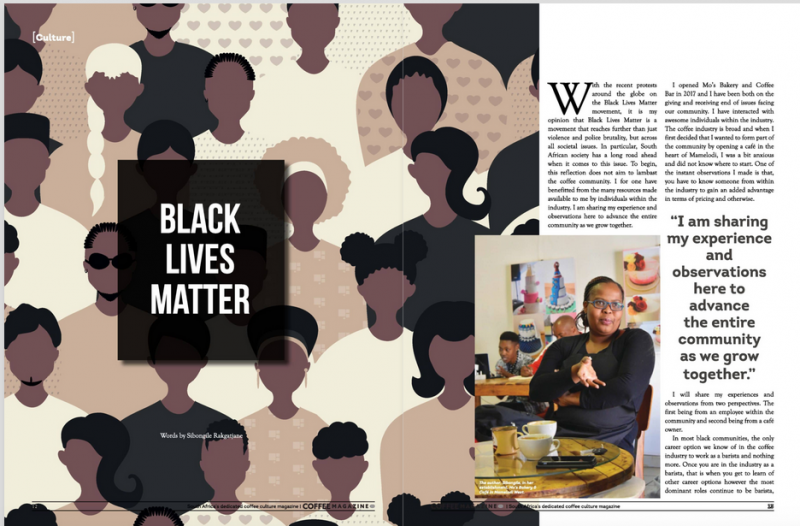 Sibongile's article.
Below is Mel's text.
If you would like to get a copy of this issue, please do it this week, because the new issue of Coffee Magazine will be replacing it from Monday 23 Oct.
Iain & Mel.
---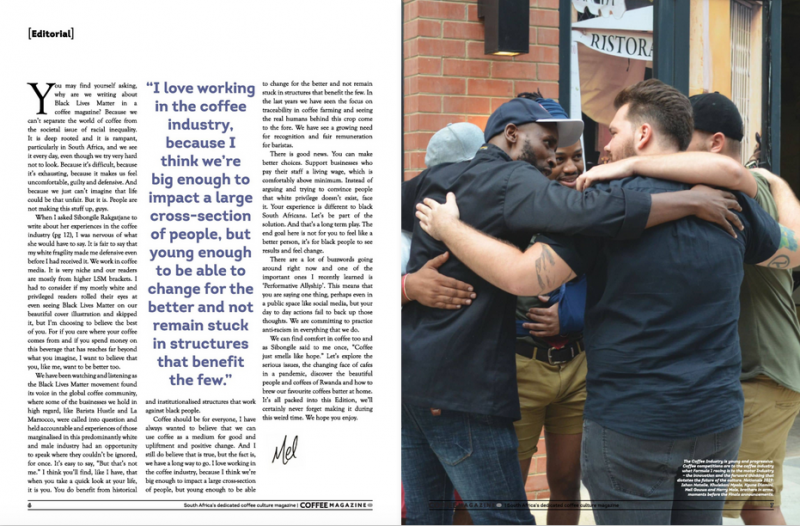 The Editorial.
"You may find yourself asking, why are we writing about Black Lives Matter in a coffee magazine? Because we can't separate the world of coffee from the societal issue of racial inequality. It is deep rooted and it is rampant, particularly in South Africa, and we see it every day, even though we try very hard not to look. Because it's difficult, because it's exhausting, because it makes us feel uncomfortable, guilty and defensive. And because we just can't imagine that life could be that unfair. But it is. People are not making this stuff up, guys.
When I asked Sibongile Rakgatjane to write about her experiences in the coffee industry, I was nervous of what she would have to say. It is fair to say that my white fragility made me defensive even before I had received it. We work in coffee media. It is very niche and our readers are mostly from higher LSM brackets. I had to consider if my mostly white and privileged readers rolled their eyes at even seeing Black Lives Matter on our beautiful cover illustration and skipped it, but I'm choosing to believe the best of you. For if you care where your coffee comes from and if you spend money on this beverage that has reaches far beyond what you imagine, I want to believe that you, like me, want to be better too.
We have been watching and listening as the Black Lives Matter movement found its voice in the global coffee community, where some of the businesses we hold in high regard, like Barista Hustle and La Marzocco, were called into question and held accountable and experiences of those marginalised in this predominantly white and male industry had an opportunity to speak where they couldn't be ignored, for once. It's easy to say, "But that's not me." I think you'll find, like I have, that when you take a quick look at your life, it is you. You do benefit from historical and institutionalised structures that work against black people.
Coffee should be for everyone, I have always wanted to believe that we can use coffee as a medium for good and upliftment and positive change. And I still do believe that is true, but the fact is, we have a long way to go. I love working in the coffee industry, because I think we're big enough to impact a large cross-section of people, but young enough to be able to change for the better and not remain stuck in structures that benefit the few. In the last years we have seen the focus on traceability in coffee farming and seeing the real humans behind this crop come to the fore. We have see a growing need for recognition and fair remuneration for baristas.
There is good news. You can make better choices. Support businesses who pay their staff a living wage, which is comfortably above minimum. Instead of arguing and trying to convince people that white privilege doesn't exist, face it. Your experience is different to black South Africans. Let's be part of the solution. And that's a long term play. The end goal here is not for you to feel like a better person, it's for black people to see results and feel change.
There are a lot of buzzwords going around right now and one of the important ones I recently learned is 'Performative Allyship'. This means that you are saying one thing, perhaps even in a public space like social media, but your day to day actions fail to back up those thoughts. We are committing to practice anti-racism in everything that we do.
We can find comfort in coffee too and as Sibongile said to me once, "Coffee just smells like hope." Let's explore the serious issues, the changing face of cafes in a pandemic, discover the beautiful people and coffees of Rwanda and how to brew our favourite coffees batter at home. It's all packed into this Edition, we'll certainly never forget making it during this weird time. We hope you enjoy."
Mel.