A Scholar and A Gentleman
The 2017 World Barista Champion, Dale Harris, used his love of learning to create a truly unique routine at the competition in Seoul 2017. The newly crowned WBC is Jooyeon Jeon of South Korea and no doubt her technical set took inspiration from Dale's performance in her home country! Our interview with her is on the way soon, but in the meantime learn more about another coffee great.
We've said it before and we'll keep saying it, the world's top baristas are the most humble people you're likely to come across. It might have to do with the fact that their time in the hospitality industry has both humbled and strengthened them, but it really never ceases to amaze us. Dale Harris is no exception. Kind and generous with his time, he has proved an incredible ambassador for specialty coffee over his time as Champion. He put in the hard work over the years, coming back wiser each time, until his moment finally came, 9 years after he began competing. For his Championship set, Dale invested a lot of time into the study of the aromatic compounds found in coffee, of which there are more than 1000 that we know of. He selected ten of the most significant ones in his coffee that carried certain flavours and explained what flavour they translated into in his espresso. He expressed this rather complicated idea with charm and grace and the judges rewarded him. We caught up with him just before he handed over the mantle to the 2018 Champion in Amsterdam, Agnieszka Rowjewska.
Can words describe how it felt to hold up that trophy after the journey competition has led you on? How long did it take to sink in?
My whole experience of the last year's announcements was full of conflicting emotions - whilst it's a super happy thing to have happened, it also took awhile to adjust to the idea that we had won and to be able to think objectively about my competition experience over so many years.
In truth, raising the trophy above your head is a weird thing and one that I was a little uncomfortable with - routines are always the result of teamwork, whether your team is large or small like mine, and being the only one to hold the trophy that way in that moment feels a little bit off. Celebrating with Pete, Jenn and Steve afterwards was the more special moment!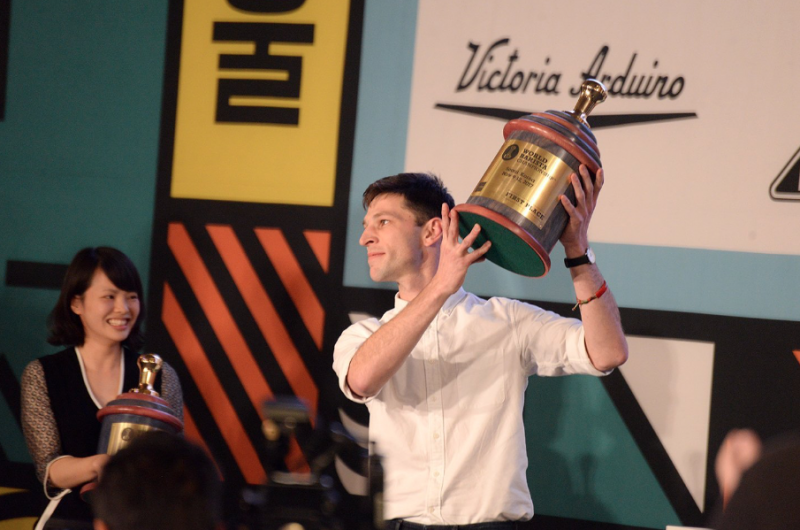 As the World Barista Champion and a veteran competitor, if you had one piece of advice to offer first time competitors, what would it be?
Read the rules! No, really - read the rules and watch a few videos of former competitors to get a real understanding of what's required. Every time I look at the rules, I find something new to consider - it's really important to have a good understanding of what's being asked of you before you start building a presentation or begin working on your ideas.
Competition can be stressful but it can also be a lot of fun - if you go into it with open eyes and a clear understanding of what's expected, it's a more rewarding experience for everyone, regardless of your placing - and you get better at doing it each time, so take that first leap :)
Have you had any crazy experiences/opportunities that have come your way because of being the World Barista Champion?
Over the last few months, I've had the opportunity to travel to places I've never expected to visit, experiencing coffee in different climates, cultural settings, and evolutionary stages of cafe culture.
Most recently, I visited Cuba and I found it really interesting to engage with coffee in a place where a lot of the concepts around specialty green coffee production don't apply quite as easily as they do elsewhere. More than anything I'm learning even more!
What do you think is so attractive about coffee that it continues to grow in such a robust way?
Coffee is interesting because you can find it at the intersection of so many different ideas, places, and people in different ways: people's relationships with the flavours in coffee, their relationships with cafes; coffee's relationship with economics, the sheer scale of the global logistics required to make coffee happen. This, plus long and varied histories of coffee cultures, all create a broad coffee culture that can attract different kinds of people. For me, the most exciting aspects of coffee are those moments where those flavours and people intersect.
Is there anything in coffee that is really getting you excited right now?
There's a lot of academic work being done in agriculture, flavour chemistry, and other fields that has the ability to impact the way we grow, brew, and experience coffee, but isn't always communicated well to those of us who are super passionate about that very specific product.
At the moment, I'm reading a lot and working on a few projects that might allow me to find some new ways to communicate some of these ideas.
The culture of Hasbean seems fun and crazy and that you have to have a seriously good sense of humour to be part of the team, yet the operation is one of the most efficient and slick we've ever witnessed, how is that possible?! Tell us a bit about the culture of your team.
Thank you - that's super flattering! It's exactly how we want our customers to think of us.
We're a small company - just 15 staff - but I'd say that the biggest thing that makes us tick as a group is our shared passion for two things: building long term relationships with producers and making a wide range of super tasty coffee accessible and available. And, well, a third - doing it together!
Because we've been doing our thing for a long time, we've become pretty well known and- most people think we're a bigger company than we really are - but in reality, what we do is present the results of hard work by some really incredible people we've been able to work with - I'm super proud to be a part of it.
What are your personal views on the best way we as Coffee Consumers and Businesses can support sustainability for coffee growers? HasBean has a reputation for championing lesser known farmers and experimental processing techniques, does this fit into that mission?
I believe one of the most important things we can do to support coffee growers and sustainability within our industry is for roasters, in particular, to build long-term relationships with producers. Sometimes this will be at the expense of buying the most exciting coffees, but instead showing up and working with individuals to help them produce the highest quality and value coffee that they can, allows them to grow - and grows the diversity of coffee available in the industry too.
I'd like to see every roaster building one or two great relationships with producers that they care about and I'd encourage consumers to support businesses who do this over the longer term.
Is there any portion of your life that is free of any association to coffee? Give us some insight into what else makes Dale Harris tick.
Pretty much all my time is tied up with coffee or related work at the moment (!), but it's really important to me to make some small windows in each week to walk my dog, make and eat nice food, and spend time with my partner and my kids. I drink coffee when doing all those things though!