Bringing some Mediterranean culture to Cape Town, we investigate new concept store, The Good Batch and chat to owner, Alexi about the team's approach to coffee.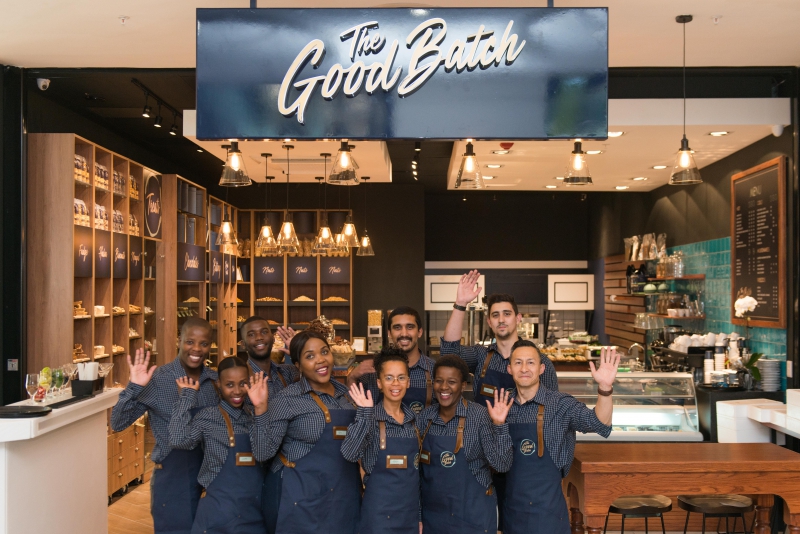 How does coffee fit into the philosophy of The Good Batch?
Coffee is one of the signature categories of our store. We make coffees in-store as well as selling the actual beans and ground coffee. We also have a number of coffee offerings such as nitro coffee and a selection of Greek inspired hot and cold coffee. We also have a selection of coffee infused treats - our espresso fudge being one of our biggest sellers.
Can you tell us which roastery you've partnered with and why?
Our coffee partner is Mikhael from Mischu Coffee. He has the same ethos about business, service and quality as we do. As with The Good Batch team he understands the necessity for the consistency of product. And he's just an all-round nice guy!
What is your favourite way to drink coffee and which treat from your beautiful store would you pair it with?
Although it's an acquired taste I grew up on Greek coffee so would have to say that would be my preferred choice. I like to pair it with a gooey, nutty, chocolate chip cookie - fresh out of The Good Batch oven.
---
Imagine a Mediterranean or Middle Eastern food market… the bright colours, the beautifully displayed wares, the friendly greetings, the sound of a scoop plunging into a pile of nuts, the tempting scent of freshly baked treats and newly ground coffee … If only we had something similar in South Africa.
Nuts, from pistachios and pecans to walnuts and macadamias, raw or roasted in-store. Truffles, pralines and chocolate salami. Turkish delight, authentic halva, old-fashioned bonbons, nougat and fudge. Delicious dried berries, fruits, seeds and biltong. Handmade, just-baked biscuits and cookies. And some of the world's finest coffee beans, freshly roasted on the spot.
The Good Batch is a family-run taste emporium that gathers together best-in-class delicacies from the world over and from small local artisans. It is the brainchild of Alexi Hadjidakis, who began his retail journey at the knee of his father George, who started 7-Eleven in South Africa in 1967.
Inspired by the quality and displays at a food show he visited in Dubai, Hadjidakis was determined to bring that market-style experience home. "We drew inspiration from far and wide, locally and internationally, to bring the very best into one place for South Africans who enjoy gourmet snacks," says Hadjidakis. "And it's all under one roof so it's easy to choose any quantity you like."
The first store opened in Canal Walk, Cape Town, on 18 October. It is now open, 9am to 9pm daily, and there are plans to open 6 to 8 outlets in the next two years. The next store is scheduled to open at Cavendish Square in March 2019 but there may be some surprise pop-ups and openings before then.
If you love really great coffee, need a small, bespoke treat for a host or hostess or a large gift for a special client or loved one, the perfect solution will be waiting at The Good Batch. Enjoy the age-old thrill of selecting your own items, or ask one of the experienced staff members to make up a box of delicacies – sweet, savoury or both! Take some treats home, or pause for a coffee or enjoy them on the spot.
Each item is carefully chosen to complement the others, Hadjidakis explains. The experience is sensory and tactile with products served open and sold by weight. "Our nuts, coffee and chocolate are going to blow people away!" he enthuses. "This is a new sensory shopping experience for the South African customer – it's unlike any they've had before."
For more on The Good Batch – visit the website here.