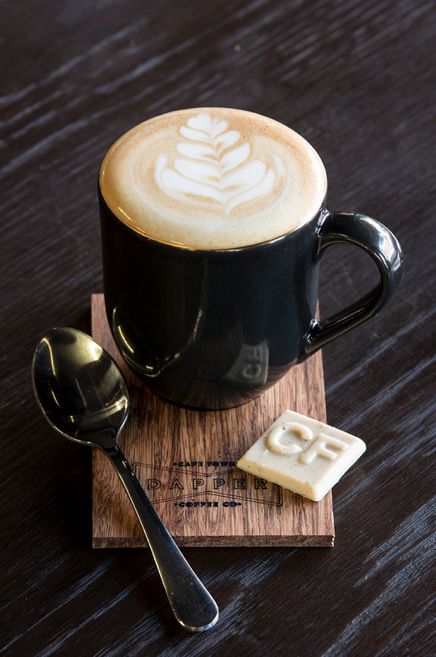 Who roasts the Dapper Coffee Co.'s Special Blend and what origin beans are in the blend?
Our beans are roasted by Tribe, the origin being Guatemala, Malawi, Burundi, India, Indonesia & Uganda.
Mouthfeel: Full bodied
On the nose: Chocolate, honeysuckle, red cherries and a hint of yesterday's sunshine
Taste: Sweet and complex with long lingering flavours
What is Lauren and Alex's experience with coffee? How did they fall in love with it? :)
We are of course big time coffee lovers and have had some training by Kate and Jake from Tribe, they are seriously inspiring in their true passion for their coffee! It's been Alex's dream to have a coffee shop, he has spent many years visiting different coffee shops and trying out various coffee brands, this has helped him know exactly what he would like to offer as the owner of his own coffee shop.
---
BE IN THE DRIVER'S SEAT OF COOL THIS SUMMER AT DAPPER COFFEE CO. & CLUB9
The latest (and hippest) hotspot to hit Bree Street this summer is Dapper Coffee Co. The coffee shop is co-located with the equally new classic and luxury sportscar showroom, Club9. The two co-exist to create an effortlessly cool setting where classic car enthusiasts and Bree Street frequenters can roll in for coffee, enjoy a laid-back lunch, have their wheels polished and possibly even purchase a Porsche on their way out…
Club9 is owned by seasoned car collector and specialist, Dirk Molsen, and will feature mostly classic Porsche models. Club9 gets its name from the fact that most models of Porsche begin with the number nine - for example, the 911, 993, 996, etc. Other classic beauties like Austin Healey, Ferrari and Alfa Romeo will also be showcased. Many classic cars are bought in South Africa only to be exported, but Dirk is truly passionate about his cars and keeping them in the country. So if you are a serious buyer and share his sentiments then your key to one of these beauties, is proving this to him. Once you've cracked the nod, you're a Club9 member for life. A good place to become acquainted is at Dapper Coffee Co.
Dapper Coffee Co.'s customers are taken care of by Dirk's wife and son, Lauren and Alex (Molsen). The café is a place where club members and passersby can enjoy a coffee, a quick bite or a leisurely lunch designed by accomplished chef, Luke Wonnacott. The menu is based on local and seasonal delights, and will dish up plates such as mushrooms on brioche toast with radish and watercress salad, or slow stewed chickpeas on toasted sourdough, topped with poached egg and crispy pancetta.
As for the coffee itself? Sweet and complex with long lingering flavours, Dapper Coffee Co.'s Special Blend coffee is the perfect accompaniment to take in the cool, classic cafe interior designed by Toni Unterberger from Rivets and Rockets.
What's more, The Dutchman's Car Care Clinic run by well-established Johann Botha offers a specialised car detailing service inside the shop. So your precious collectible car can be polished and spruced up while you're relaxing, looking dapper and drinking coffee...
Dapper Coffee Co. is open from 07h00 – 17h00 weekdays, serving breakfast from 07h00 until 11h30 and lunch thereafter. On Saturdays the café is open from 08h00 until 15h00 and on First Thursdays from 07h00 until late. Club9 is open from 08h00 – 17h00 on weekdays, 09h00 – 14h30 on Saturdays, and closed on Sundays and public holidays.
For more information, please visit www.dappercoffeeco.co.za or contact info@dappercoffeeco.co.za / 021 823 2444 and for Club9 contact Dirk@club9.co.za / 021 422 2994