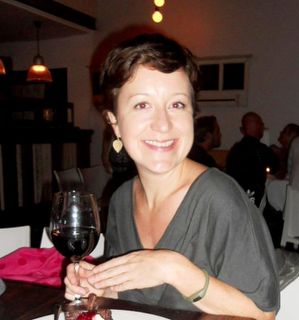 All words by Georgie Chennells
All pictures by Georgie Chennells, unless otherwise stated
---
The smells of Africa. The warm-body mustiness of the Rwandair cabin and the floral-scented upholstery shampoo hit me as I nudged my way through the aisle to my seat. Later, lost in an inflight magazine and wondering where Brazzaville was, I picked up a strong smell of lantana served up with my breakfast. At lunch, still seated (for this was a long journey) the aroma of beef came alive with the richness of earth after rains. Later, when my feet touched down, the real, dung-dusted soil particles mixed with the fine fragrance of tarmac and motor oil welcomed me to Moshi, Tanzania: a little hub of industry in the heart of Africa.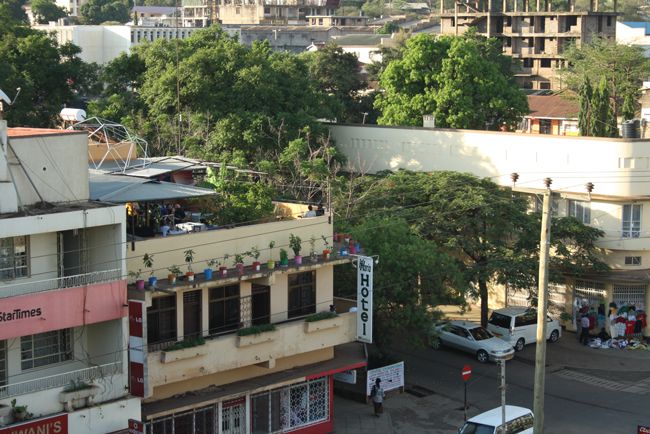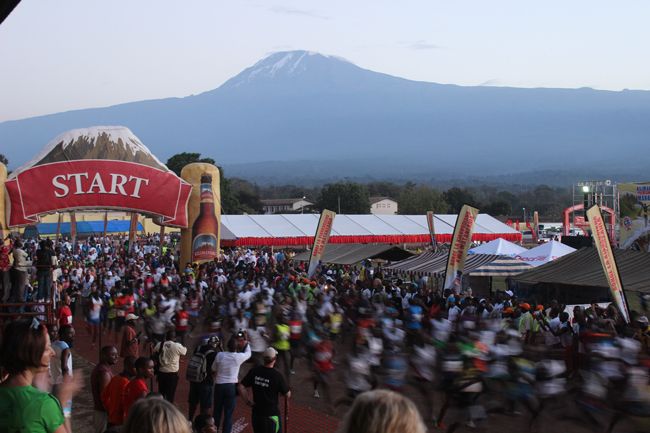 image courtesy of Wild Frontiers Africa Travel specialists.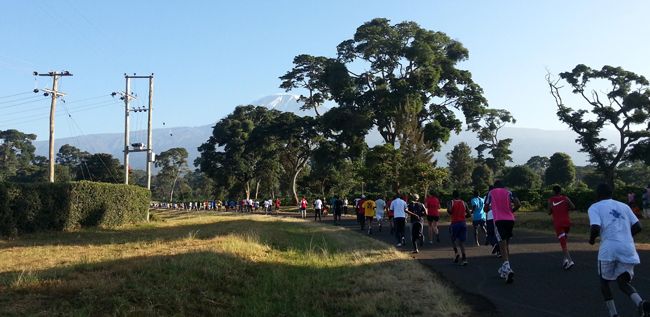 I was there for a very scenic run around the foothills of the nearby Mount Kilimanjaro, or "Kili" as she is affectionately known. The Kilimanjaro Marathon, now in its second decade, attracts runners from all over the world, many of whom enjoy a good coffee. Moshi is geographically and economically at the epicentre of Tanzania's coffee industry. The town plays host to the Tanzanian coffee auction, where all the country's coffee is brought to trade. No doubt this is a good spot to re-fuel for a long run! The surrounding hills are rolling in coffee plantations and some of the country's oldest coffee estates, dating back to the 1890's, are found in this region.
It's a lively and charming place to visit; a tight little town of boom-time remnants recycled for contemporary life. Mid-Century Modern architectural gems abound, slightly mutilated through DIY installations, plants, colours and cheerily-shouting signage burst forth from every crevice. Wide, shady fig trees stretch over the roads while people casually go about their business below. One thing that sets it apart from the average African town (aside from the presence of the mountain) is the abundance of coffee shops. On almost every street, it seems, there are places selling a cuppa and a sit-down. The variety and number of coffee shops even seems to exceed the numbers of tourists who flock here.
The history of coffee in Tanzania is long and interesting, and covers Catholic missionaries, German settlers and bans on native Tanzanians from growing coffee. World War 1 brought about changes which saw the Germans losing their colony (then called Tanganyika) followed by the then British District Commissioner lifting the ban, partly in response to the great demand for coffee back in Europe.
The slopes of both Kili and her neighbour Mount Meru proved favourable for Arabica, which makes up 70% of the country's coffee production today. High altitude means that the coffee grows slower, allowing it to absorb more nutrients, which potentially mean more flavour. The high moisture content in the air is also vital in facilitating this process. Tanzania is also an excellent spot for Robusta, which is mostly grown in the western areas around Lake Victoria in the Kagera region.
When the ban on natives growing coffee was lifted in the 1930's, some innovative developments took place. A radical step was taken in 1933, when the Kilimanjaro Native Cooperative Union (KNCU) was formed. This is the Africa's oldest coffee cooperative union, which continues to function as a marketing organisation for the indigenous farmers of the Chagga Tribe living in the area. It's the voice of the farmers and assists in many ways including transporting coffee, representing at the weekly Moshi auction, overseeing healthcare plans for farmers' families and ensuring quality all round through farmers training. Today, KNCU has about 70,000 members from 92 local cooperatives.
Interestingly (and perhaps heartbreakingly for coffee-lovers) a measly 7% of the Tanzanian population actually consume coffee themselves. Usually it's the powdered kind too.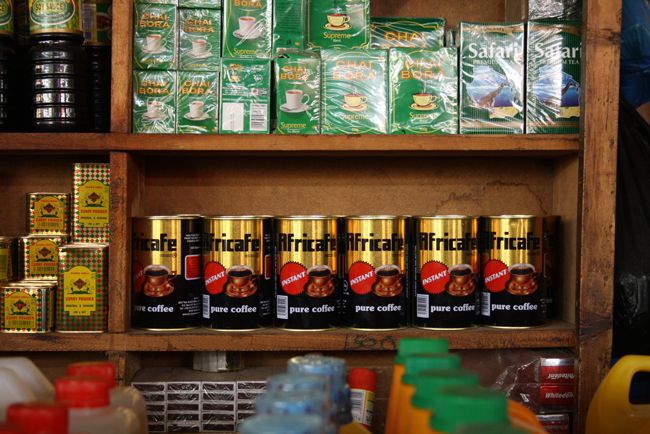 Having said that, Tanzania does make a very good instant coffee called Africafe. It's made purely of Robusta and Arabica, sans chicory or any foreign coffees, which are generally used to add bulk but not flavour. It's much finer and richer than our South African versions and also doesn't have that paraffiney aftertaste so common in the SA instant. I found myself stocking up, and not just because of its retro packaging.
A recent development on the coffee scene in Moshi is Union Cafe, a coffee roastery that has been bringing tourists and locals together in delightful drinking since 2010. It's essentially a social responsibility project that aims to transfer valuable coffee business knowledge, roasting skills and barista training to the locals of the area. Formed as a joint venture between the TriBeCa Coffee Company, Woolworths (South Africa) and the KNCU the cafe is humming with activity and is beautifully designed with a contemporary eye. They also have wifi which makes them a tourist honeypot!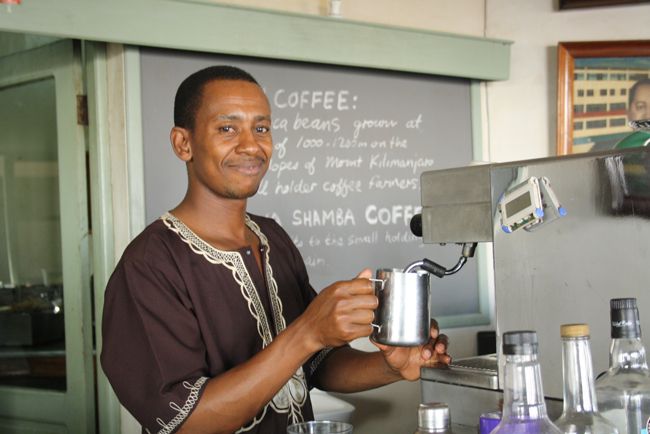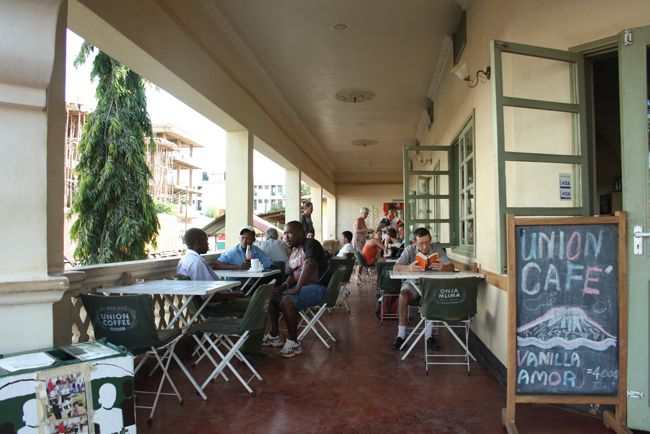 I chatted to Manager Danford Mageche, while the big steel machine went about its daily grind at the back of the shop. He's passionate about the cafe and shows me around, gesturing to the framed portraits of past presidents of the KNCU that line the walls as he leads me through the history of this famous co-operative. In more recent history Danford himself went for training in South Africa through TriBeCa and when he poured me a mean cappy I needed no convincing as to why these beans are also sent to Germany, the UK, France, SA and Japan.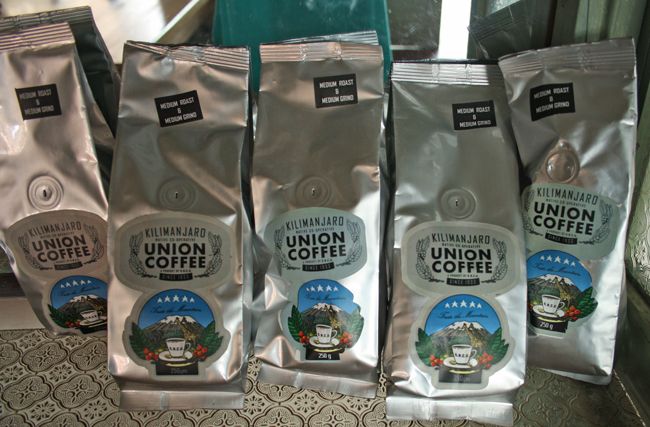 Alongside the international links, this cafe places great emphasis on local consumption. "Union cafe targets the middle class, not just tourists. We advertise on local radio and in local press," says Danford, which I find comforting to hear from my 'privileged tourist' standpoint.
According to Tanzanian coffee authorities, coffees from this area tend to be "pleasant in aroma, rich in acidity and body, sweet to taste with balanced flavours due to mineral nutrients from volcanic soils." I am no coffee expert but I would say that this is an accurate description. My cuppa was sublime and as I closed my eyes, fastening the mountain fruit flavour and its sweet-rust aroma to my memory, I felt I had finally arrived.
---