We had such a fantastic response to our Most Memorable Baristas post, thank you for showing the love to your favourite baristas! We will announce the winner of the prize at our Launch Party next week!
Now on to the people that put the coffee in the baristas hands hoping they treat it with the same love and respect that they have for the beans!

TheCoffeeMag's top micro roasteries of 2013:
Roasteries that a) source highest quality, interesting green coffees b) consistently roast these green beans to their best possible flavour potential c) Love the art and science of roasting d) Are cool folks who care for coffee and their customers.

Rosetta Roastery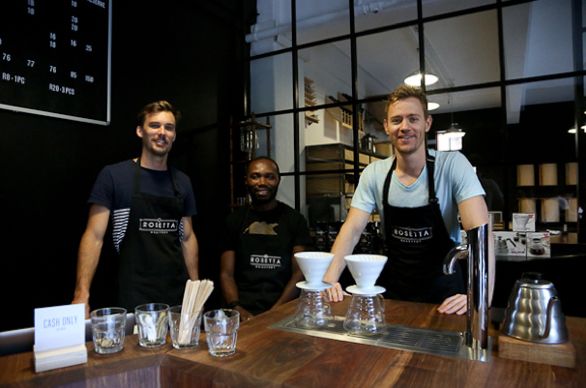 Have you been in to any other roastery lately that only stocks coffees you've never heard of before? Us neither. These gentlemen always keep us guessing. Their standards are uncompromising, yet their attitude is open minded. We dig these guys and their opinions and their approach to coffee and most importantly, the actual roasted beans that they produce. Their beautiful roastery in the Woodstock Exchange Building has become a coffee destination and the attention to roasting detail is phenomenal. The team is hardworking and humble and we recommend you get there immediately.
Legado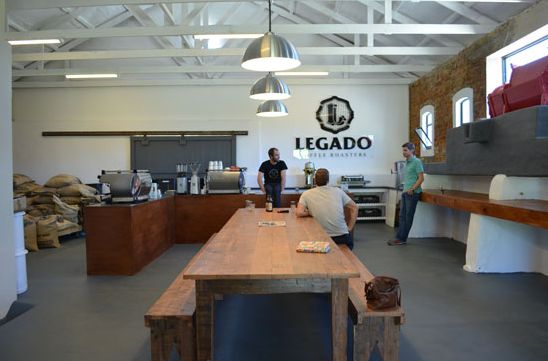 The first time we met the Legado team, Reg, Andrew and Daniel we knew they were going to be successful in the coffee business. Firstly because they quit their real jobs to dream big on a 7kg Diedrich Roaster and a quest for the perfect cup. They ooze passion for their craft and are just damn nice guys too. Their coffee is exceptional and they connect quickly with whomever they're talking to - be it sophisticated, technical roasting at the highest level or basic - "this is good and this is bad" for beginners. We drank their Santa Teresa from Chiapas, Mexico. Then we had a beer. And it was only 11 in the morning.
Colombo Coffee & Tea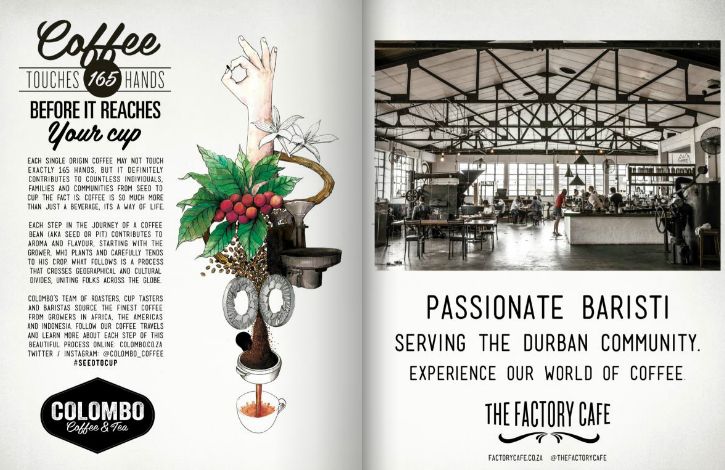 The oldest roastery in Durban, Kyle Fraser, under the guidance of Victor Richardson, has led the charge to bring this stalwart on the scene into the New Age. And man, did they do a good job. Colombo has been in Victor's family for 90 years and he has made it his mission to keep the roastery at the forefront of coffee. The team have successfully taken the roastery not only to the cutting edge of coffee in South Africa, but to a world standard. They have collected a bunch of coffee passionate youths to maintain the standard of roasting and training. This year both their roaster (Arno Els) and barista trainer (Daniel Erasmus) flew the flag high at the National Barista Champs. Both making it to the Top 20 Baristas in the country, and winning the Latte Art and AeroPress competitions between them. That can only mean one thing. They know their beans. These are the kind of people you trust to help provide you with good coffee for home!
DoubleShot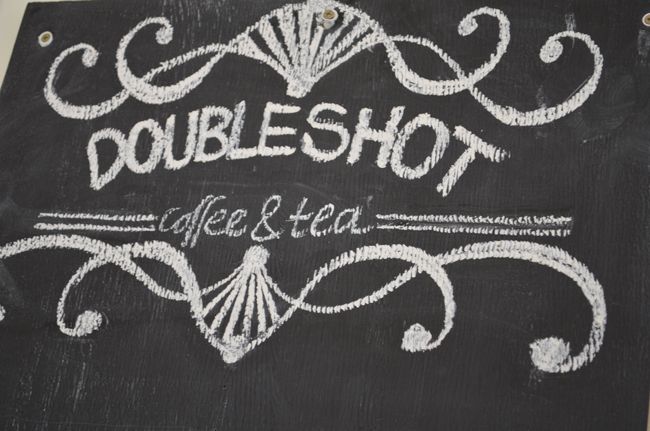 This roastery in the vibrant Braamfontein district of the Joburg CBD is a gem. We love the results that they achieve from their
vintage roaster
, the likes of which we are not likely to see anywhere else, not only in SA but in the world. The doubleshot team is a partnership between Alexander Cathcart Kay, owner of Malawian tea and coffee estate, Satemwa and Alain de Assis Rosa, a master blender. This means that they have direct access to the best of the best Malawian coffee. Winning!
Union Hand Roasted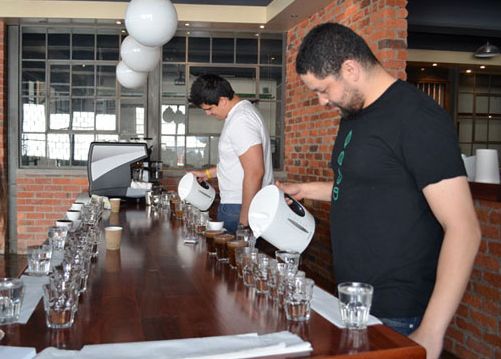 Their parent company in the UK sources top quality beans with years of experience behind them. With leadership like that and the ultra talented Gerald Charles behind the roastery, it was a good year for Union! They supply beans to the Seattle chain and manage to keep the standard extremely high. Now Doc G has passed the torch to his apprentice Roddy.The Union Hand Roasted team provided all the coffees for the National Coffee Competitions Cup Tasting Championship. What a treat for the competitors. This year our favourite coffees of theirs had to be the blueberry bursting El Salvador and the fragrant jasmine of their Yirga Cheffe.
Bean There Coffee Company
(CT&JHB)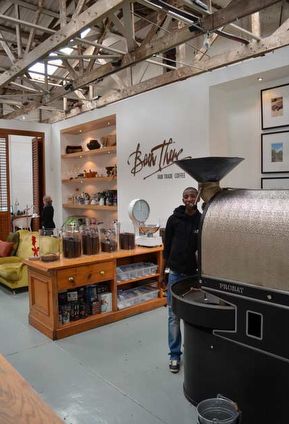 Jono and Sarah Robinson continue to do extraordinary things in coffee with Bean There. Besides their philanthropic approach to sourcing, training, relationship building and general superpowers of human kindness to everyone in the coffee chain - they have done 2 things that put them firmly into our 2013 list - Olga's Reserve and Bespoke. Olga's Reserve IV is the just-landed, exceptional Burundi-Kirundo micro lot coffee, (available very soon, while stocks last - so order now!) and Bespoke is a partnership with the famous Schulter Family to import speciality micro lot coffees for all roasters in SA at a great price. And they don't even wear their underpants on the outside, though they probably could.
Origin Coffee Roasting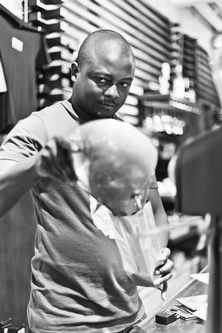 Origin is like the Godfather of Roasteries in Cape Town, and despite the phenomenal growth and success of the brand, the fact of the matter is that they still source great coffees and they roast them perfectly. They have had some incredibly talented coffee people contribute to this success, Joel Singer, David Donde, Wayner Oberholzer, Bilbo Steyn, Zane Mattison and LoveJoy Chirumbisukwa …to name-drop a few… So what makes it a 2013 choice? They still focus on the artisan. The individual attention to bean selection, roast profile and blend structure. By Hand. By the artisan. And we like that.
Tribe Coffee
We first met Jake Easton at Foodlover's Market Nicolway for a 'chat'. We learnt so much in that 'chat' that turned into a marathon two hour session where he was determined to change our minds on a whole lot of contentious coffee issues including the decaffeinated bean. The man is passionate about coffee. He found two other like minded people in Kate Nero and Bradley Juter and together they began the wonderful Tribe Coffee. They opened premises in Woodstock this year and always keep things interesting. Their launch included a graffiti artist going mental on their walls, definitely an interesting roastery to visit. Their philosophy is based on collaboration and they do it so well. We get a warm and fuzzy feeling everytime we visit or hear of something they're involved with.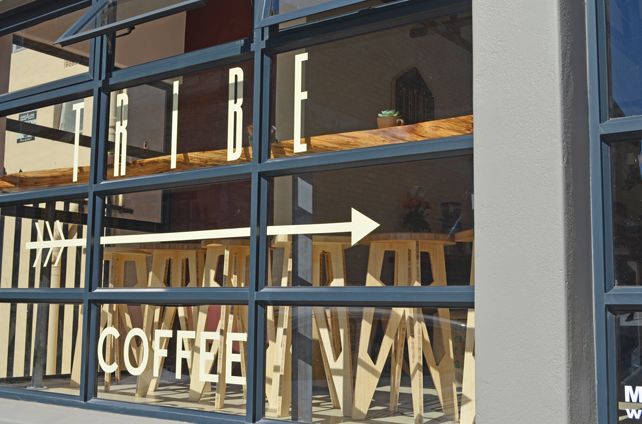 Masterton's Coffee & Tea Specialists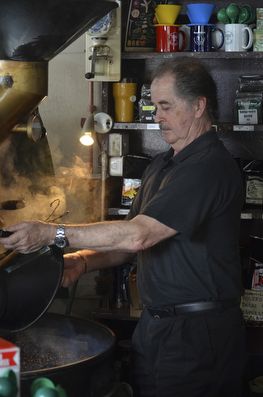 The oldest and most established roastery in South Africa, dating back to 1924, Masterton's is an institution to Port Elizabeth and synonymous with coffee roasting in this country. We featured Masterton's in the Spring 2013 issue of the magazine, as there is plenty to cover in their story. Suffice to say that if you are ever in PE, you owe it to yourself to visit the Green-roofed Roastery at 114 Russel road, where you will be sure to find James Masterton by his trusty Probat opposite you as you enter the front door and, son Ryler Masterton directing operation on the floor. Their Blend 97 is a dark roasted South American and East African blend that epitomizes the steadfast and consistent values of this family business. Plus James has a cool mustache all year round.
Terbodore Coffee Roasters
Situated in the KZN Midlands, Terbodore is surely one of the best places to experience fresh roasted coffee. Sitting under the shade of the huge trees in the garden, breathing in the country air and absorbing the emerald green of the surrounding farms, Mark and Marian Macaskill will serve you a very memorable coffee indeed. This is one of TheCoffeeMag's regular spots to visit. The Macaskill's source beans from Indonesia, South America, Uganda, Tanzania and Ethiopia and roast the beans with love and care. They have also initiated a Midlands Coffee club, with 40 -50 people turning out to the quarterly events, with guest speakers like Johan Smal from Bulwer, talking about home roasting and encouraging participation and dialogue with their members. Their son, Michael, moved to Franschoek to open a Terbodore branch there with much success. Finally, one must make mention of their Great Dane - so much a part of the family and ethos of Terbodore, it's the company's symbol and their signature blend is called "The Great Dane."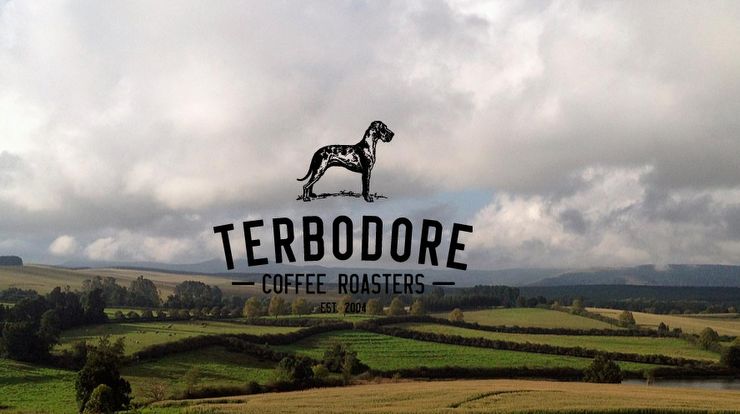 Five to watch in 2014
Honourable mentions must go to these new-ish roasteries on the scene:
1. Lineage.
The National Barista Champ roasts on a roaster he refurbished with his own two hands. Bloody marvellous.
2. Dr. G's Roastery
. He doesn't have a name yet, but we just know that Gerald Charles' roastery is going to be one we want to keep on our radar.
3. Roast Re:Public.
A coffee roastery with a cause. This trio of friends have big ideas for this venture, we can't wait to see how they progress.
4. Flatmountain Coffee Roasters
. Previously going under Kiara Coffee, Bradley Sinclair has reinvented the roastery and taken on new challenges and interesting new coffees. Bradley is determined to get it right!
5. Connoisseur Coffee (Bloem)
. James invested in a Genio Roaster this year, the first South African to do so (yay proudly SA) and he has been tweaking his skills furiously since then. Exciting!