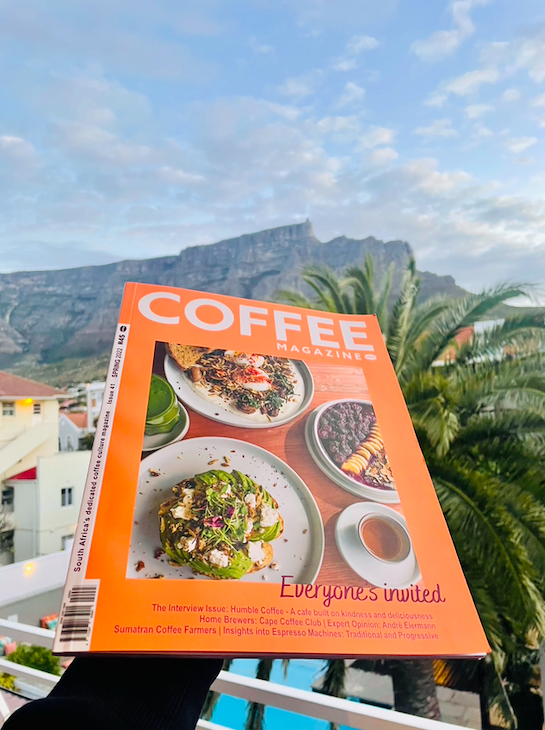 Lots of people I know have pretty extensive future plans. Anyone who knows me, knows that generally 'big picture' thinking tends to send me down an anxiety spiral. Iain would call this one of my most annoying personally traits! I think it's because I think too much about all the possibilities within the multiverse (nice little nerd reference for you there!) and then I get overwhelmed and find I'd rather focus on all the possibilities directly in front of me. This of course, has its limitations. I am extremely grateful to have a business partner like Iain who always forces me to imagine the good things that could come from dreaming big for our entrepreneurial business.

If you told young 25 year old me that I'd have 10 years of coffee publishing and events under my belt, I'd be incredibly stoked to learn that our crazy ideas had been successful. I think all entrepreneurs can relate to the feeling that no matter how 'established' your business is, it still always feels like it could all crumble to the ground at any moment. And maybe that's why even after a whole decade, it still only feels like a beginning.

When Iain and I were thinking back on this milestone we spoke about the most challenging parts along with the good, because it's easy to celebrate the wins, but the tough stuff, that's the backbone of any business. Turns out it's the consistent challenges that are the toughest.

Iain feels great responsibility with each and every magazine cycle to do the best he can for the advertisers and show them value for their investment in us.

I feel imposter syndrome building up to each magazine and each event. I didn't get to be a magazine editor through conventional means, though I've certainly built up the 10 000hours since. But I'll never take for granted that I had a leg up and I'll never stop working my heart out for the people of, in and who enjoy, coffee.

The sense of achievement every time we can pull these things off in a way that makes our readers happy and our sponsors proud to be associated with us - we'll always be striving for this, it never gets old!

The 'big picture' of the South African coffee industry is bright. Both here and around the world, the culture of coffee has taken huge leaps forward. The explosion of micro-roasteries is a good example. The fact that you expect more from your average cafe than a mound of foam is another. The level of garage forecourt coffee solutions is pretty incredible when you think about road trips 10 years ago! Cafes are more beautiful than ever before.

We know it's not all rosy, and there are many important battles to fight together for a more inclusive future for coffee, we will be here every step of the way.

When we sat down to decide what we should put into the first ever magazine published about coffee in South Africa, the answer came to us pretty simply: People.

Beautiful cafes, artisanal roasteries, lush farmlands, state-of-the-art equipment, perfectly engineered water, breathtaking design…the endless list of elements that make up the content of this publication, is only endless because of the incredible people behind all of these fascinating facets of our coffee sub-culture.

As long as you have people - you have stories. And so, we decided that we'd make this The Interview Issue and bring through some of the personalities and vast knowledge of a handful of the people that we've got to know.

The intersection of coffee people and the discourse of this somewhat mystical, somewhat scientific beverage we know as coffee, is as fascinating now as it was a decade ago. The parameters have changed, the world is a different place, yet we discover more and more through the experiences of ourselves and others.

Besides the people in coffee - there has been a tight, loyal crew that has been behind this magazine - our tribe consisting of a tech guy, a designer, an editor, a publisher, a printer, a colourful band of journalists and photographers, our families, friends and coffee people with a writing habit, have made this little magazine soar and stand proudly in some fine coffee establishments, airport lounges and newsstands around the country.

And finally, our advertisers and readers - who trust us to deliver an impeccable message, one that their brands can proudly sit within, and the other, who for 10 years have voted with their wallets, and chosen to buy this magazine, in an age where there is a lot else to choose to spend your money on. We thank you.

Here's to the next 10 years and another myriad of incredible, exciting coffee fuelled adventures! (I'm thrilled to say that doesn't full me with anxiety!)

Mel & Iain

What's in this Issue?
Cover: A little Respect
Humble Coffee, led by Amy Gardiner, commands more than a little respect through the way this cafe brings light and kindness to the coffee scene.
Culture: Stay Curious
World-renowned coffee expert, Andre Eiermann who currently lives and works in Melbourne, reveals trends of this vibrant coffee city and shares insights into the competition stage that sets the pace for the industry.
Origin: Molten Coffee
We get some insight into the lives of the farmers from Sumatra who cultivate coffee in the shadow of Mount Kerinci, an active volcano.
Brew: From Behind the Espresso Machine
This legendary piece of equipment has shaped cafe culture around the world. We spoke to Alessandro Morrico, who has close on 4 decades of experience behind the espresso machine.
Brew Too: Espresso Progressive
We often associate age with experience and use it to determine whether we can trust a service provider, but in the internet age, this theory often gets turned on its head: Enter South Africa's own locally manufactured high-end espresso machine
Entrepreneur: Making an Impact
There is a saying by a rather wealthy human that goes, "Doing good is good business" and we love to see that in practice. Johnson Sehoro is an amazing example of this.
Human Interest: Part of the Club
Community makes drinking coffee a much richer experience as Dr Zameer Brey, coffee enthusiast and founder of Cape Coffee Club, explains to us.
You can find it at one of our amazing distributors in Print (you can't miss that popping colour!) or buy it online here.