Follow the trip of a lifetime with Winston Thomas, three-time SA Barista Champion, as he travels to the famed Gesha Village coffee farm, where the now globally acclaimed Gesha/Geisha coffee varietal originated. He presented this story on stage to the world at the 2022 World Barista Championships in Melbourne, Australia.
Words by Winston Thomas
---
On the plane back home from Gesha, Ethiopia, I struggled to comprehend what I had just experienced. It felt like a dream. What was to be a trip to source coffee for a barista competition turned out to be an adventure far beyond any search for coffee. Many coffee professionals have said that visiting Ethiopia changes ones perspective and you return home a different person. Honestly, I always thought this was a cliché or just a severe case of over-romanticism, but now, I get it. I really do. On the last evening there, my host Adam Overton, had a meeting so I had dinner with his wife Rachel and their son. As an artist, Rachel gave me a keenly intuitive viewpoint of the farm. She told me about how she left Ethiopia to study in the US, how she and Adam met and how they landed back in Ethiopia visiting coffee farms for a documentary and simply fell in love with the farmers and the art of producing coffee, working hand in hand with mother nature. She spoke of Oma, the recently departed spiritual leader of the Meanit people, who live on the Gesha Village (GV) land, with so much love. When the couple first arrived in Gesha and explained what they had planned for the farm to Oma, he told them, "Take care of my land, take care of my people, educate my people." Her eyes welled up with tears as she spoke of him and how she so wished to have been at his memorial, that I was honoured to a be part of. At the core of GV is people and sustainability – for the Meanit people themselves, but also for the land and indigenous forest. The coffee almost seems to be a by-product, which is remarkable considering the quality of coffee they produce. Over a game of UNO with her son she asks me questions about South Africa and the challenges we face as a country. The conversation strays to coffee competitions and I explain my strong desire to do well for South Africa and Africa on the world stage. She doesn't know all that much about barista competitions but she certainly understands the need to fly the African flag high.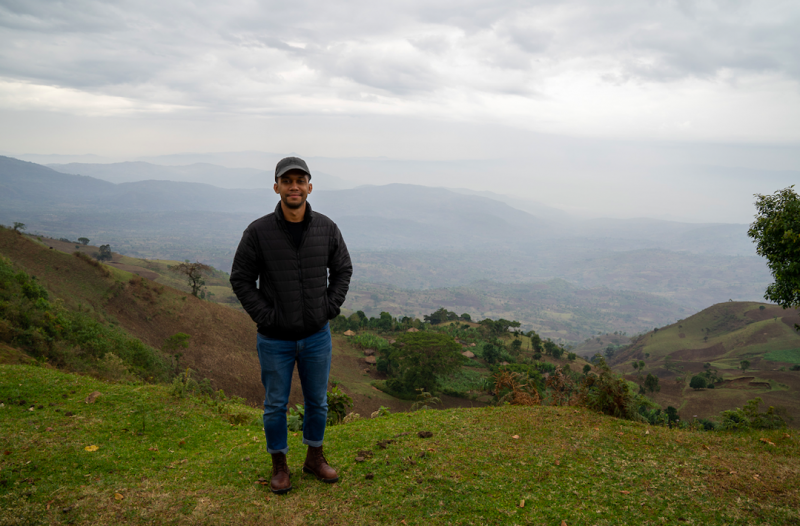 Which brings me to how I got to Ethiopia in the first place! I used coffee from GV for my first World Barista Championship (WBC) in 2017 in Seoul, South Korea. I didn't do very well on stage, but I got amazing feedback on the quality of my coffee backstage and from those who purchased the coffee post the competition. Floral, very stone-fruity with a touch of tropical fruit. It was sweet, soft and refined, the quality was exceptional. I used it again at our South African Nationals in 2018 and won by a fair margin. For WBC 2020 I wanted to build on my Nationals set. I spoke of the African Narrative and I knew that GV would be the perfect fit – both from a story and coffee quality perspective. I sent a long email to Adam and Rachel Overton, the US/Ethiopian owners of the farm explaining my idea and my intentions. They responded with a request to do a video call to discuss in more detail. "Well, if you really wanna talk about the farm and use the coffee in this context, you really just have to come over here and experience it yourself, man," Adam says very nonchalantly. "We'd be happy to give you a coffee to use but if you're really serious, you've got to make the trip and check the farm out." Two months later I was on a plane en route to Addis Ababa.
The travel plan to the farm was simple, but as I was soon to learn, even simple travel plans take a very long time in Ethiopia! Flight from Addis to Jimma, drive from Jimma to Mizan, stay over for the night and leave for Gesha early morning to arrive by lunch. Easy, right? En route to the airport, I watched the locals going about their day to day business. A large part of the Christian population were completing their two month fast so I was told that things were much calmer than usual. A quick 45 minute flight and by lunch time we were in Jimma. We headed to the Central Jimma Hotel, their regular eating stop when headed to the farm. This would be my first experience of authentic Ethiopian food and Adam introduced me to the revered head chef. He greeted me with a little bow and a kiss to my hand. He used to work as a fine dining chef in Paris before returning to Ethiopia. His charm and warm-heartedness hadn't faded despite his age. As he said his goodbyes, the waiter brought our food – a large plate of cooked lamb, stir fried veg and a large portion of injera, a staple fermented bread which is part of the everyday Ethiopian diet (as I would come to see!). As we enjoyed our meal, we were joined by a friend of Adam's who also happened to be a coffee farmer. That's when it hit me that this experience would define coffee for me in a new light. As a barista and trainer, I was going to have the opportunity be part of a different coffee conversation. His name was Addisu and he owns a farm close to Bonga where we'd be passing through. They spoke about how Covid put a hold on logistics in many ways, this year's harvest, last year's harvest and more to come. Adam then offered him a ride since we were passing by his stop. Bellies full and full of optimism and excitement, we started on the long road ahead!
A flurry of people, animals on the road, street vendors and so much greenery and life greeted me from behind the car window! After about an hour we came to a sudden stop as our driver Teddy (a different Teddy) shouted "Colobus!" Adam had brought along his new binoculars and quickly jumped out after Teddy to scan the trees. In addition to working as a driver and tour operator, Teddy is also an avid bird watcher with a sharp eye. He had spotted a local Colobus monkey, a black and white, large monkey, making its way through the roadside trees. As we passed over the winding hills of the countryside, I sat listening to the sounds of Bob Marley and Adam, Teddy and Addisu chatting as they pointed out new washing stations along the road that they hadn't seen before. The further we drove, the more frequently the smell of freshly roasted coffee would make its way into the Land Rover as we passed through various small towns. After pointing this out, Adam said to me "Yeah dude, everyone here is a micro-roaster!" What a wild thought!? Roasting small batches of coffee is such common practice here! After a few more kilometres we finally make a pit stop to drink some of the coffee. The jebena is the most common brewing method all over Ethiopia which grants easy access for a quick cup of coffee. You may even call it "curbside" coffee. As we get out in the town of Bonga, it's clear that Addisu is well known in these parts – every person stops to greet him. The excitement of having my first cup of Ethiopian coffee in Ethiopia builds up and I give a sneaky cheers to myself for what would be the first of more to come as we sit down at a friend of Addisu's. The coffee was quite intense. The best way to describe it would be similar to that of a concentrated moka pot, same texture and mouthfeel. I allowed myself some grace to add sugar for a bit more balance, which is standard practice here. After dropping off Addisu, we made it to our hotel in Mizan by sunset. A long day travelling called for a shower, another delicious meal and rest.
We got up early to make our final trek to the farm. The weather had changed significantly overnight – colder and wetter. On the road again, we immediately started reaching higher altitude. The views were breathtaking! High up in the mountains looking down at the lush green forest, I had to pinch myself. I could compare this part of the drive to watching the trailers in the cinema and finishing half your popcorn before the movie even starts, because you're so excited! We stopped for a quick photo opportunity at a look out point. Children from the village nearby came running out to have a look at us. The curiosity and excitement on their faces is a very happy memory. I couldn't help but wonder if they knew how special their land is to many that have never even set foot on it. As we climbed, The landscape began to change. There were less trees, more crops and the odd mud house right in the middle of each section of land. This land was divided perfectly with a certain species of cacti planted along perfect lines. Adam told me that there has been a lot of deforestation in this part of Ethiopia simply because families have to cut down more trees to make room for more crops in order to feed their growing families. One of the many sustainability challenges that the people here face. A sort of Catch-22 where we might be initially opposed to the deforestation without realising the intention and method behind it in the first place. The roads changed from asphalt to gravel. We were met with more curious faces in tiny villages. Kids running along the road shouting and waving at us as we passed by leaving a thick cloud of dust.
Finally we reached the town of Gesha. Adam described how it has developed since they started the farm, their most notable contribution begin a clinic which saves the locals a very long journey to the nearest town with medical assistance. At a security check point an officer comes up to the window to chat to Teddy. This is the entrance to the farm and, even though we have the owner of the farm with us, the officer made sure to follow all the protocols, staring me down with a stern look and a rifle over his arm. He eventually allowed us to pass and I see the Gesha Village welcome sign to my left and a hill to my right covered in drying beds. What a sight to see! Although I missed the harvest season I could only imagine the buzz and excitement that would fill the air during post-harvest production here. Suddenly a small tree covered in white caught my eye – coffee trees! Relatively small in size but covered in small white flowers, I got my first glimpse of what I like to call, the 'little labourers of joy.'
I'm shown around the humble lodgings. A few guys are huddled around the TV in the common area, watching a local news channel. The amount of COVID cases was on the rise and there had been talks about government implementing possible restrictions. After the long morning drive, some lunch and rest was welcomed, but I couldn't contain the excitement of being on the farm. We decided to do a brief walk around for Adam to give me an idea of the day to day activities during harvest and now during the off-season. As we leave the staff compound we passed one of the staff members escorting a little goat. "Cute little guy" I thought, only for Teddy to whisper to me, "You know that's going to be our dinner for the next few days, right?" I had arrived!
Akhalu, the farm Manager (Adam's right hand man) joins us. He is very soft spoken but extremely intelligent and makes his present felt. Adam tells me he has two degrees related to coffee and is currently busy with a law degree. We start off with a few coffee trees close to the staff compound. Adam showed me a new varietal they planted fairly recently and the physical differences between them and the rest of the varietals found on the farm. A large silo lying on its side next to a concrete structure will be used to store the by-products of milled natural process coffee, essentially the dried skin of the cherry and parchment layer which covers the green seed. To lower wastage on the farm GV has invested in equipment that will use this by-product to produce fire lighting briquettes, which will be distributed to the locals for their home use. We continue on to the washing station. With the main harvest being completed a few months prior there isn't much happening now, but Adam takes me through the function of the pulper, the concrete tanks and the section dedicated to their experimental processes. There are two large water tanks situated slightly higher than the washing station and Adam explains the challenge of accessing water for processing at this altitude. Water is pumped from a small river close to the entrance of the farm to this high point, where gravity is used to allow water to flow to the washing station. We proceed to the hundreds of drying beds we passed as we arrived. There are some natural process coffees on the beds, protected with a plastic cover because of the rains. I was happy to see some coffee drying at least, albeit not the highest quality they produce. We passed a women guiding a group of goats and cows in a catchment area that's used to discard waste water, and is home to their vegetable garden and coffee nursery. They also put effort into cultivating other indigenous trees to be used as shade trees between the coffee. These trees are grow harmoniously with the coffee trees with the addition of supplying nitrogen to the coffee. We made our way briskly back to camp through one of the Gori Gesha varietal plots where the trees were covered in flowers. An amazing smell that I'll never forget!
After a stormy night we woke to clear skies and fresh air. Breakfast was a combination of the standard Injera and accompanying dishes, but also spaghetti! The Italians left a strong pasta influence behind and Adam said this is not uncommon. We learnt via the news broadcast that there would be a three year jail term for those caught without a mask in Addis, which caused quite a bit of heated conversation! This was also when the giant cargo shipped blocked the Suez Canal which impacted quite heavily on this eco-system. Adam and Akhalu were taking me on a tour of a different part of the farm – I was excited to see the infamous Oma plot which is where my 2017 WBC coffee and 2018 Nationals winning coffee came from - the highest point of the farm. I noticed that the farm had been designed and planned to maximise work flow and production. There are gathering points for pickers to drop off a day's work, these spots are linked to roads which allow vehicles to pick up the cherries instead of workers having to transport them downhill themselves. The further we walk, the more life I start to see. Butterflies, monkeys and so many birds! Trees stretching upward providing ample shade for the coffee trees growing below. Certain parts of the canopy release darts of light which brings an interesting dynamic to the way the coffee grows below. For example, there are two trees of the exact same varietal growing less than two metres apart, but they look significantly different. Akhalu tells me this is due to ever so slight differences in the soil, the excess or lack of light and, to a certain extent, mother nature. "We are working gods hand here, we do the work and see what he decides to do with that." I also asked if they've noticed a difference in weather patterns. He said it seems as if it is shifting or moving rather than changing which hopefully can eventually be predicted the same as current harvest times and weather patterns. We climb even higher and Adam points out large trees with parts of its trunk missing. He says that the locals use the wide and thin parts of the trunk as their doors to the mud houses. We finally reached the high point of the farm. Adam has built a little hut with benches at this point where you look over Surma land and the borders of Ethiopia and South Sudan. It's absolutely incredible. Before we returned to camp Adam took me to the workers village on the farm. During harvest season it's a lot more populated, but there are still a large number of permanent workers here, all of whom come from nearby villages and towns. There are quite a few housing buildings, a café and restaurant (where we enjoyed an interesting local drink made of spices and roasted and ground coffee leaves), a volleyball setup and a football field for the local kids.
As we get back to camp for lunch the Kenyan Honey experts arrive. My visit coincided with the setup of bee hives on the farm, a new project Adam and Rachel have started. Akhalu gives them some instructions for orientation and training with the GV staff while we set out for our second leg of the day. A few weeks prior to my arrival Oma, the spiritual leader of the local Meanit tribe, and good friend of Adam and Rachel had passed on. They had not yet had a chance to pay respects. So we set off to Oma's compound. I didn't know much about the ceremony or where we would end up, but when in Ethiopia you just go with it! We were guided by some of the GV security who also happen to be local Meanit people. One of them yielding a Kalashnikov rifle and another two carrying gifts to give to the family to show respect. After a 45 minute drive and a 45 minute hike, our path eventually opened up to a field with two large compounds on either side. "We have arrived" someone whispered and the security guard with the rifle walked out in front of us. "Brace yourself and get your phone out if you want to take a video, they need to announce our arrival" says Teddy. I get my phone out just in time to capture security firing several shots into the air. The sound is deafening and it creates a wave of excitement around us and we can hear chanting in the distance. We are greeted at Oma's compound by family members singing and chanting and a beautiful shrine with several of Oma's personal belongings, including two Bafana Bafana shirts, I was proud to note. We're led to a little bench to be seated as guests as we watch and listen to the singing. Adam tells me that they are still in mourning for Oma even though it's been a few weeks since his passing. Oma's family is huge – I can't remember the exact numbers but something like 10 wives, 20 children and over 35 grandchildren. He has a strong connection to GV and Adam tells me he's always believed that they would bring good fortune to his people. We're offered a local corn based wine, which has been passed around between first the men, then the woman of the family. We humbly declined and soon after said our goodbyes. We took a different route back and pass several compounds where I see the odd coffee tree growing. Teddy tells me they grow for their own consumption. Again, I couldn't help but wonder if they really knew the impact this simple cherry has globally? If they knew how sought after this beverage was and the amount of money so many Westerners pay for it on a daily basis? This experience was so far removed from what I experienced working in coffee back home. I left feeling humbled and to a certain extent, obligated, to serve this drink with more respect to its origins and the people that allow us access to do what we do.
We have one more stop for the day. They've spent the last few months working on building a school and staff offices, just outside the local village. It will be one of the few concrete structures in the area. Akhalu (who also seems to be the building manager here - a man of many talents!) takes Adam on a tour and updates him on the progress and challenges. It's great to see Adam's engagement and willingness to take Akhalu's advice based on his understanding of the people and their needs. There seems to be a genuine desire for GV to contribute to this community beyond the borders of their farm. Having just been to Oma's memorial and knowing Oma's own words to Adam, leaving the responsibility of the farms land to this dynamic couple to take care of his people, I can sense that this is more than just coffee farming to Adam. I join them on a walk and listen to the plans they have for a soccer field, playground and even a dedicated area for growing more coffee trees. I'm told that this school would save the kids more than an hour long walk to the nearest school. This would also create jobs for locals to work as teachers, saving the them this trip as well. When we arrived back at the farm the staff chef was ready and waiting with a beautiful coffee ceremony for us. I couldn't have imagined a more authentic experience! On top of that, she obviously used Gesha Village coffee which was the best jebena I had on the trip by far. The Kenyans joined us for the experience and afterward we had some amazing barbecue and spoke of the day's activities, mainly honey and bee-hive set-ups. What a time to be alive!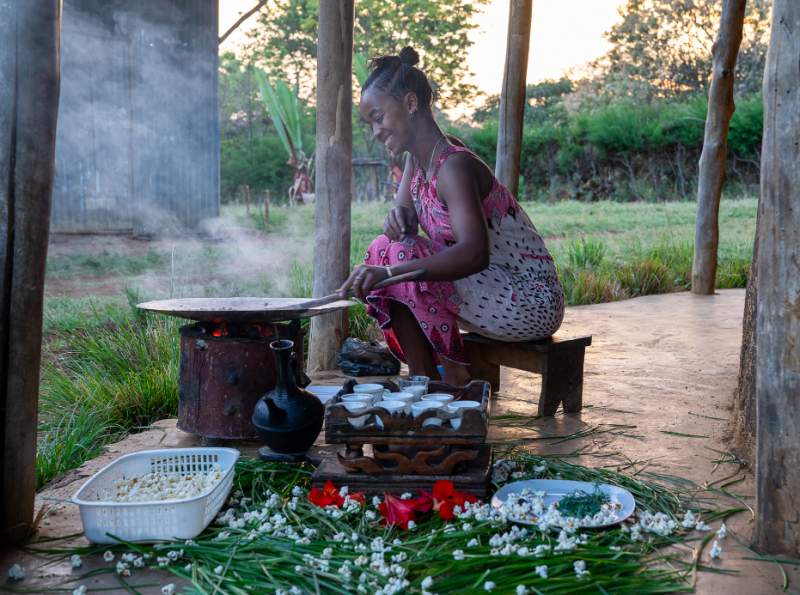 Back in Addis, we headed straight to the GV head office in Addis CDB.
The office was a true representation of what I believe to be Modern Africa. Crisp white walls, layered by dark framed furniture and colourful touches on the desks, scatter cushions and Rachel's amazing artwork gracing the walls. The most notable framed piece is an illustration of Oma in the Obama "Hope" poster style.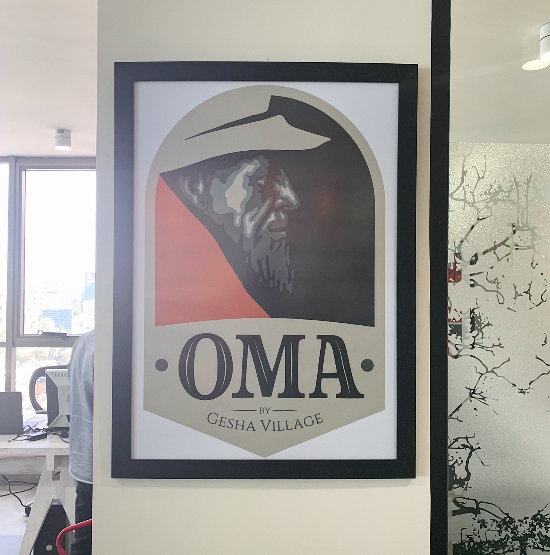 Rachel is very proud of this and says that Oma will forever be in their hearts, this is an ode to him. Rachel tells me how she had sourced all of the furniture from local Ethiopian Artisans. "We are here to show case great African coffee but also the talent of our local artists." It's evident that they take a lot of pride in their Ethiopian heritage and excellence cannot be compromised. One of the staff makes us a "casual" pourover using one of their coffees. I say casual because to them it an "every day" drinking coffee whereas for most around the world a cup of GV is an experience worth paying for. I'm nervous to cup coffee with Adam and Rachel and feel like I haven't had enough cupping practise in the last few weeks. Not to mention the fact that I'm cupping this with the owners of GV and Rachel is a Q Grader! No pressure Winston! The aromatics from all the coffees after grinding was hypnotizing. In the past I've had three or four GV coffees on the table along with other coffees of slightly lower quality, so it's easy to spot them. They were all 88 points and higher scoring coffees which makes identifying the special ones even harder! Every slurp was such a treat! After the first few bowls I decided to simply enjoy the experience and not to put too much pressure on myself, even though I was looking for a coffee that I would potentially take to the World Barista Championships if by some small chance they happened in 2021. The diversity from cupping bowl to cupping bowl demonstrates the attention to detail I saw on the farm tour. Everything is intentional and considered. What seemed like excessive and borderline OCD practises on the farm now presents itself through complexity and, as my good friend Maxwell Colonna Dashwood likes to say, provenance. The Gesha varietal returning to its homeland of Ethiopia, especially shined on the cupping table. Buzzing on coffee we do a deliberation and share thoughts on the coffee – fortunately I am not too far off from Adam and Rachels notes and have managed to identify all the naturals on the table and a specific natural that I've earmarked for possible competition use! We said we'd save the espressos and mini staff training for my returning visit. A guy can dream!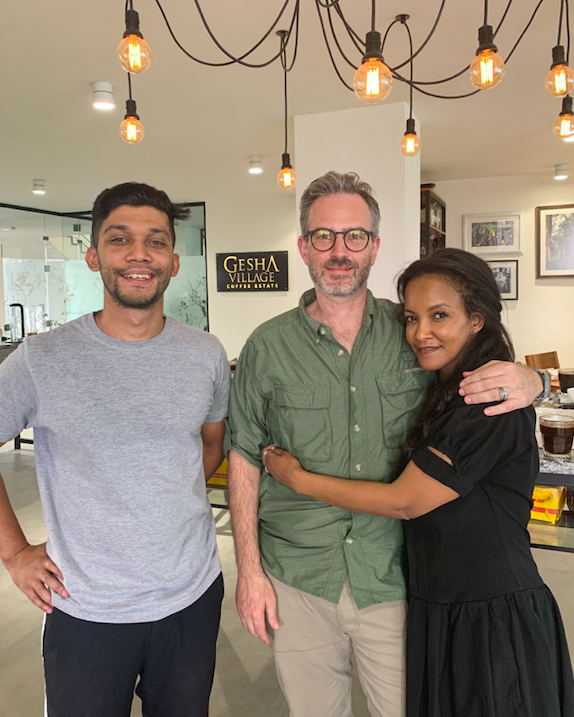 I can't say I've returned with new skills or a deeper theoretical understanding of coffee that I can teach others about. Instead, all I can really say is that I've returned inspired and with a deeper connection to coffee. A deeper desire to learn. A deeper desire to progress the African narrative in coffee. And of course I've returned with a new set of coffee friends I look forward to spending more time with in the future.
Thank you Adam and Rachel. Thank you Oma. Thank you Gesha Village.