As we build up to the World Barista and Brewers Champs at MICE in Melbourne, Australia at the end of the month, we're sharing an interview with the wonderful Sam Corra that was originally published in Issue 20 of The Coffee Magazine in 2017. His role at ONA has changed, we've been through a whole pandemic, but his insights on coffee roasting and life in general, remain relevant as ever.
---
The Hot Box with Roaster, Sam Corra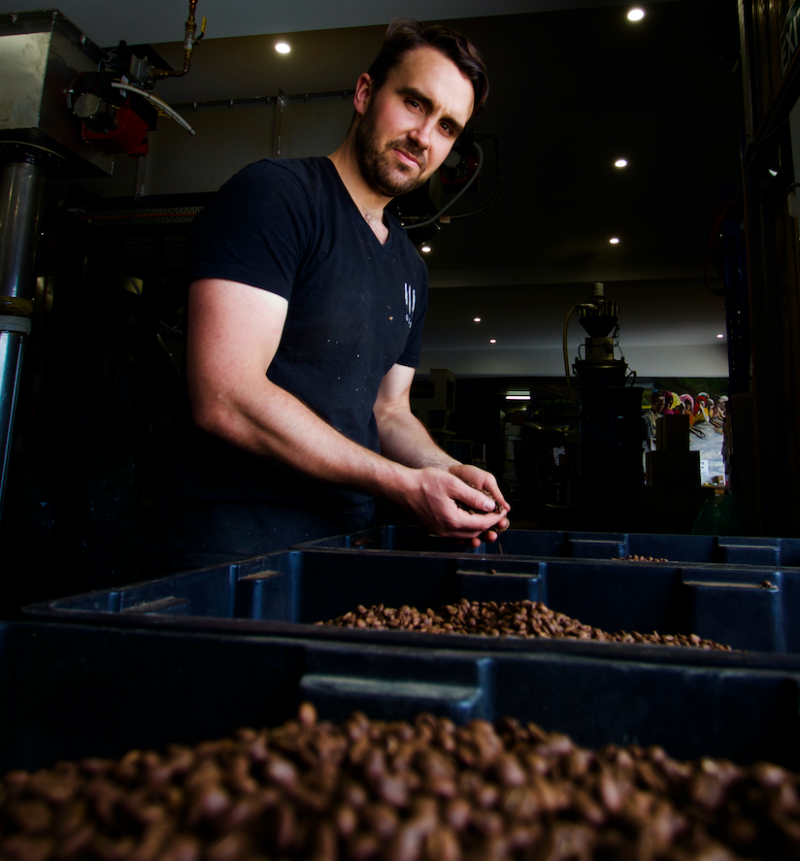 Sam Corra, ONA Coffee Head Roaster, now Director of Coffee, may have been the man behind the coffee stars so far in his career, roasting the beans that have won numerous awards including Sasa Sestic's win for Australia in 2015, but he's stepped out from behind his roaster to brew some coffee in front of some judges for a change. He won the Australian National Brewers Cup Championship in 2017 and competed in Budapest in at the World Brewer Cup. Here he tells of his personal journey with coffee and how there is never an end to learning.
You grew up in the countryside outside of Canberra, Australia. How do you think that this has influenced your life?
I suppose that it made everything … a bit more difficult. It took a long time to get anywhere, so that was tough. I guess it makes you appreciate it more when things are more convenient; in the city, a few kilometres seem like nothing to me. Growing up like that makes you work harder and that ethic has translated into the way that I work now – there aren't any shortcuts.
What did you want to be when you were younger?
Well, believe it or not but I wanted to be a teacher! However, I wasn't the best at English and gradually that idea faded away. After that, I always assumed that I would pursue a career in wine. My parents have run a wine trading company since I was about 10 years old and it was always something that I found very interesting.
Where was your first coffee job? How did you get it?
[Laughs] This is a good story. My first job in the coffee industry was at a cafe at the Canberra Institute of Technology (CIT).To be honest, I didn't even really want the job. I earned money from trading wine online, but my mum thought that sitting at home in the countryside on a computer wasn't great for my social skills. So, she suggested that I get a job in hospitality so that I would engage with people more.
So you didn't want the job, but you ended up getting it. How did that happen?
They called me for an interview and before I left for it, I decided to make myself look 'unemployable'. I wore my worst thongs, footy shorts and a singlet. However, the managers were the kind of people that take kindly to people who look like they're in need, those with no work experience and so on. I guess I looked like I really needed work, so they hired me. I guess my plan didn't work.
Did you start making coffee immediately, or was it something you gradually discovered?
Actually, at first I found a passion for muffin making and it was only when I had to go for my driving license, probably a year after I began working at the cafe, that I started drinking coffee. I was worried about being tired on the long drives back home and thought the caffeine would help. I started with 16 ounce cappuccinos – half strength, mind you. After that, I became really interested in latte art and pushed myself to excel at that.
How did you come to start roasting for ONA Coffee?
Do you have enough memory on that? [Sam laughs and points to the iPhone on which we are recording]. I started by competing against ONA, years ago; I met Angus Mackie, Jack Scheeren and Sasa Sestic at an ACT latte art competition. I remember sitting there, saw them staring at me like, "Who is this guy?" as they had competed before and never seen me. I put my headphones in and ignored them, at first. I was pretty arrogant about my latte art and thought I was guaranteed to win, but then Sasa decided last minute that he wanted to compete. He borrowed all of my equipment, as he had none of his own, then beat me! I hated the guy.
Losing to a man that would one day be the World Barista Champion isn't too bad! Did he pour better than you?
He was so unprepared! Instead of presenting photos of his latte art to the judges, as you're supposed to do these days, he pulled out his phone and used photos in his photo gallery instead. His latte art was okay but back then those competitions were 50 per cent latte art, 50 per cent taste. He may not have poured better than me, but at that time he was probably the only person whose central focus was the taste. He was a better barista. I was annoyed at first, but I realised that I lost because I didn't know how to work with the coffee properly. I thought, if I want to pursue this as a career, I have to join someone who is progressing and pushing the industry. At that time, Ona was so tiny and to expand the business, Sasa needed to step away from the roaster. I came aboard and the rest is history.
Having won the National Brewer's Cup, do you think your expertise in roasting helped in that competition?
Absolutely. I guess that being a roaster makes it easier. Roasting coffee, you have to have a deep understanding of the farming processes of each coffee and that can't really come from research, but is achieved through a personal relationship with the farmers, which Sasa and Project Origin have made possible. Also, as a roaster there is a level of understanding what you have done to the coffee, how you have roasted it, the chemical changes you've made, the acidity and sweetness and when it comes to brewing, all of that knowledge allows you to better express this. When I roast a coffee and then brew it, I have complete control over the creation and expression of it's flavour. I am really able to show my preferred style of roasting and my extraction method displays that.
How does it feel to have won your own award and to receive a national title?
It's unreal. We have had several successes over the past few years and usually, we celebrate them as team efforts. It's amazing that Hugh won the National Barista Championship again – it's something we had dreamed of, but internally I wasn't really sure if we could pull it off. To have had the opportunity to compete in the Brewers Cup was amazing in itself, but to win first place…it still quite hasn't sunk in. I think everyone has seen the video of me jumping around when I won [laughs], but to be honest, now that we're back in Canberra it all feels a little surreal.
What is it like to compete at the national level?
The standard of baristas and coffee in general throughout Australia is phenomenal. I really didn't expect to come away with a win, especially with such amazing brewers competing this year. Devin Loong and Chanho Hong, who came in 2nd and 3rd place, are amazing competitors and it was an honour to stand up on the main stage with them. All seven finalists were a pleasure to compete with and spending time with them backstage was great. It was such a supportive environment, everyone was chatting and having a great time – it was definitely the best backstage experience I have ever had at a competition.
What has been the hardest challenge over the years?
Sasa! [Laughs] No, not really. We've always been a group of people who have passion, but everything has been self-discovered. When we started, we had no idea what we were doing. We'd try something, look at the results, come up with a theory, try and replicate it and realise that we had no scientific basis. It took us the better part of six years to come to a point where we have a comfortable basis, where we understand what we're doing to a point that we can do something, make a hypothesis about what it will achieve, trust our findings and pass the knowledge onto others.
What was the industry like when you started?
Back when I started, the problem with specialty coffee was that everything was guesswork. People would have theories and ideas, but nothing was concrete or scientifically valid. Now, you can go online and learn more about roasting in half an hour than I did in my first three years. Access to knowledge was the hardest part for us. I don't regret the way that we learned, because it makes you appreciate why mistakes happen and to understand them.
What is your favourite part of roasting coffee?
As ONA has grown, the quality of coffee and producers that we manage to work with has grown too. We started with less than average coffee, but now with Project Origin we are able to work with some of the best coffee in the world. I'm probably one of the most spoiled roasters in the world, with the quality of green bean that I get to work with.
What is your least favourite part of roasting?
The hours, probably. I love roasting, but it is very arduous and exhausting, especially as you go deeper into it. For us, quality is of the utmost importance and sometimes the price of that is our personal time. If a smaller batch size tastes better than the more efficient, larger batches, then you do it if it means better quality coffee. If you want to do something well, it's going to take time. It's just the nature of the industry.
Do you have any favourite coffees that you've worked with?
There are so many, it's hard to pick. If you asked me every two years, my answers would change. I do have a 'dream cupping session' in my head though.
What would be on the table in this 'dream cupping session'?
There's four coffees that stand out in my mind. We once had a sample from Rachel Peterson, a Trapiche natural. It had an amazing profile, steeped red fruits and intense aromatics. That would feature for sure; it was probably the first coffee from Panama that blew me away. The next two coffees would be Sasa's [competition] coffees, both his carbonic maceration and natural process Sudan Rume coffees from WBC 2015. The natural process he used, for me, is the pinnacle of milk-based coffee and I'm always trying to replicate what we tasted that day in Seattle. The last coffee would definitely have to be a coffee from Jameson Savage, his 'Finca Deborah' washed process from Panama. This coffee was used by Berg Wu, who won the World Barista Champion 2016 in Dublin. We were lucky enough to have that coffee a few months ago and when you try it, you just see why it scored perfect scores. It's one of the best espresso experiences I've ever had and was an obvious choice for my coffee for Brewers' Cup. Those four coffees, side by side, on a cupping table. That's the dream!
You were part of the team that helped Sasa Sestic win the 2015 World Barista Championship. What was it like to be there?
It was…surreal. It was such a strange experience being in Seattle, we'd worked so hard for over seven years and Sasa had competed for at least four of those seven. Being in a room surrounded by coffee celebrities and national champions was pretty overwhelming, and [Hugh] Kelly and I were like giggling schoolgirls, trying to play it cool and hide our excitement. I felt like I was underage and had snuck into a nightclub, bubbling with excitement. That part was pretty crazy. When it came to the actual competition, it was all pretty intense. Sasa was so ill was we kind of had to take control of all the back of house stuff, organising equipment, cleaning, setting up. There was the initial "Wow, we're here", but then it was bam, next stage, next stage. We didn't see any of Seattle, we barely left the backstage area.
How did you feel when he won?
It was just…odd [Laughs]. Obviously it was amazing, one of the best moments of my life and Sasa worked exceptionally hard to be there and to win. But for us to come from Canberra, to the world stage for the first time, then to be in the semi finals, then the finals, then to win…it was just crazy. Having Jeff and Roland there, who made The Coffee Man film, that was even better because those moments can be relived over and over. It took months for it to actually sink in, what he had achieved and what we achieved as a team. If you had told me before the competition that the coffee I was roasting would be what Sasa would win with, I would probably be shaking so much I wouldn't have been able to roast.
You mentioned that you were a bit star-struck in Seattle at the WBC. Are there any particular people in the industry you idolise, or look up to?
Everyone that was there was amazing, really. There are a few special names that come to mind; on our backbench we had the UK barista champion, Maxwell Colonna-Dashwood. We'd watched him the previous year and he was 6th in the world, and also the most prolific person when it comes to water for coffee. To be within inches of him was pretty exciting for us. Another person I think very highly of is Charles Babinski, the 2015 US Barista Champion. When we met him, he was talking about his coffee with us, even though at the time we were really 'nobodies'. He talked about his coffee, Santa Barbara, Honduras, asked about us, our coffee, our story. He is so humble and a great guy and I guess if I were to model myself on someone who has … 'barista stardom', it would be Charles. Another person whose company I really enjoyed in Seattle was Ben Put, the Canada champ[ion]. Just his attitude and that of his team was great. A lot of people were really serious at the comp, but the Canadian team had put the effort in but were also there to have fun. They were drinking beers out the back, having a laugh, always a lot of fun. They put the competition in perspective for me – you're there to work hard and do your best, but at the end of the day it shouldn't stop you having fun and embracing the coffee community.
One last question. For anyone that is an aspiring roaster, do you have any advice, or words of wisdom?
The best advice I can give is to research what it is you want to achieve before you try and do it. Obviously there is so much amazing knowledge out there now … one book I would recommend to anyone would be Scott Rao's 'The Coffee Roaster's Companion', it's a great place to start. The next advice would be to get yourself involved in an existing team and get some experience. Going out on your own with no experience is dangerous, in the sense that you don't know which mistakes you are making because you have nothing to compare them against. If you can find someone with knowledge who is established and you appreciate what they're doing with coffee, then working with them is the best way to learn. Also, make sure that you're working with good machinery that allows you to understand the roasting process. It's like being a barista, if you don't have a good machine with which you can control variables, then you can't achieve what it is you want. Lastly, question yourself every day: you can always make your coffee better, even if you think you've nailed it.