Use what you got: Cool Stuff made from Coffee Waste
The process of making coffee produces quite a lot of waste. Innovative thinkers around the world have come up with incredible ways of utilising the various stages of waste created, mainly focused around used coffee grounds. Presenting upcycling at its finest, here we highlight some of the most interesting products made from coffee.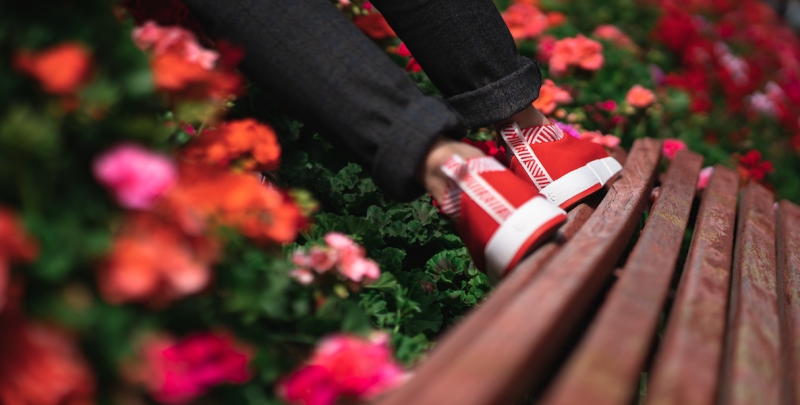 We kid you not! These sneakers are partly made using coffee grounds!
Coming from Vietnam, both Rens founders have first-hand experience of the footwear industry's environmental impact. "It's unbelievable how giant companies churn out millions of unsustainable products, using unsustainable materials and doing very little to mitigate their impact," says CEO Jesse Tran. Conversely, when looking for sustainable footwear, the founders found the options to be lacking. Co-founder Son Chu explains, "Jesse and I are both young sneakerheads who are also concerned about the origin and impact of the shoes we wear. It felt like no one was making an eco-friendly option for us – for our generation. So, we decided to make one ourselves."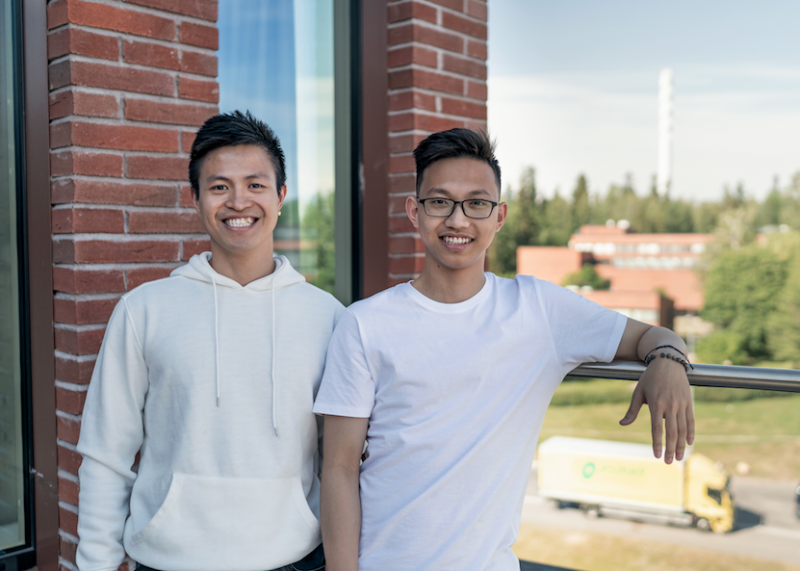 Every pair of Rens has an upper made from a mixture of coffee yarn (from 300g used coffee grounds) and recycled polyester (made with post-consumer plastic). Each shoe also includes a coffee-infused inner lining designed with a breathable, ultra-lightweight material. 100% waterproof, the shoes adapt to your movements to provide all-day comfort. Stylish and versatile, Rens sneakers can be worn durning the urban grind or on the mountain. What's more, coffee's natural antibacterial properties make Rens odor-resistant for their entire lifecycle. Sounds a bit too good to be true right? They ran a hugely successful Kickstarter campaign in June 2019 that saw them exceed their funding goals and allowed them to officially go into full scale production. We want some!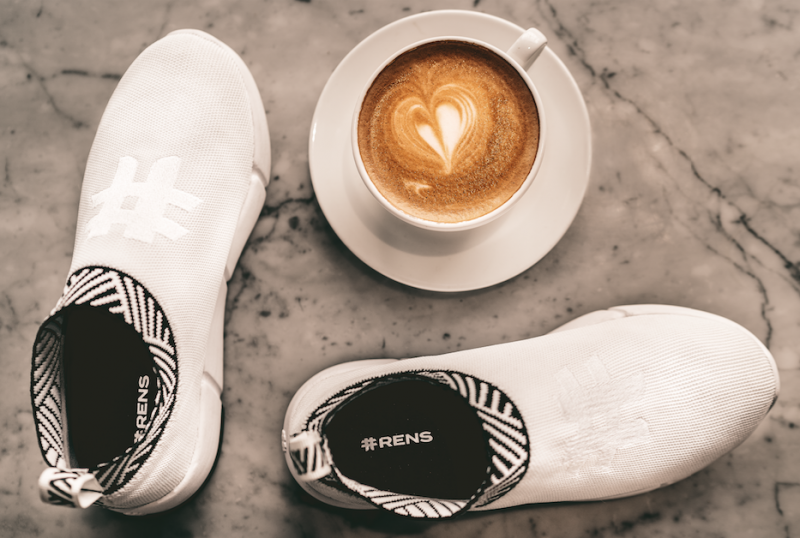 It makes perfect sense that coffee by-products are being used in the coffee industry, as such we found two options of reusable coffee cups. Both using waste from different parts of the coffee, namely the husks from farm level and the paper take away cups used by the million in the coffee industry.
HuskeeCup is a revolutionary product helping to reduce waste the coffee industry produces each year. Over 500 billion takeaway cups pile up in landfill each year. As a result, it's become a huge focus of coffee companies to be part of the effort to help alleviate the issue.
What's different with this is they've used coffee husks as a raw material. This is an organic waste material produced at the milling stage of coffee production. Thus by supporting the HuskeeCup you're helping to recycle hundreds of tonnes of waste from coffee production.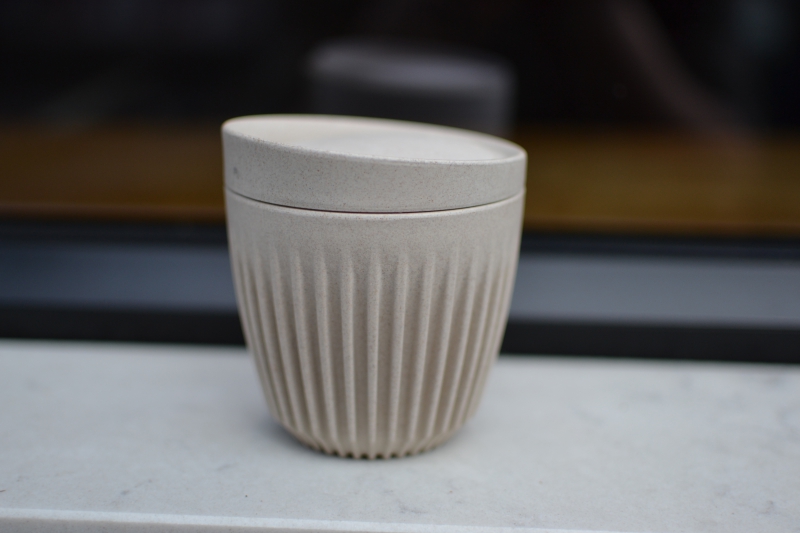 The Sydney-based company somehow came up with the idea of making coffee cups out of discarded coffee husk, which sounds like a crazy idea, but the result is a cup that we'd welcome into our kitchen with open arms. 'Many people don't realise that coffee is the seed of a fruit,' says Tim Heinze, Huskee team member and coffee grower. 'Coffee starts out as two seeds inside this fruit and eventually ends up as a roasted coffee bean. The coffee seed has this layer of husk on it. HuskeeCup comes from the unused husk.' HuskeeCup is a reusable alternative to your regular mug that's comfortable to hold and keeps your coffee hotter for longer, thanks to its grooved design. It's chip and crack resistant and the makers say their product is durable enough to withstand life in a busy cafe, as well as being elegant enough to also look the part. The handle-less design is perfect for easy stacking, and the ridges keep the heat in, as well as adding grip. The cups come in a café-ready range of sizes. Each size fits a universal saucer, and lazy souls will be pleased to know the whole range can be shoved in the dishwasher. You can also get a (universal) lid to turn your Huskee into a travel cup – perfect!
Circular&Co Cup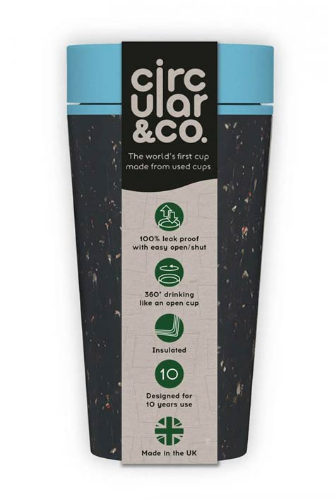 The Circular&Co Cup is the world's first reusable coffee cup – or travel mug – made from recycled paper coffee cups. Circular&Co is a company focused entirely oncoming up with products from waste materials. Founder Daniel Dicker views 'waste' materials as both a challenge and an opportunity. 'Ranging from redundant plant pots and coffee cups to seemingly useless things like car bumpers, plastic bottles and yoghurt pots; we turn them into fantastic and durable products like house signs, tide clocks and travel mugs for you to use.' Every day in the UK, up to 8 million coffee cups are thrown away, with less than 1% of these cups thought to be recycled. The main challenge to date has been the plastic film lining the paper cups, which means they are rarely recyclable. "But now working with our partners Nextek and Simply Cups we are able to recycle and shred the whole coffee cup and using the strong cellulose fibres of the cup we can bond it with a special resin. This resin is mixed with recycled plastic to create a new material which can be manufactured into a range of new products, including the Circular&Co Cup."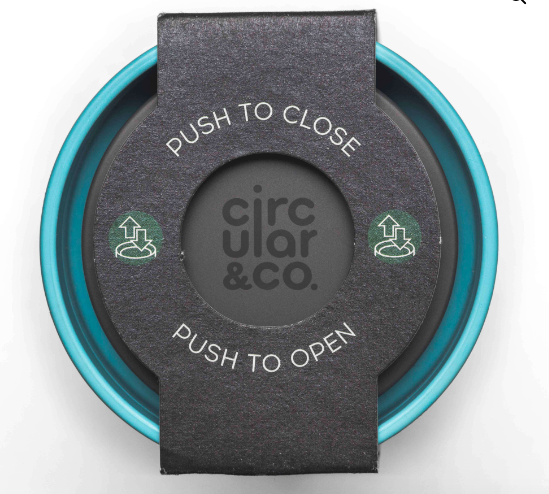 The Circular&Co Cup features a unique 'push in – push out' lid which makes it not only 100% leakproof, it also enables 360 degrees drinking. So no more sipping your expensive coffee through a tiny hole! And what's more; thanks to this lid you can actually smell the coffee. We got to try these out at the London Coffee Festival 2018 and they're really cool, bing able to smell the coffee makes a surprisingly big difference, which makes sense when you think about it!
The intention was not only to prevent new paper coffee cups from turning into landfill, but actually recycling those that have already been used. Furthermore, it is also recyclable, something that does not always apply to other mugs and cups – for instance those which contain silicon.
This reusable coffee cup is reportedly 100% leakproof, dishwasher save, BPA free and is designed for a 10+ years lifetime. Sounds good, right?
Firefly Firespark - Biofuel Firelighters
Say hello to FireFly Biofuel – the new kid on the environmentally friendly block, and the perfect gift for braai masters with an eco-friendly agenda! We chatted to Mariska van der Heide of FireFly Biofuel to find out more.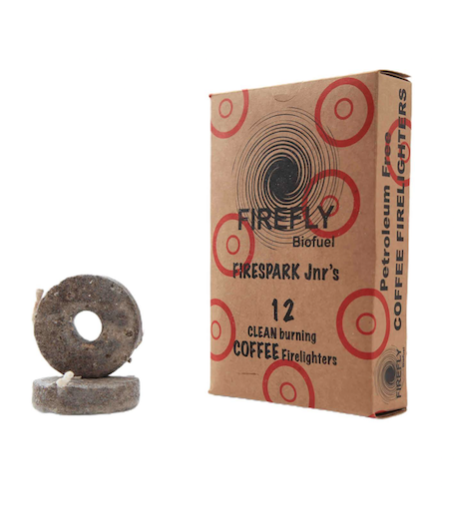 How did Firefly Biofuel come to be?
"We'd love to say over a cup of coffee but alas...over a couple of drinks at a friend's house. Friends of ours have a furniture company and they were complaining about having to pay someone to remove their off-cut wood pieces and sawdust. My husband, Kai, volunteered to design a press for them in order to utilise the sawdust and make wood logs to use in their fireplace for the house. They said that they didn't have time and asked Kai if he wanted to play with it. Since this was a labour of love, we set the standards ridiculously high – toxin-free, petroleum-free, smoke-free, odourless… From there, Kai started experimenting with different moulds and ingredients."
Where did the idea for firelighters made from coffee waste come from?
"During the research phase, it was a natural evolution. We tried to find a resource that could replace petroleum as an accelerant and came across multiple articles relating to uses of waste coffee. The reason why coffee is so good for composting and worm farms is the high nitrogen content and calorie count (when decomposing and burnt), and from there the experiments began.
Coffee is an amazing resource that stretches from the morning cup of Java that kickstarts your day, through to fertilising the land where your fruits and vegetables are grown, along with mushroom farms all the way through to (now) the firelighter that starts your braai. Not to mention the fact that coffee is the world's second largest traded commodity besides oil so it was readily available, and the uses of coffee from the bean to the fire is almost limitless."
Where do you get all of your coffee waste from?
"We collect our coffee from local coffee shops (independents and corporate) in an effort to assist in reducing their waste to zero and removing coffee from the methane cycle. We cover all levels of supplier from the one-person machine to large corporate entities. We supply a food grade container that is airtight and hygienic and replace them on a regular schedule as per the supplier needs."
And where can people find the Firefly FireSpark?
"We have a e-commerce now available where people can purchase directly or from their favourite retail outlets listed on our website as well."