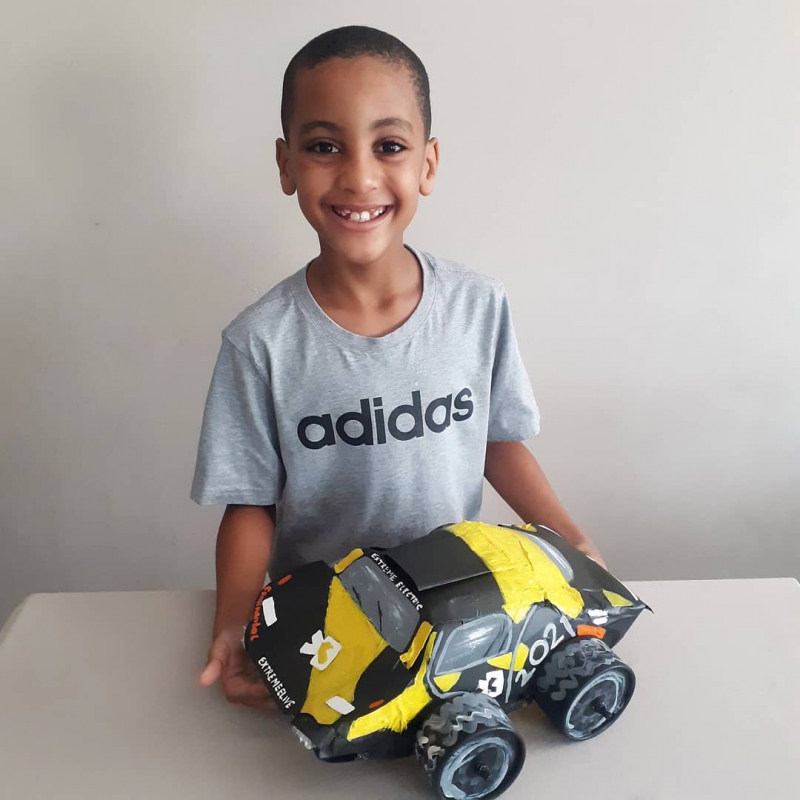 Romario Valentine, 9 years of age, resides in Umhlanga, Durban and is an active child environmentalist and dreams of becoming a Scientist. At the age of 6, he was an orca in a school play. This led him to do research on killer whales, other marine life, and seabirds. He discovered that the numbers are dwindling due to contamination of the ocean caused by pollutants. Romario embarked on a "Save Our Ocean" project which commenced on the 28th July 2017. He cleans the beach once a week with his parents. His dedication and passion inspired some of his friends to join him on his beach cleans. Prior to Covid-19, Romario regularly visited the Umgeni River Bird Park. His visits to the bird park inspired him to develop a love for birds, which resulted in him painting a Hoopoe, Golden and Reeves Pheasant, African Grey Hornbill, Bee Eater, Knysna Turaco, Galah Cockatoo, Blue Spix Macaw, "3 Cranes" Wattled, Grey Crowned and the Blue Crane, which is the South African National Bird and also present at the Bird Park.
Romario commenced mathematical art lessons from the age of 5, taught by his mother. What started out as a pastime has resulted in a passion for art.
"I don't want the birds to be extinct or go hungry." - Romario
This year he could not spend his birthday at his favourite bird sanctuary, Umgeni River Bird Park in Durban due to the lockdown.
However, upon hearing from his mother, about the impact of the lockdown on the bird park and other wildlife sanctuaries. Romario asked his mother to create a crowdfunding on BackABuddy. To allow his friends, family, and eco-warrior fans to donate to his campaign in lieu of presents for his 9th birthday on 26th July 2020.
The Umgeni River Bird Park was established in 1984. It has a variety of beautiful endangered birds like cranes, macaws, storks, hornbills and many more from Africa and the rest of the world.
On the 25th July 2020, Romario was invited to Umgeni River Bird Park by Tarryn Bristow (the Curator). He was presented with a Certificate of Excellence by the Education and Awareness Program Coordinator, Grant Aggett-Cox. Furthermore, Tarryn took him on a short-guided tour, his birthday wish came true. Romario had a chance to see a Galah Cockatoo, called George up close.
Grant informed Romario and his parents that there was a nest of the Hamerkop bird above trees close to the magnificent waterfall. These birds have returned to the bird park during the lock down after over 20 years.
Upon Romario's exit he received a fluttering ovation from the Macaws and the White Cockatoos including a "hello". This proved to him the need to continue to help the "Inspire to conserve" campaign.
As of the 15th August 2020, he has raised over R30,000 (South African Rands).
The campaign is still open, and donations can be done here.
"I feel phenomenal and thank you to everyone who supported my campaign. Let's protect our planet for our future." – Romario Valentine
On the 5th September he was invited by Grant Aggett-Cox to shop for his 900 feathered friends. The products and plants will create a safe and eco-environment for them where they are already cared for in pristine conditions closest to their natural habitats.
On the 24th August 2020, he aired on SABC 2 50/50 Environmental Programme. He featured in the National Geographic Kids - September 2020 Magazine Issue under "Inside Scoop" and he became Ocean Sole's youngest eco warrior Ambassador. They are a company in Kenya, that recycles flip flops found on the beach and transform them into marine and wildlife sculptures.
As of the 6th of October 2020, Romario has done 126 beach cleans.
He has sponsored a tree with Green Pop SA and The SA Forest Trust for Platbos Reserve. At his residence he has planted several Spekboom "Elephant Bush". A South African "wonder plant" that absorbs a lot of carbon dioxide and emits vast amount of oxygen., with a survival term of at least 200 years.
He creates his own sustainable art/Science experiments out of pollutants such as plastic etc. To date he has made a submarine, rockets, a baobab tree and recently F1 Champion - Lewis Hamilton's X44 Extreme E-SUV 2021 Car from a Nescafe box, bubble wrap, bamboo chop sticks and paper.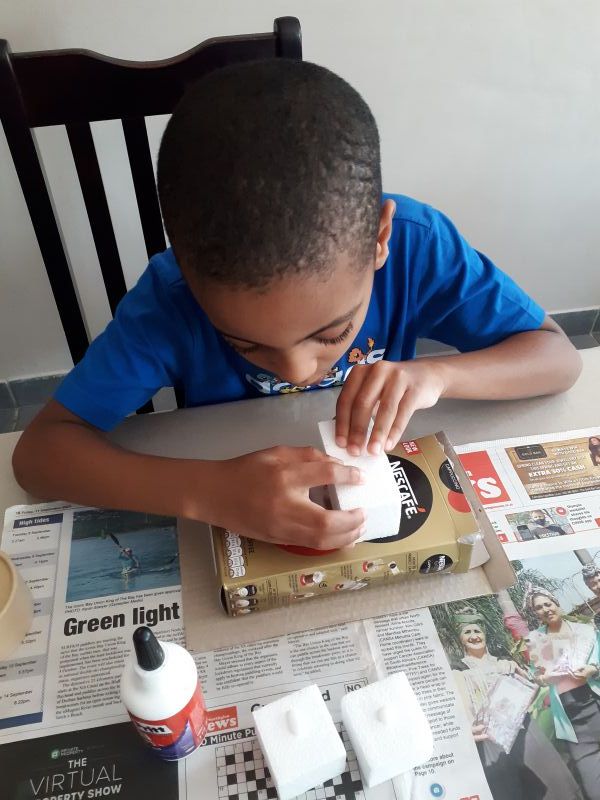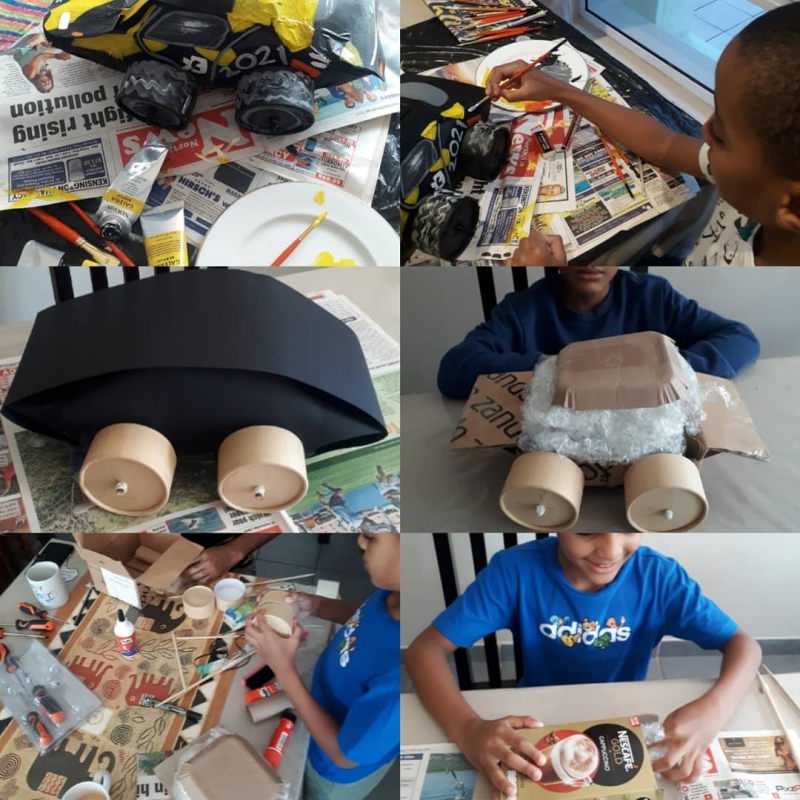 "Romario is an ambitious boy and an innovative visionary. We are proud of his achievements and everyone who has supported his campaign. We will continue to support him in all his endeavours." – Delsha Moodley
Besides his passion for nature and the environment, Romario is an energetic child who loves sport. He takes part in swimming, golf, hockey, cricket, tennis, soccer and cross-country. On the 14th of June 2020, he participated in the 5km Comrades Marathon "Race The Legends" alongside his father, Clive Valentine, who is his sports mentor and coach.
At school he has run 500km, which was achieved on the 8th September 2020. He will also be participating in the Cape Town Marathon 5km race on the 18th October 2020.
Twitter Page : @ArtistRomario