Meet the first Da Vinci Flavour Geniuses!
March 2020:
We are please to introduce you to the first ever graduates from the Da Vinci Flavour Genius Academy in Gauteng and KZN!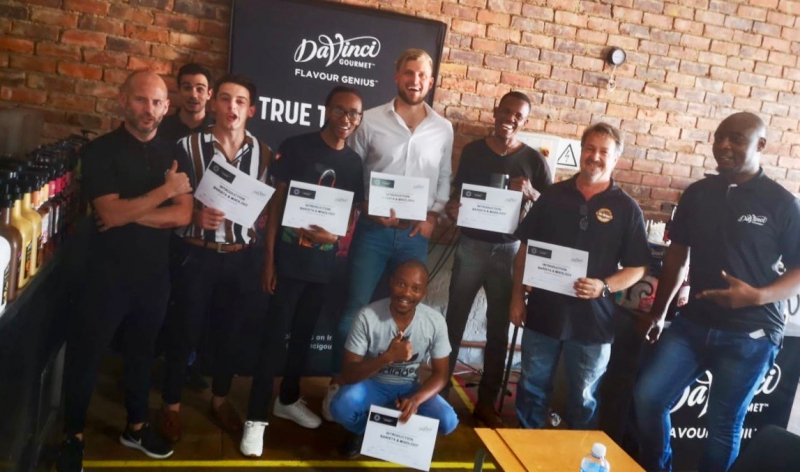 Happy Flavour geniuses graduating from JHB!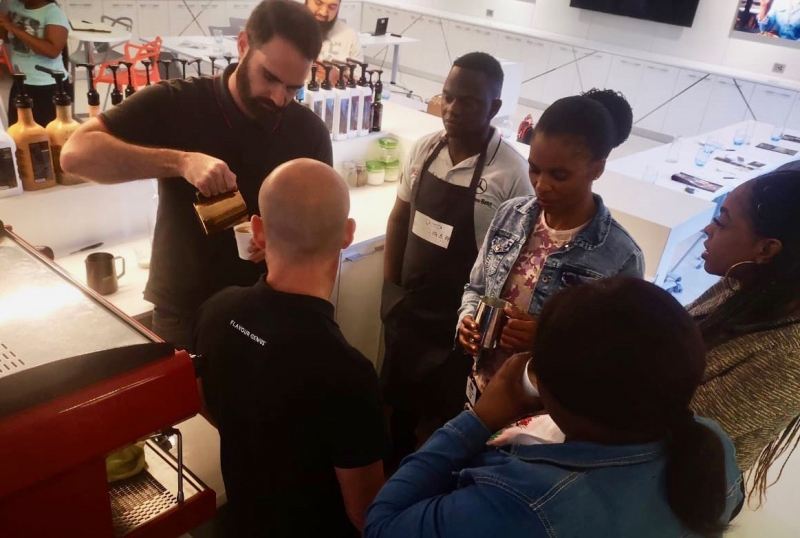 Dieter and Dale show the KZN crew how to infuse delicious flavours into their milk based hot beverages.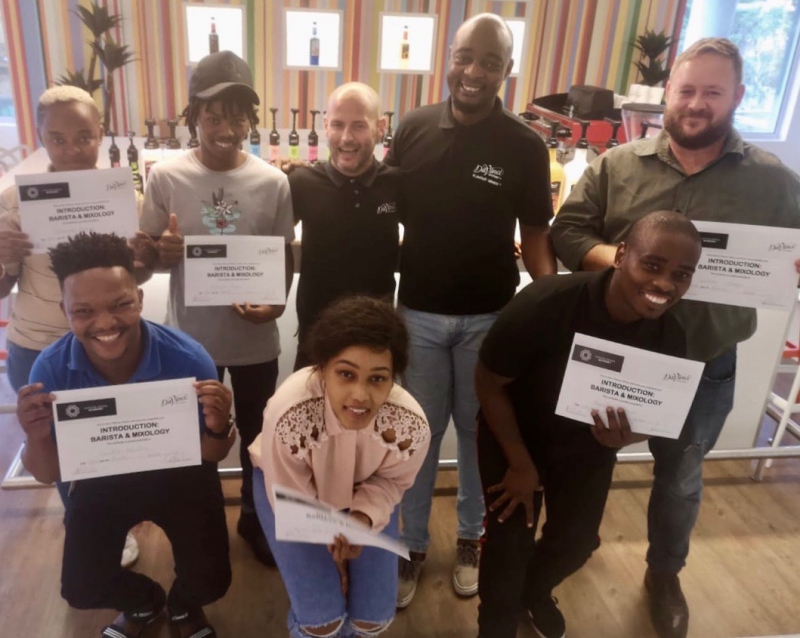 Durban Flavour Geniuses with their certificates!
"Attending the Da Vinci Flavour Genius Academy I learnt so much and gained a lot of knowledge that I was looking for. I learnt more techniques of making coffee and non-coffee based drinks using different Da Vinci products. Seeing how Da Vinci products works in hot and cold drinks, and how passionate the Da Vinci team is with what they do. Sharing skills and knowledge left me inspired to open myself a coffee shop in my community and share the same skills, knowledge and passion to each an everyone who is passionate to be involved in the coffee industry." - Tshepo, Gauteng.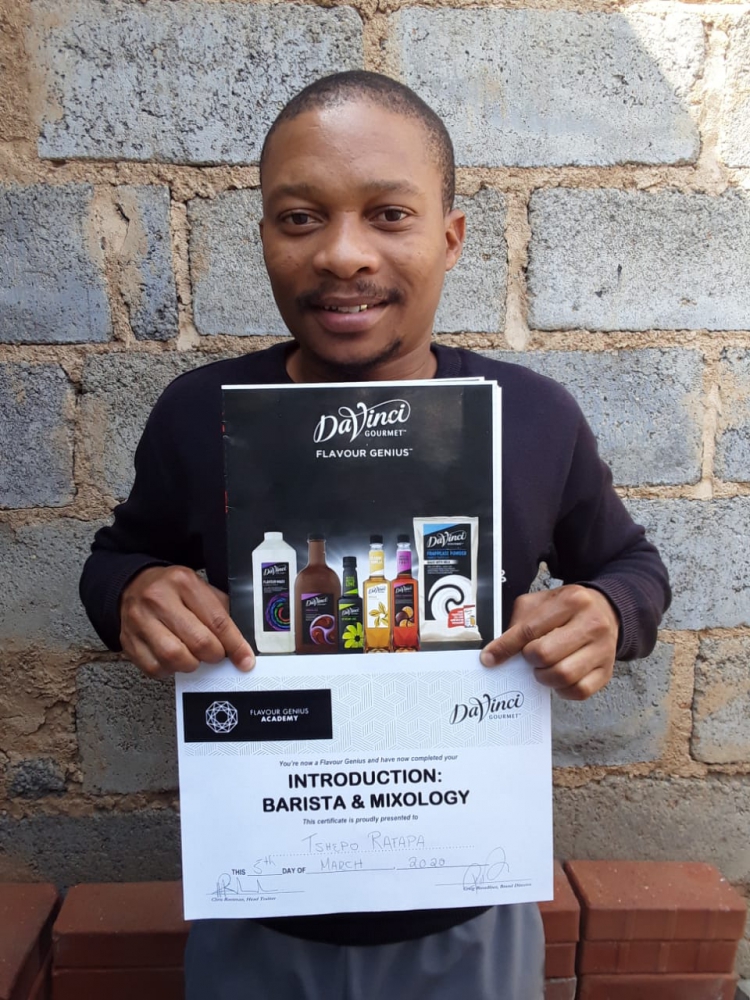 Tshepo from Gauteng was so inspired that he one day wants to open his own coffee shop!
"The da Vinci classes was the best and I was so excited that some of my craft creations where placed on their winter concepts board. I hope for more people to join and be winners like me. Not only me that made it through, but also the team members that also took part too. The team work efforts. 😉 #Davinci #teamdavinciwinners - Siya,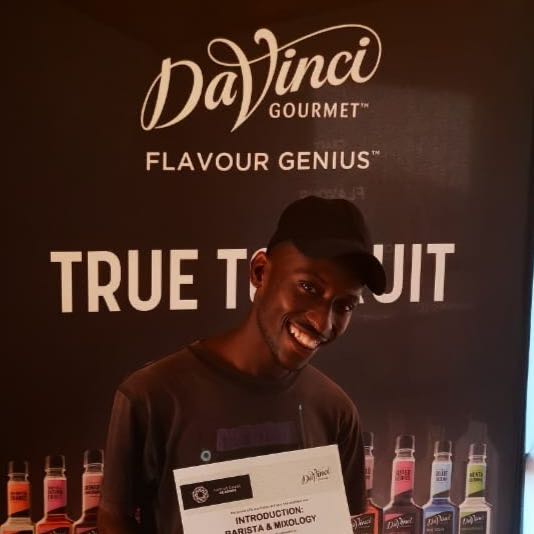 Siya - Proudly graduating as a Flavour Genius
------------------------------------------
Jan 2020:
We have some exciting news for South African Baristas, Bartenders, Cafe Owners and managers! Da Vinci Gourmet is launching the DaVinci Flavour Genius Training Academy, which is a training service offered by DaVinci Gourmet to develop skills to the coffee and bar industry. Best of all, this training initiative is absolutely free!
It is primarily aimed at baristas and bartenders who have not received formal training, but already have a good working knowledge and secondly the Academy aims to upskill baristas who want to take their beverage levels from good to genius level!
This brand new initiative, launching in March, will be a FREE 1-Day course where the highly skilled team from DaVinci will teach the following:
Barista Masterclass – Theory + Practical
Team Activity – Flavour Wheel + Cupping Session
Blending Masterclass – Frappes & Smoothies
Team activity – Regional Flavour Charts + Blending Flavours
Individual Activity - make 3 signature drinks (combination of hot & cold)
Presentation of Concepts and selection of a winner per class
Adding Value: Drinks Cost Calculator for accurate GP's
Presentation of Flavour Genius certificates / kits / badges
If you would like to attend, ABSOLUTELY FREE, please fill in the form below. Places are very limited and you will need to motivate why you should be chosen to become a Flavour Genius.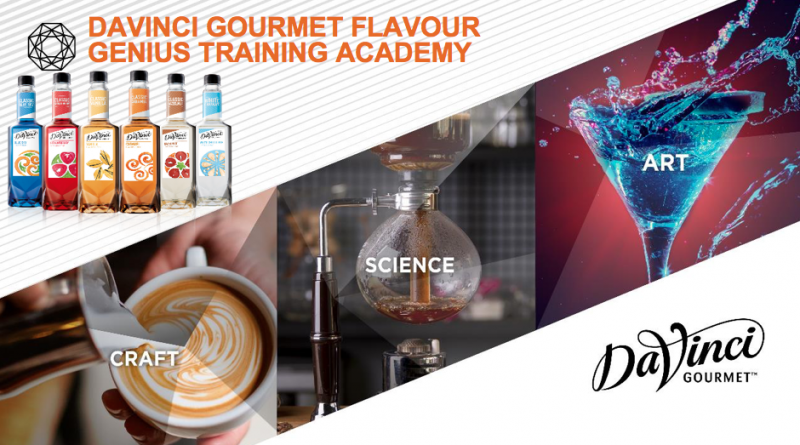 GAUTENG
Thursday, Friday 5,6 March (NOTE: Hostex is 1–3rd March)
Tuesday, Wednesday 23, 24 June (NOTE: CoffeeChoc 19-21stJune)
Tuesday, Wednesday 18, 19 August
Tuesday, Wednesday 20, 21 October

KZN
Tuesday, Wednesday 10,11 March
Wednesday, Thursday 8, 9 July
Wednesday, Thursday 2,3 September

CAPE TOWN
Tuesday, Wednesday 17, 18 March
Tuesday, Wednesday 5, 6 May (NOTE: Cape Town Coffee Festival 1-3 May)
Tuesday, Wednesday 14, 15 July (NOTE: CCW is 9-11th July in Durban)
Tuesday, Wednesday 15, 16 September

OTHER REGIONS
Tuesday, Wednesday 21, 22 April – Port Elizabeth
Monday, Tuesday 5, 6 October – Port Elizabeth (NOTE: PE Barista Champs 2, 3 October)
Tuesday, Wednesday 26, 27 May – Bloemfontein
Monday, Tuesday 3, 4 August – Bloemfontein (NOTE: Bloem Barista Champs 31st July, 1August)