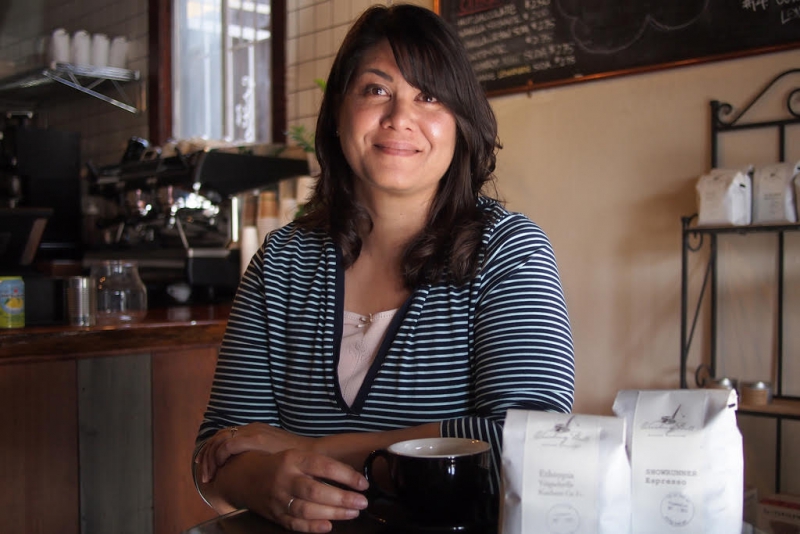 Trish, we are so looking forward to having you visit Durban! What are your expectations of South Africa and of Durban in particular?
I've never been to Durban! I know that it seems that South Africa is experiencing what a lot of us in the world have. There is a great enthusiasm for roasting and cafes. I expect to meet some coffee pros who love what they do and are looking to connect with others who are working hard at their crafts.
Your roastery, Wrecking Ball Coffee in San Fransisco, is world-renowned. What do you think makes it so memorable (besides the pineapple wallpaper ;)
Our shop (with wallpaper) is not connected to the roastery in San Francisco. They are across town from each other and I spend most of my time at the roastery. The cafe could be described as a small hole in the wall. It's not located on the busiest stretch of the street. It's small sign outside just says the word "coffee" with a picture of a wrecking ball rig above. It doesn't look at first like it makes much sense, but we like guests to stumble in out of curiosity to find a fun bustling shop. There is not much seating, so people are forced to interact with baristas and other regulars as they grab a coffee. I'd say we are unique because, although San Francisco is an intense city, the cafe is comforting and humble and focuses pretty intently on the coffee quality.
You have committed to education and study for much of your coffee career, why do you feel education is so important?
Educating ourselves as coffee pros is so important because we have a huge job to do. We must find a way to create a customer base who will follow us on the case for quality and sustainability...when to be honest, all they want is a solid cup of coffee. We need to get better at our jobs, and so we need the facts. Unfortunately, we work for a long time and go without a lot of training and education because most of us learn on the job. Learning on the job is both good and bad. Coffee pros need to look beyond their own walls and own interests to see what coffee needs from them. The only way to do that is to get educated. I believe education is the great equalizer. Access to knowledge is access to empowerment.
The Coffee Community is extremely excited to meet you in person! Can you share a few insights about what you'll be sharing at Creative Coffee Week in Durban?
I'm excited to meet everyone also! I want to show by example that there is a whole world of coffee to explore. I also want younger pros to know that spending the time on the work is the best way to become masterful at it...whether it's roasting or hospitality, or business. The coffee industry is like a kaleidoscope of ideas, disciplines, and potential. I didn't expect to have such a rewarding career in coffee. This has been a great journey and it has never stopped being interesting and challenging!
Do you have any idea of the SA coffee market or will this be a completely novel experience for you?
This will be a completely new experience for me, but I have been many places in the world for coffee. I expect I'll see some things that are familiar...a lot of enthusiastic and dedicated people devoted to coffee. I can't wait to taste the coffees and see the shops of Durban...because a coffee shop is a powerful meeting place for so many of us. It's so much more than just a place to buy a cup of coffee.
What are you most looking forward to at Creative Coffee Week?
Meeting all the coffee people of South Africa!