A few highlights that we like:

- Expression through competition layout is being explored, you can choose your layout from 9 different options based on your flow and what works best for your set as a World Barista Championship competitor. (Please note: Nationals competitions will still be run to uniform layout standards)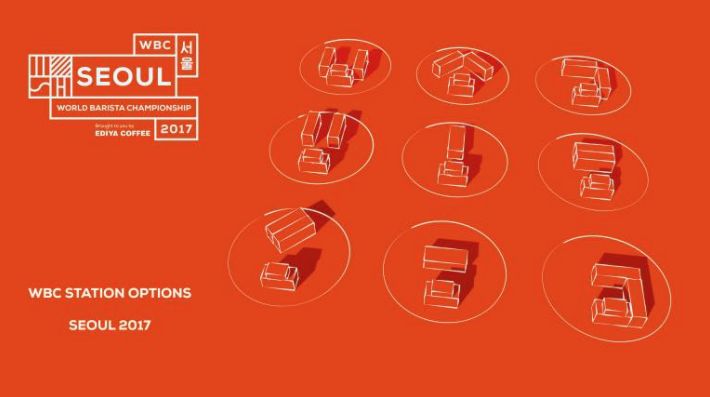 - Staggered start times with multiple competitor routines being run on stage at once. The resulting running schedule is more accessible for everyone, including competitors, volunteers, spectators, and staff. Each routine will be individually and simultaneously Livestreamed in full, with opportunities for post-routine interviews. To prevent undue live auditory interference, there will however be only a single carefully chosen soundtrack playing in the arena during preliminary round performances, with individual competitor soundtracks remaining as an option in the semi-final and final rounds. (From WBC Rules update)
The only 'problem' we foresee with this is that previously soundtracks have made a huge difference to competitor's sets and confidence. I still remember Ben Put's mostly Guardians of the Galaxy groovy soundtrack and Erna Tosberg's set at Rimini that introduced me to Milky Chance's Stolen Dance. A lot of competitors also use their music as a way to manage their time.
- The team competition that was introduced last year was a huge hit and gives all the baristas another reason to play for. The top scoring team member that is not already in the Semi-finals will score a place as the
wildcard 16th semi-finalist.
Oh ja, did we mention that there are now going to be
16 semi-finalists
? That is awesome! Come on South Africa!
- With so much emphasis being placed on temperature of the water when brewing coffee, it seems only natural that the barista competitor will
now have the ability to control the water temperature of the espresso machine
based on their specific brewing technique. And with the Black Eagle's technology making this a possibility,

We asked Wayne Oberholzer, SA's current Barista Champion what he thinks of the new rules:

"So what do I feel about the rule changes? Excited. Actually pumped to compete.

The table setup I think will allow us to really bring a further integration of the "chefs table" experience. We could find Baristas almost shielding the judges from the coffee making process and engage them more into the experience and joy of the coffee or finding the Flavour. Changing heights will really help someone like myself to get more comfortable at the station. A bonus.

Machines temperature control is something we have always advocated for, the ability to really get the most out of the coffee and compensate for altitude and travel changes. As well as water... wow. Think of the signature drinks!!

Top 15 with a wild card. This really enforces the whole team approach that they are going for, which is amazing to see.

I think the dropping of technical in the Semi-finals and Finals rounds is a problem however. We have seen it play such a big part of deciding the top 3 in our local competitions... but hey, sensory is the name of the game right?

All in all I love it. I need to dive more into it. But I think it's the sort of shift we have been wanting and waiting for."

---
A note to all baristas: These rule changes will only effect the WORLD Championship event. They are very clear that National Body events will continue with standard layout and standard machine temperature etc.