December issue of Coffee Magazine is out now!
We're very excited to announce that the new magazine is available countrywide (ok, there are a few far flung places that it is still on it's way too, but any day now...!) and the great news is that we, along with our newest partner
Selati Sugar
are giving one of our MAGAZINE (yes, you can only enter if you have this new issue) readers a R50 000 home barista setup.
You can pick up a copy from most Independent coffee shops, cafes and roasteries across SA,
click this list to see our distributor list in your area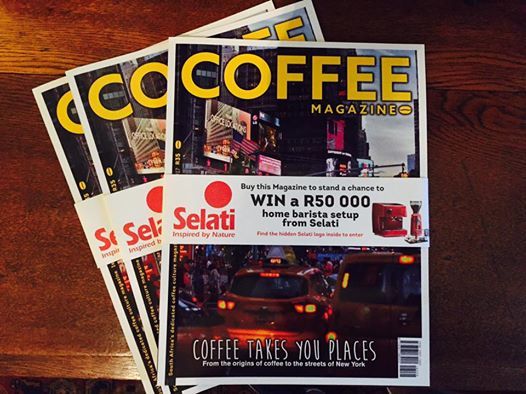 If you want to WIN the R50 000 home barista setup, go and buy the latest magazine now!

Features in this issue:


What is Specialty Coffee? by Jono Le Feurve of Rosetta Roastery.
"Family Values - The Terbodore Coffee Story "
United States of Coffee - 5 best spots in the US to visit.
The African origins of Coffee - You thought Kaldi the goatheard discovered coffee? Think again!
How do Hario V60, with World Brewers Cup champ Tetsu Kasuya.
Twist and Shout - 3 Coffee Cocktails to try these holidays, courtesy of World Coffee in Good Spirits Champ, Michalis Dimitrikopolous and local mixologist Michael Stephenson
One Shot at a time - 20 of SA's most Instagrammable Coffee venues, by Manmakecoffee
28 incredible Christmas Coffee gift ideas!
The Great Free State coffee roadtrip!
Meet the Bottomless Coffee Band.