The finalists travelling to Durban for the
SCASA
Nationals had already been decided, but that didn't calm anyone's nerves on finals day. These baristas had all worked extremely hard and they were certainly in it to win it!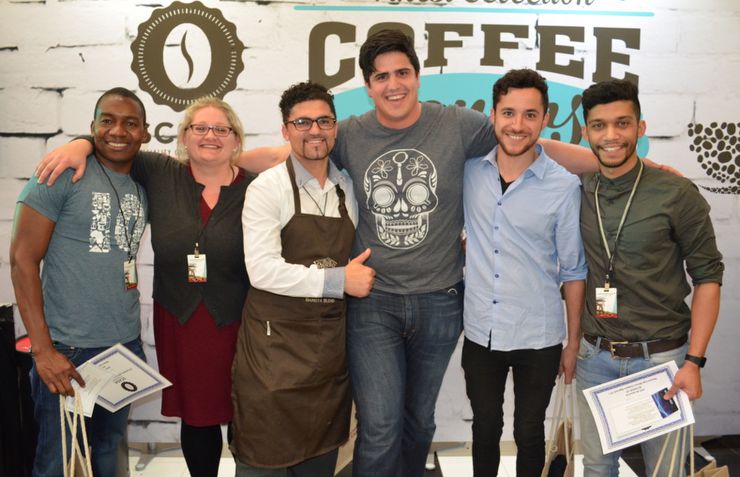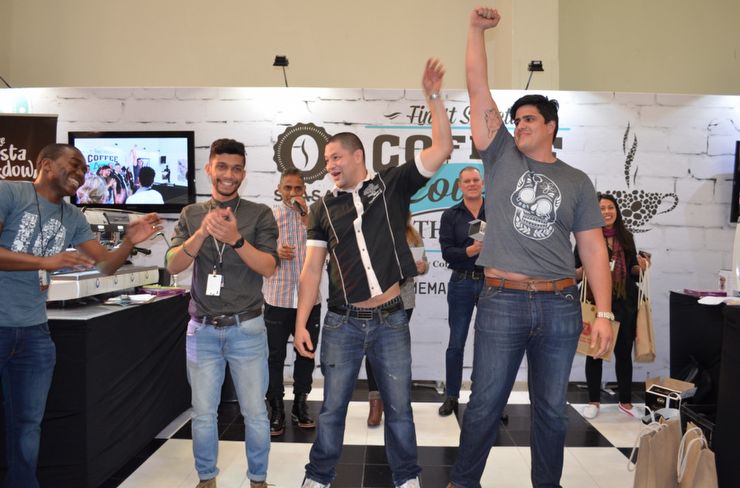 Top 6:
1. Wayne Oberholzer (The Portland Project)
2. Winston Thomas (
Origin Coffee Roasting
)
3. Alhenrico Thomas (Famous Brands)
4. Bilbo Steyn (TriBeCa)
5. Arno Els (
Origin Coffee Roasting
)
6. Romeo Chimunye (
Bean There Coffee Company
)
In the end Wayne Oberholzer, 2012 SA Champion representing his own company
The Portland Project
, took the Barista Championship by the skin of his teeth and claimed victory! His set was, simply put, stunning. He had taken every measure to wow the judges and the audience. He used a special Ethiopian Bebeka from the Bench Maji region, it was a geisha varietal. His signature beverage was a non-alcoholic take on an Old-Fashioned cocktail that included orange jelly, hollow hand-crafted ice eggs and a smoke gun to create the barrel whiskey aroma.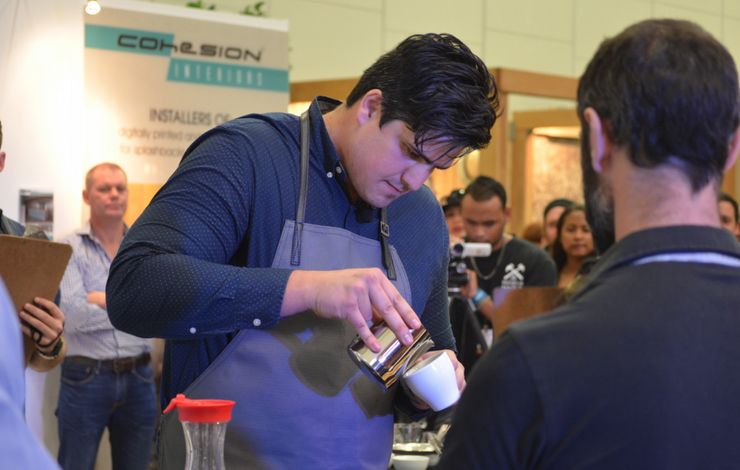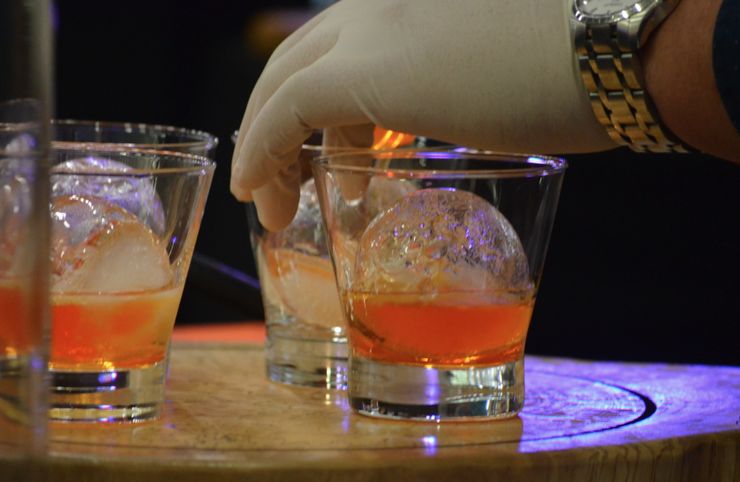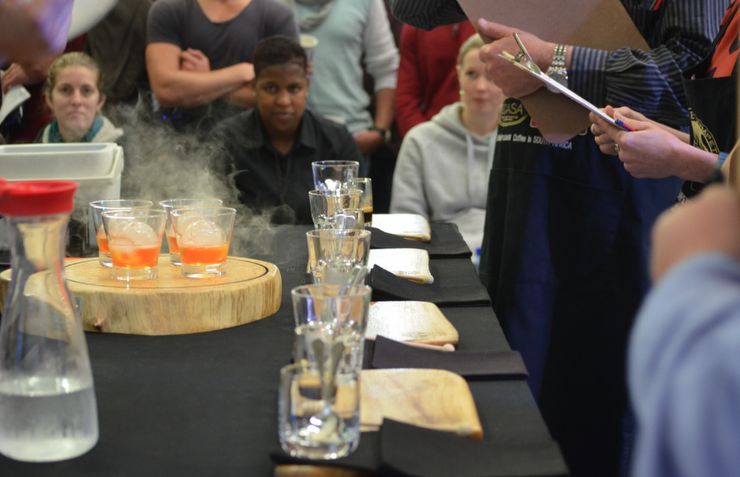 Mention must be made of Winston Thomas, a first time competitor that came in 2nd after a heartfelt and passionate set. Representing Origin Coffee Roasting, he used a sensational Kenya AA coffee that was obviously a huge hit and he was naturally charming on stage, an exciting prospect for the future of coffee. Another shout out to Origin Coffee Roasting for entering 4 of their baristas in this competition! They know the value and education that it holds for those who compete!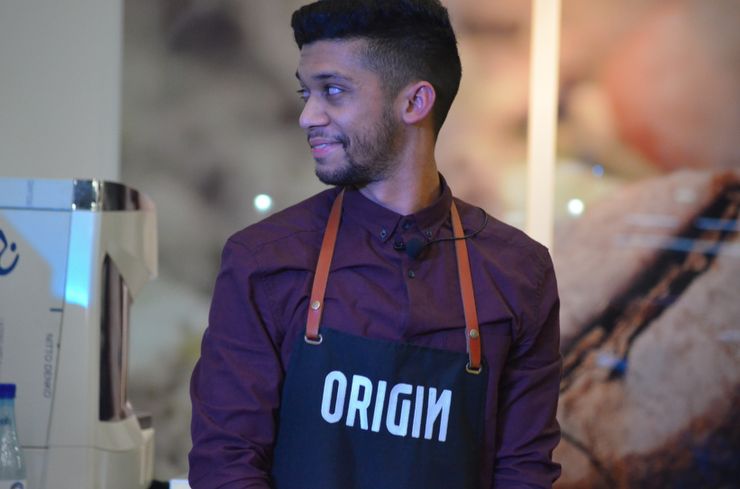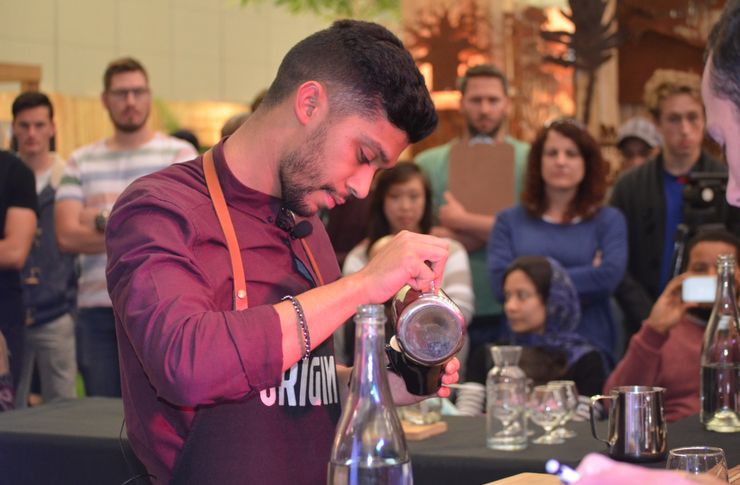 The Latte Art came down to newcomer Nandi Jordan of
Tribe Coffee
and the very-experienced Alhenrico Thomas. Experience conquered in this battle, so glory went to Alhenrico but again, Nandi is an exciting new competitor and will be practising hard for the upcoming Nationals!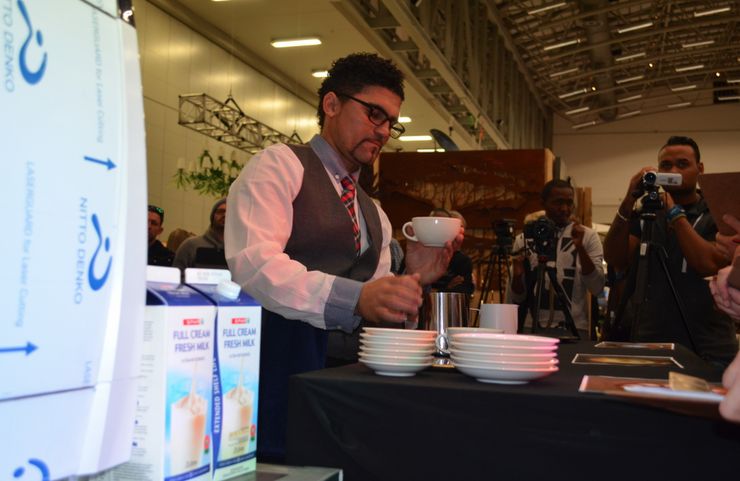 Such a passionate professional, we couldn't be happier for Alhenrico!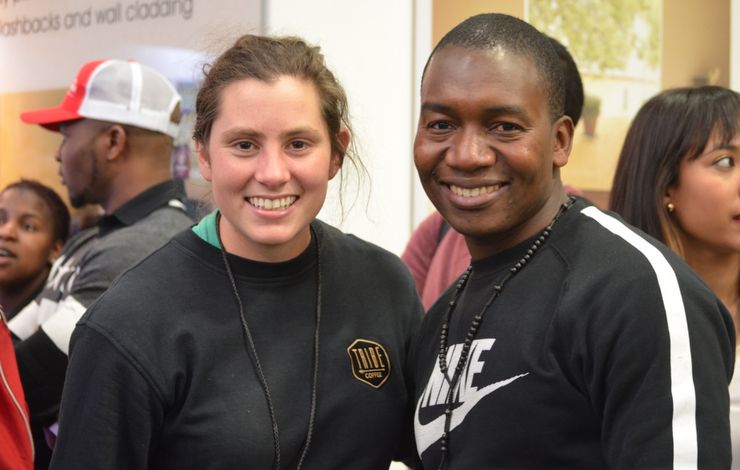 Nandi Jordan, latte art runner up and Romeo Chimunye, 6th placed barista
Cup Tasters, run by the unstoppable Doctor G, of
Rock and Roll Coffee Culture,
was
Global Coffee
dominated, with 3 out of the 4 finalists coming from the Global team. Joshua Kenney beat out runner up Wayne Oberholzer to make sure they took the title home!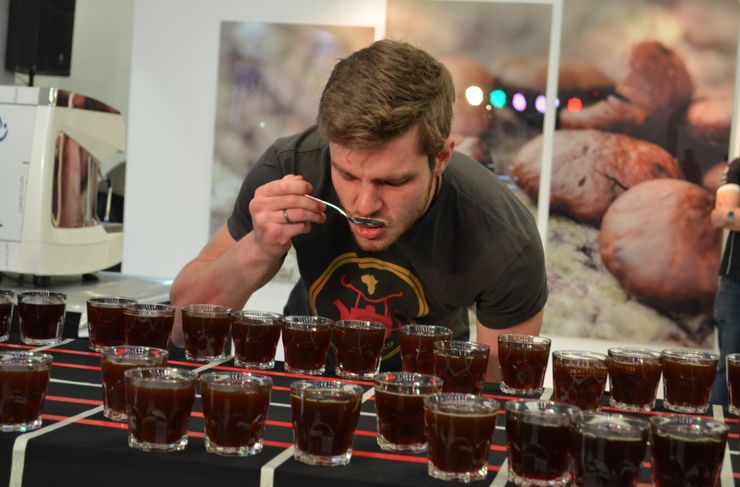 Joshua Kenney, slurping his way to victory!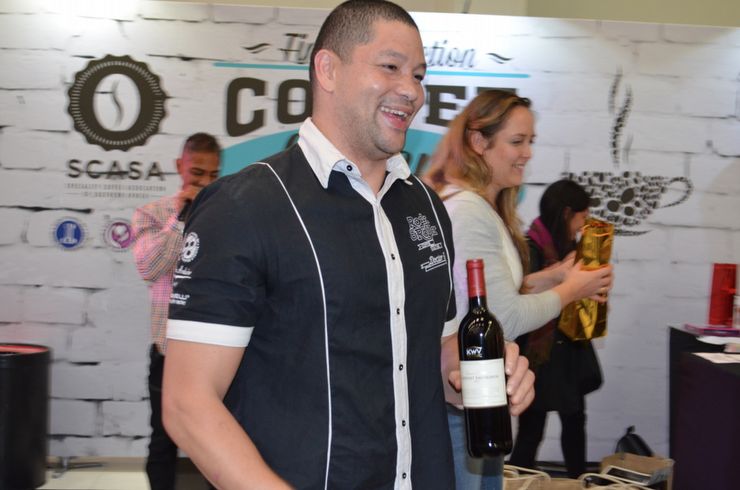 Well done and huge thanks must go to the Western Cape organising committee who put this competition together and to the panel of judges and team of volunteers for giving of their time freely to better these SCASA events, you're all wonderful! Thank you also to
all the sponsors
for their continued support!
Mention must be made of the crew from Almond Breeze who came on board as a sponsor with some great cash prizes as well as flights for each of the Top 6 baristas to get to Nationals. They ran a fun
Almond Breeze
Barista Smackdown with their Barista Blend milk, which is actually quite delicious.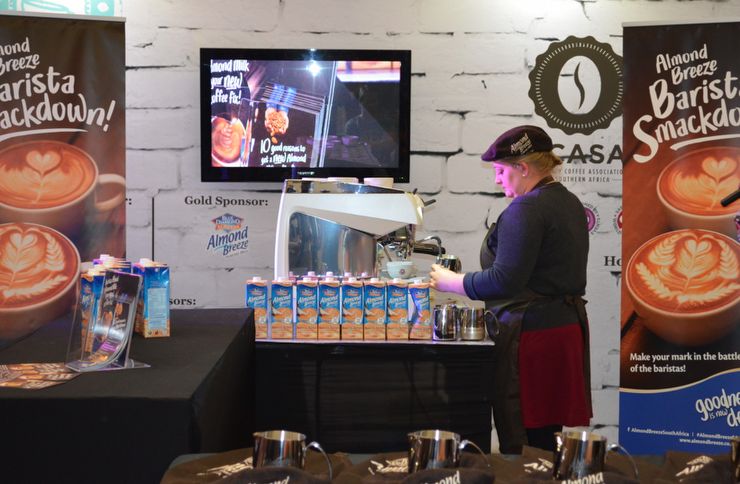 Bilbo Steyn on stage during the Almond breeze Barista Smackdown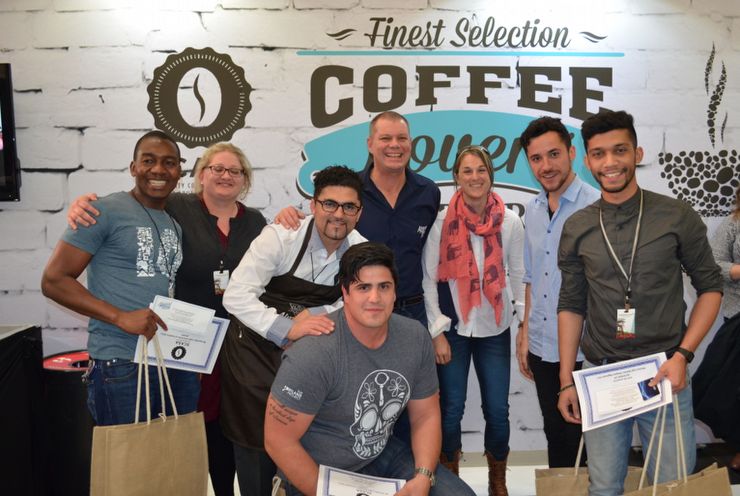 The Top 6 with sponsors Marcus of Almond Breeze and Lisa of UTZ Certified.

Some more highlights from the competition: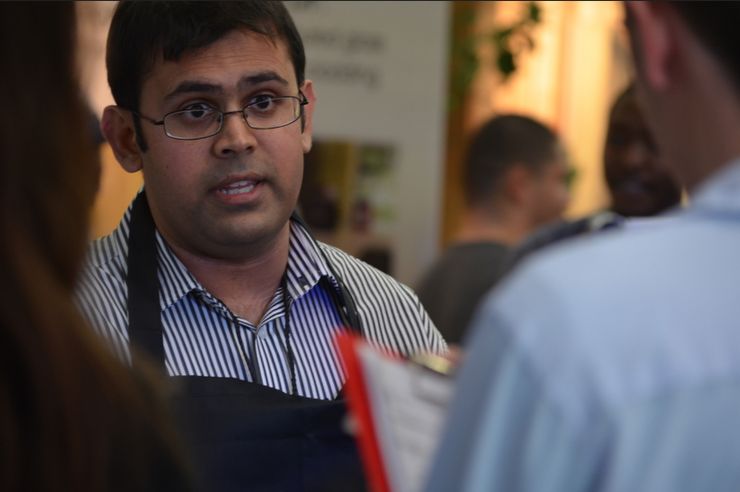 Sa'ad Lahri, a doctor by profession, was one of two brave independant competitors who don't work in the industry.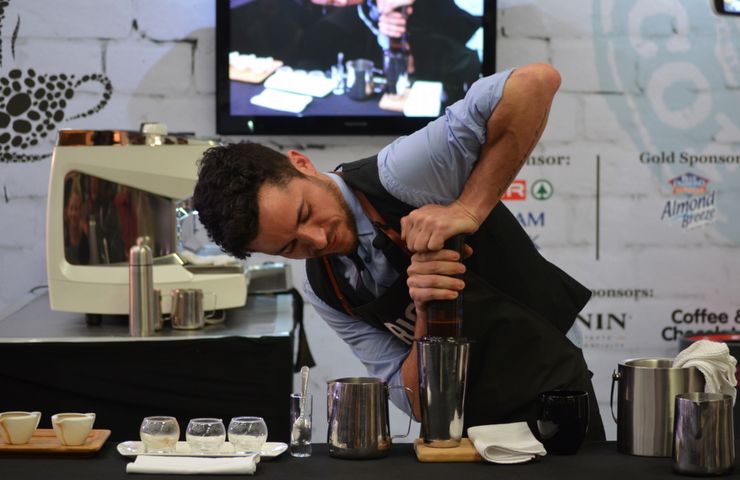 "Use your muscles Arno!"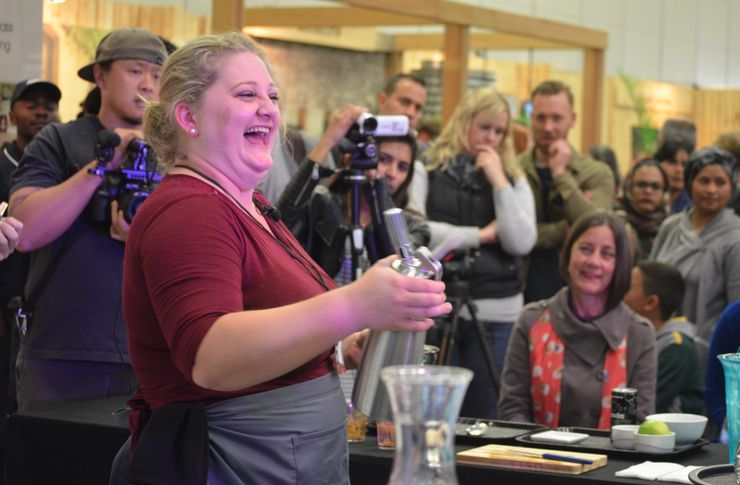 Bilbo Steyn having fun on stage making her coffee take on a G&T!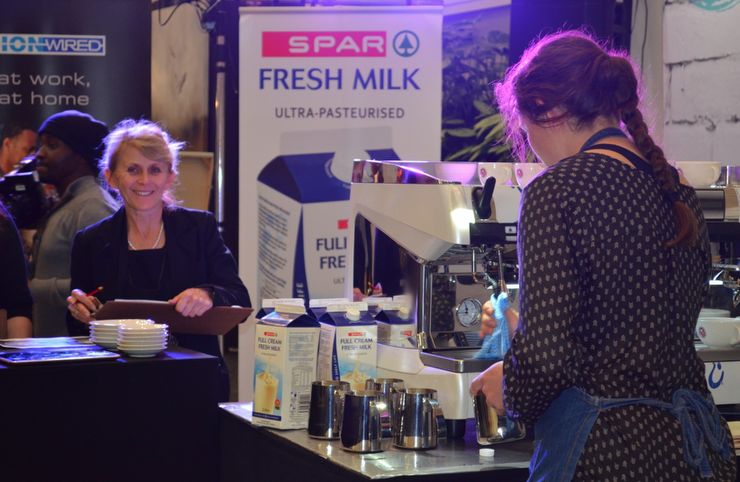 Pauline Leschinsky, barista mama extraordinaire and latte art judge, flashes the camera a smile while Nandi microtextures her Spar Full Cream Milk.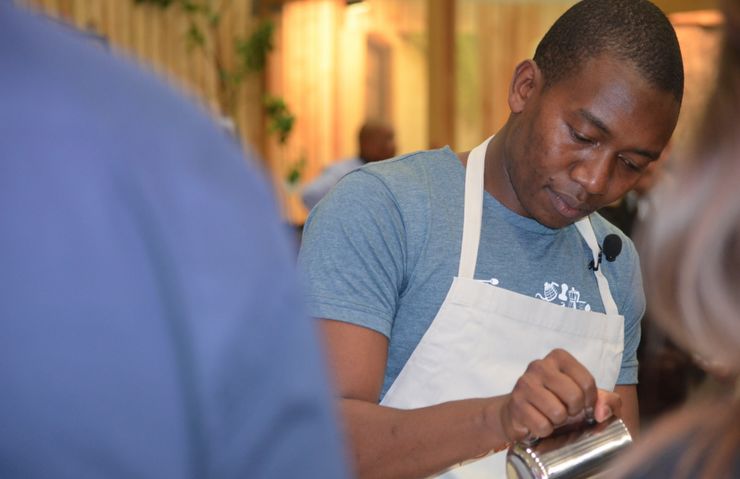 Romeo focuses all his attention on pouring some beautiful cappuccinos for the judges.