Into the Heart of Darkness
A coffee liqueur that's not just your average Kahlua, locally produced and celebrating its rich African heritage. We chat to entrepreneur Andrew Rall, owner of 031 Distillery, who dreamed up this combination of delicious ingredients perfect for the festive season.
---
How did you end up distilling craft spirits?
Like all good stories, my spirit(ual!) journey started by drinking! Back in the day at University in Pietermaritzburg, at that stage I admit, I was interested more in quantity over quality!
My road to the appreciation of the finer points of spirits began on a trip to Scotland. I visited some of the best whisky distilleries and became interested in the art and science behind single malt whisky. I quickly developed an obsession with the process of distilling and was fascinated by the care and attention that go into hand crafted spirits.
I started to wonder why South Africa did not make any good quality craft spirits. At that time SA produced many great brandies in the Western Cape, but other than that, there was nothing around. There were no quality local gins, vodkas, rums. After a lot of research, I just couldn't find a reason why we shouldn't be producing good spirits in SA and started investigating the possibility of opening a distillery.
First thing I did was get a small still and a private distillers license, which allowed me to make spirits in my garage at home. You've got to start somewhere! I wasn't allowed to sell anything but could start experimenting and developing recipes, which all my friends thoroughly enjoyed. While I was experimenting, I noticed that in the UK and US craft distilleries were popping up. There were very, very few to begin with, but they were starting to become quite popular, and their arc of popularity was mirroring what had happened in the craft brewing industry. So I decided to dive in and start distilling commercially.
To operate a commercial distillery, you need to apply for a whole lot of licences which is a very time-consuming process. One of the most important requirements to apply for a licence is to have a lease in place for premises where you are going to be doing the distilling. What this means in practice is finding somewhere that could be rented for up to 2 years, until the license comes through. Necessity is the mother of invention and the challenges in waiting for a licence were what led me to develop the building we're currently in into The Foundry. When I found it, it was a derelict shell that had previously housed clothing factories. Along with a few like-minded entrepreneurs, the Station Drive Precinct which is the first urban renewal district in Durban, was born and is thriving today. Before becoming involved in Station Drive, I ran a branding and advertising agency (Brandsmith) and was a partner in a consumer insights and strategy business (Insight Station). I am still involved in these businesses, but have partners who are responsible for the day to day operations. My focus has definitely shifted to Distillery 031 as this business has potential to become something very big.
The open plan nature of the 031 Distillery's layout is to encourage conversation and helps to create a connection with the people who were going to be drinking the products, so that they can see it and experience it.
Can you unpack the distillation process a little?
Making alcohol of any kind involves a process called fermentation, where yeast converts sugars into alcohol. Yeast is an incredible little single-celled organism which essentially eats sugar, burps out C02 and produces alcohol. Regardless of what type of alcohol you're making, the process is the same. Where the art comes in, is in selecting the raw materials to ferment and the species of yeast to use. This determines the flavour of the alcohol that is produced. Common raw materials include grapes, wheat, barley, potatoes and molasses. At Distillery 031 we decided to make all of our spirits from raw materials that originate from sugar cane because it grows abundantly in and around this province. Whether we are using sugar cane juice or using molasses, we add water and boil it up in a big pot called a mash tun. Once the mash has been boiled, we transfer it into a fermentation vessel. We wait for it to cool down to between 25 and 35 degrees Celcius, depending on what we're making. We then add yeast to the mash. This is known as "pitching" the yeast. After a while, the yeast starts doing its magic. It bubbles away and forms a froth on the top, and starts producing alcohol.
After between 1 and 2 weeks the yeast finishes fermenting the available sugars and we end up with a tank full of alcoholic beverage called wash. The wash is not a spirit and also it's not particularly nice tasting! That is why the next process is so important.
Distillation is unique to the manufacture of spirits and works on a very basic scientific principle that alcohol has a lower boiling point than water. Pure ethanol (which is the type of alcohol that we drink) boils at 78.24 degrees Celsius at sea level. Now our wash which contains a mixture of around 8% alcohol and 90% water boils at somewhere in between 80 and 100 degrees.
When we distill our wash, we control the temperature so that more alcohol evaporates than water and so end up with a more concentrated liquid at the end of the distillation run. At Distillery 031 all our alcohol is distilled at least twice (more for some spirits like vodka).
Making a high quality spirit is about a lot more than removing water from our wash. Perhaps the most important job of a distiller is to control the flavour of the end product. The real skill of master distiller is in controlling which flavours to keep and which to remove.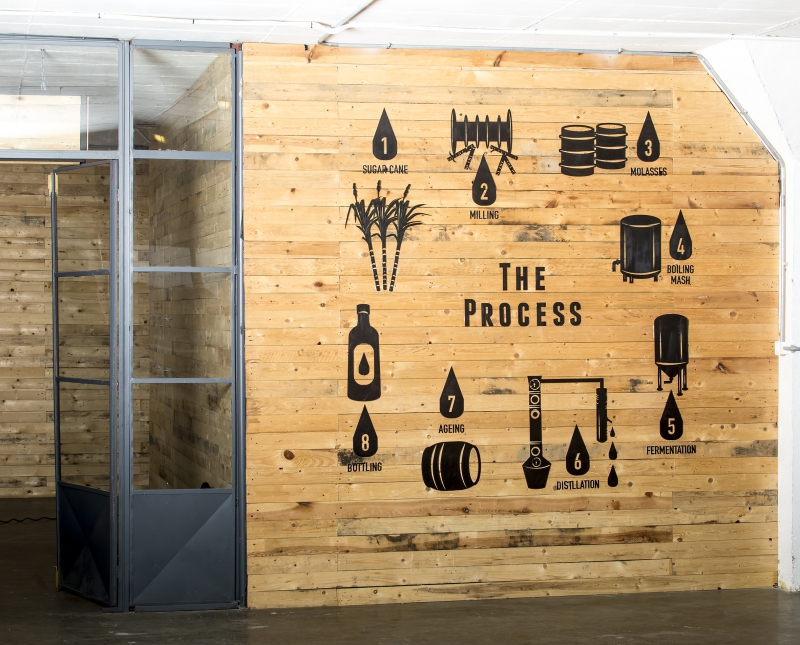 You won a Silver Medal at the San Francisco International Spirit Competition in 2017 for your Heart of Darkness coffee liqueur. That's awesome! Can you tell us a bit about the process of finding the right coffee, without giving away any of the details of your recipe of course!
My vision was to create a coffee-based spirit that would appeal to 3rd wave coffee drinkers. As a massive fan of coffee I was frustrated that despite the huge number of new craft spirits, no one was producing a really high quality coffee spirit. I knew what I wanted: a liqueur that tasted like a quality shot of espresso, but had no idea how to achieve this. Fortunately my path had crossed with Charlie Denison of Cultivar Coffee when he rented office space at The Foundry. Charlie sources beans from around the world and roasts them to a range of roast profiles and I began experimenting with different extraction techniques. I enlisted the help of friends, family, coffee freaks and 031 regulars to help evaluate different combinations. After around six months of intensive work and hundreds of prototypes, I finally settled on a recipe which seemed to be the most popular. The journey was full of surprises for me. I had expected a South American bean to be the winner as I expected African beans to be too fruity and acidic. In the end a Tanzania Meru bean gave the balance that I was looking for. I also thought that a light roast would provide the right flavour, but it lacked body. I expected a lower alcohol content to be more popular, but higher proof prototypes were more popular. Even the extraction method I settled on was very different to where I started. The learning for me from this was that if you have an open mind you are more likely to make good decisions.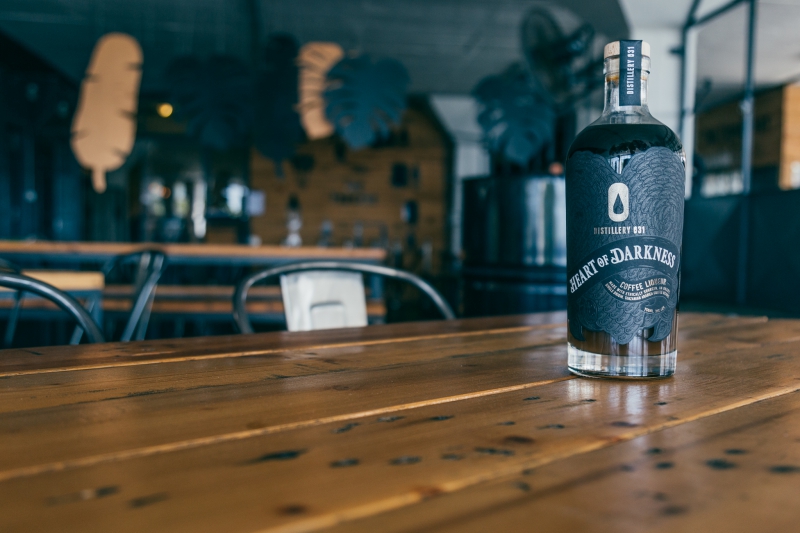 Can you draw any similarities between the coffee and craft spirit industries?
Absolutely. For years the spirit market was dominated by relatively few global players. Everything was about big volumes and economies of scale. Craft spirits turned things upside down by exposing drinkers to the massive world of flavours that can be produced by slowing things down and using quality products. When I started to think about it, so many parallels came to mind:
- The producer is paid fairly
- More people are employed at each stage of the process.
- Huge opportunity for economic development
- Less mechanisation – the end result depends on a skilled crafts person.
- Focus on quality vs quantity
- Drinking for flavour rather than just the buzz
- Smaller batches with more opportunity for variety of flavour
- Relatively small compared to commercial coffee/spirits but huge potential to grow
- Danger that corporates will try to dress up mass produced products to look craft
- Need to educate people
- Quality product is the heart of the craft brand vs advertising, billboards, etc.
- SA punches above its weight division in both
- Lots of FUN!!!
As a spirits connoisseur, if you had to recommend one gin, one vodka and one rum from anywhere in the world for people to try, what would they be and why?
I would always recommend Distillery 031's range of spirits (which have all won awards, I might add), but I'll try to be objective! To be honest, there are so many amazing craft spirits that it's hard to pick. I suggest trying as many as possible. Some interesting options:
- Chase Original Vodka (UK) – I'm not a big fan of potato vodka, but these guys do it properly. They make a very smooth, sipping vodka.
- Kin No Bi Kyoto Dry Gin (Japan) – I absolutely love the Japanese commitment to quality and craftsmanship. Gin is not a traditional Japanese drink, but Kyoto distillery has a magnificent setup (serious still envy here!). They produce low volumes but very high quality products. If Japanese whisky is anything to go buy, their gins should become world class.
- For Rum, I'd recommend trying a nicely aged sipping rum. Enjoy neat in a brandy snifter. Santa Teresa 1796 is a very good value rum and worth sipping. If you want to experience what rum can really offer (and you're feeling flush) try El Dorado 25 year old. Their younger offerings are also amongst my favourites.
Do you have any coffee cocktail recipes for our readers to try? We hear you make a mean espresso martini?
Coffee G&T
25ml D'Urban Barrel Aged Gin
200ml Indian tonic water
15ml Heart of Darkness Coffee
Built over ice in a high ball glass. Garnish with a Lemon Twist
Espresso Martini
25ml Heart of Darkness Coffee Liqueur
25ml 031 Vodka
1 Shot Espresso
Plenty of ice
Shake together in cocktail shaker for at least 30 sec. Strain and serve in a martini glass. Garnish with orange zest.