Drip Coffee Revolution
Nigel Price pours his way into the hearts of NYC and beyond
In this cluttered world of constant stimulation, it's always interesting to us to discover humans that cut through the noise and make an impact. Nigel Price, the man behind Drip Coffee, is one such human in our books. Based in New York City, Nigel began Drip serving pour over coffees only in beautiful outdoor locations with a slick mobile unit and ironically, opened his first brick and mortar store just as everything was shutting down at the beginning of 2020. But this burgeoning coffee spot proved to be just what the community ordered as Nigel showed up day on day to make delicious coffees and have comforting conversations in a time when isolation was crippling the world. Nigel's optimism and enthusiasm inspired not only his immediate community, but rippled out around the world as he connected with the best roasters from all corners to be part of the Drip Coffee adventure. In the space of two years, with pour over coffee and people over profit at its core, the brand has four locations around NYC. We chatted with Nigel about his journey to this point.
Originally published in Issue 40, July 2022
---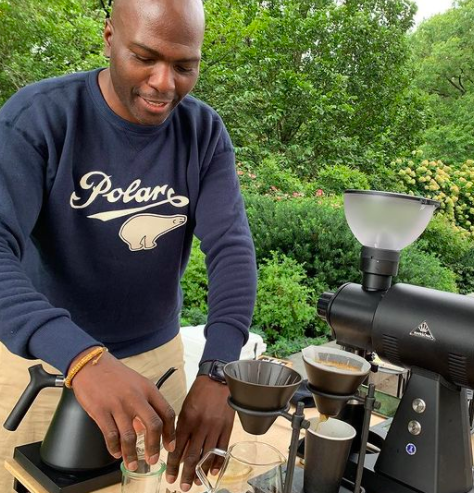 So, drip coffee began with a 'simple' idea; pour over coffee only, all day every day, from a mobile cart! But I imagine the idea in practice was bit less simple to pull off? Can you tell us a bit about how you got the point of setting up your first permanent site and what the reactions were from the coffee drinking public?
I feel like we're still in a beta testing phase, but it appears we may have hit a sweet spot in NYC. I spent over a decade working in many, many coffee shops, fine tuning my business model with the hopes of one day opening my own spot. But the hyper focus on pour overs came about after seeing how many shops with really good offerings did such a poor job of highlighting these coffees. Neglecting dialing in these coffees and working out the most successful brew ratio with the same enthusiasm as they did their espresso, not training baristas to properly make pour overs and most importantly not having a proper space dedicated to delivering this experience to the guest. I'm still shocked by the overwhelming positive response we've received, not just from the specialty coffee community, but from the home enthusiast, most of which really began to dial into (pun intended) their home coffee brewing during lockdown.
Did it take some time to convince potential customers that the time to make a pour over was worth the wait?
The rationale behind the cart was to act as a "proof of concept". If the guest perceived added value, then it was easy to get them to wait 2-3 minutes for their pour over. Our pour over bar always occupies a prominent space on our counter matching the espresso machine, rather than being an after thought. We feature coffees from roasters around the globe and coffees are dialled in and pre-dosed so the wait time is comparable to the time it would take for you oat vanilla latte.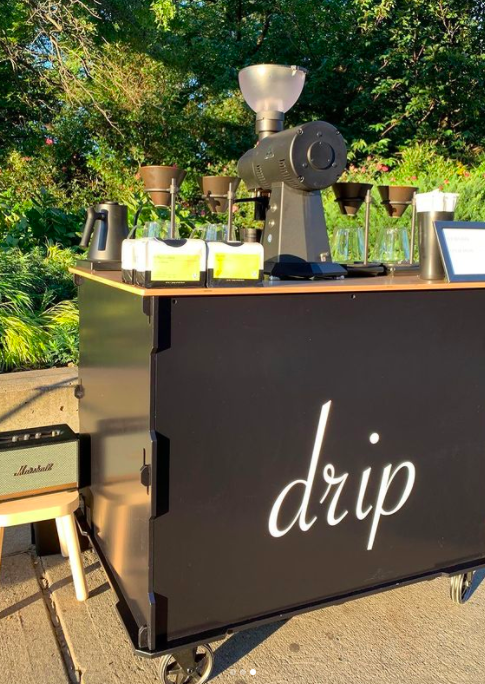 And then going way back, how did your journey in coffee begin?
It started as an escape from corporate life and gradually turned into a complete lifestyle change in regards to how I view "my job" in relation to my life. Twelve years ago I had no idea what good coffee was let alone what was starting to happen in the specialty coffee world, as I never drank coffee. A couple of bad cups put me off of coffee at a young age. One morning at a shop in the Lower East Side/Alphabet City, I had a cappuccino that changed my life, literally. I didn't know at the time the road was gonna be this long.
Whenever a series or movie is set in New York, it becomes almost a character of its own in the story, how do you feel about setting up shop in NYC? Has it had a part to play in your success?
It was never an option to open anywhere else besides NYC. Although it was most likely ten times more difficult, it was important for 'drip' to be a NYC brand.
You are a multi-roaster cafe, which is extremely rare here on the Southern tip of Africa, what are the benefits of this model and how have you managed both the roasters expectations and your customers? What drew you to this way of running your cafe?
We are a multi-roaster shop which ties directly into the concept of a proper pour over bar. It was apparently extremely rare in NYC too, as most of clientele have since canceled their coffee subscriptions because of our curated "coffee walls". The ability to have a conversation with a knowledgeable barista about the retail and have the option to taste some of the most rarest coffees in the world is an experience that is almost too good to be true for coffee lovers.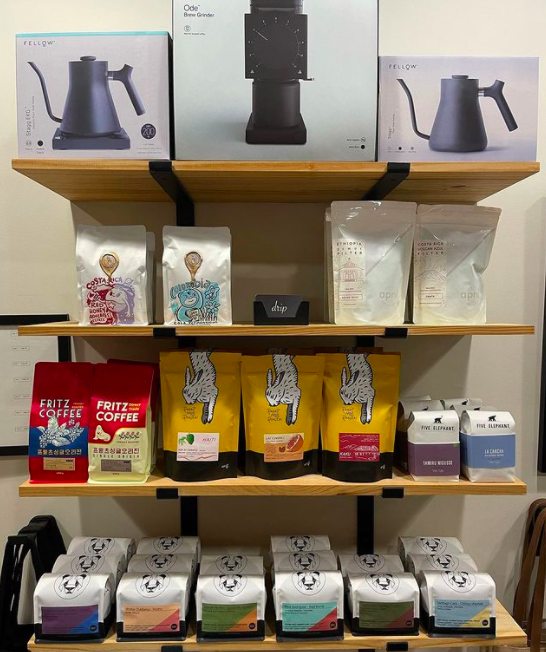 How many sites do you have now and what is the experience like of managing more than one store? What do you think the key to success is?
The current count is four (Bushwick, Brooklyn Heights, SoHo & Williamsburg) and I am in the process of grooming someone or a couple of someones to help with the day to day details, because keeping track of each and every detail is extremely difficult, but extremely important if you want the guest experience for each person who visits to be an amazing one.
I truly believe the reason why we survived the pandemic and continue to thrive is due to the fact that I love coffee and the community we're a part of. Without that love you won't have the desire or the passion required to get through the difficult times. The younger version of myself would be disappointed in the anti-capitalist approach I took with 'drip', but the people before profits model is the only reason we are so relevant today.
You have become an inspiration to many, did you ever think you would be a role model? And what would your advice be to those starting out on their path in coffee? Did you have people you looked up to, or motivated you to follow your idea?
That is always flattering to hear, but also scary. Because I still feel like I have no idea what I'm doing, but I move with the purpose of making specialty coffee much more approachable and accessible. In the early 2000's there was a lot of gate-keeping in the coffee world and it almost turned me away. That would have been a terrible thing.
There are a lot names that come to mind, but when I think of my biggest influences these three standout. Lem Butler (Black&White Coffee, North Carolina), Sam Lewontin (formally Everyman, NYC) and someone I'm sure the South African coffee community is familiar with, Winston Thomas (Cedar Roasters, Winston Douglas Coffee). Watching these guys navigate the industry on their own terms with professionalism, before there were any rule books or code of conduct laws to follow, made me say to myself that I could be me and approach coffee on my own terms. I'm just honoured to call them peers and friends!