Words by Iain Evans
Photos By Coffee Magazine
---
Coffee Competitions are an emotional space. Over a few days and in short bursts of performance, a career can be made or an opportunity missed. With the leading baristas, coffee Industry figures, competition Judges evaluating your skills and the who's who of the coffee world scrutinizing every move, both on stage, back stage and around the fringes… it can bring out the best and the worst of people, depending how they handle the pressure. Wency Masawi is one of those infectiously positive and happy people, usually found supporting other competitors, volunteering to help out wherever help is needed or just clowning around and making people laugh during a long and often tiring day on the Expo floor. One thing is for sure, if you catch his eye, you will get a hug, a fist bump or a 1000 thousand megawatt grin. Wency has been competing in coffee competitions for 9 years, and after 8 years of trying, the young man finally won a title he had determinedly chased year in and year out. He never let the competition get the better of him, he conquered it. Finally, his perseverance paid off, and in March 2020, Wency won the SA National Cup Tasters title, and earned the right to represent SA at the World Cup Tasters Championships 2020, hopefully still to happen in Milan, Italy.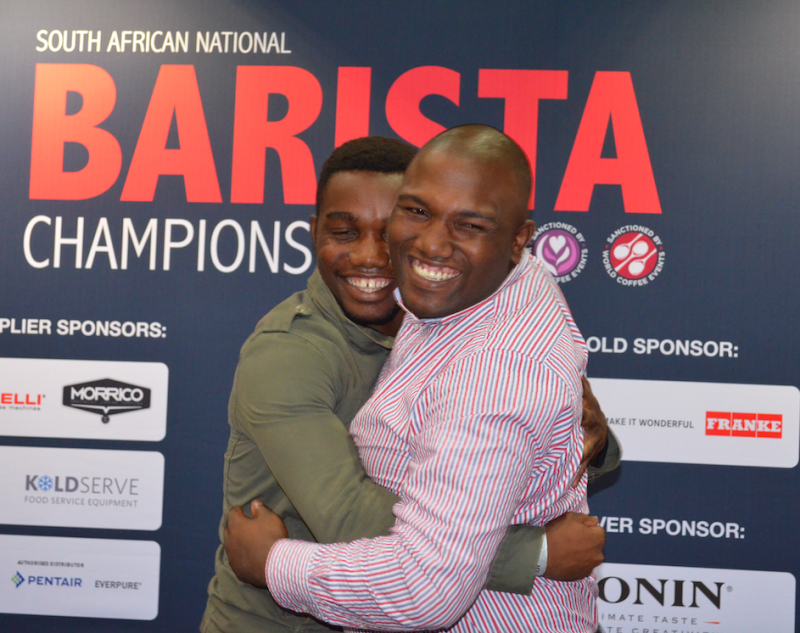 Wenceslous Masawi was raised in a family of telecommunications workers in Chitungwiza, just outside Harare in Zimbabwe. "All my aunt's and uncle's worked for Post and Telecommunications which was a government owned parastatal. I eventually saw myself joining this family trait and never in my wildest dreams did I see coffee in my future" he says.
Coffee certainly wasn't the plan, instead, music and football were foremost in the young man's mind. He enrolled in the College of Music in Harare and was playing serious football for Dynamos FC Academy. And true to his gregarious nature, found himself volunteering at Imba Childrens' Home as a music teacher.
"I wanted to be in the Arts Industry as l am a natural arts enthusiast. I wanted to manufacture ,supply and performing Zimbabwe's traditional instruments like the Marimba, Mbira and Ngoma to name a few"
Unfortunately due to the instability of the economic and social climate in Zimbabwe, and the timing of the FIFA 2010 Football World Cup being held in South Africa, Wency saw an opportunity not to be missed and headed South to be part of the action.
Like many young people in 2010 the FIFA World Cup brought many opportunities for casual work, and Wency found a gap as a waiter, while he figured out what to do next with his music and football career.
"My love for coffee was born out of mischief! Since most restaurant waiters are not allowed behind the bar, I used to sneak back there and eventually they couldn't ignore me!" he say cheekily.
It was after a year of working the floor as a waiter that he met Bernard Muneri, now Chairperson of SCASA, but at the time, a Manager in the Nino's Group, and freshly returned for the World Barista Championships in Bogota, Colombia.
"I met Wency while he was working at the Westville Nino's. He was 18 years old and working as a waiter. He showed a lot of interest in the Bar and he kept nagging me to show him the ropes in coffee. He gave up guaranteed tips as a waiter for the love of coffee knowing very well as a Barista , tips are rare. But he was passionate about learning and committed to the coffee journey which began there for him.
Wency reflects on this as a breakthrough.
"Meeting the legendary Bernard Muneri after he came back from WBC in Colombia became my turn around in the coffee industry. He saw my enthusiasm and turned it into passion and invested a lot in me financially and educationally which l am forever grateful. No words can really express my gratitude. I became part of his family where l could go by his house and play around with his coffee machines making coffees and learning directly from him. l was privileged enough to work with him for a long time. He mentored me and developed me into a force to be reckoned with in the Coffee industry as a Barista Trainer, in Operations and in Coffee Competitions."
"Having been to the Worlds Champs in Bogota 2011, l met a lot of great Baristas and learnt and I returned to SA loaded with so much more coffee knowledge. The plan was to come back to SA and produce another Champ from "raw" like we had done training and coaching Travis Scott until he won the SA Champs in 2010. On return to SA, l identified Wency as the raw talent l needed to develop. Hours of hard work and commitment from him pushed his passion to another level. Full credit to Wency for going the extra mile and always challenging himself to do better." Says Muneri
Wency and Bernard became an inseparable duo and spent the next few years aggressively driving the coffee programme within the Nino's Group and it was not uncommon for local barista competitions in Durban to be completely dominated by the enthusiastic and very vociferous Nino's baristas and their love for competing! Along with Sipho Mabaso, Ishaad Naicker, Mpume Sithole, the Nino's crew carved out a regular Top 6 spot in the KZN Barista competitions, Latte Art and Cup Tasters Competitions.
"Looking back at the time Wency and l worked for Nino's, we raised the standards to the level of being awarded the Best Franchise Café with the Café Society Awards. We worked tirelessly to improve the Barista Skills and introduced a Certification program and Barista incentives through in-house competition. This certainly worked and took the Brand to the next level. Wency spearheaded the Barista Training as well as running the state of the art Genio 30kg roaster we had set up. This was the biggest roaster for Genio specs and we certainly got the most out of it and also learnt a lot more about seed to cup."
Lani Snyman of Ciro Beverage Solutions, also with WBC judging experience, realized that Wency was talented, but needed formal training and was quick to offer guidance and support to the young barista. "I was stunned and amazed by Wency's punctuality, commitment, loyalty and attitude towards helping, supporting and pulling together to forward an industry's education. After that engagement, Ciro Coffee Academy sponsored Wency with the SCA Barista Skills Qualification."
"Lani guided me along the way and equipped me with the required qualifications in the Coffee industry. I'm now proud to say l have acquired the AST trainer level in Speciality Coffee which is a great milestone for me and allows me to train other young baristas to SCA World Standards."
So of course it made sense that with such great teachers with so heavily involved in the SCASA competitions, that Wency became hooked from the very first. "My first SCASA event was a memorable one. After an internal National Ninos and Ciro coffee competition in Joburg, in which l placed second in 2012, the next stop was only to take the passion further to SCASA KZN regional competition in 2013. As a young at only 20 years of age unknown To the industry events, l recall catching everyone's by surprise with a stunning perfomance which got me a spot to represent the region at national level all credit goes to my team led by Bernard Muneri. A lot of sleepless nights practicing my speech and tasting coffees with the help of my brother Gift Thole now at Starbucks and Sam Muchenje and also not forgetting Phume Nzama also at Starbucks. That is when l saw that in the name of coffee, hard work beats talent."
Wency spent the next 7 years competing in the Barista, Latte Art and Cup Tasters divisions at the Regional competitions, and often ended up taking himself and his Nino's baristas to Nationals. Former Gauteng Barista Champion Khulekani Mpala reflects: "I remember sharing the stage with Wency at Nationals 2017 in Joburg. He was still at Nino's and I was representing Tribeca. We motivated and helped each other like we were on the same team. I realised then that not only is he formidable competitor, but he is also a true champion. Wency is tough skinned, very strong willed and gifted with perseverance. The way he has over the years handled disappointment of almost making it, and bouncing back to claim top honours at Nationals 2020 is just amazing. We're seeing the same motivation and perseverance with his Tanaka Coffee brand."
After almost a decade at Nino's Wency decided to go on his own and started consulting under the name Tanaka Coffee. "Tanaka means State of gratitude. The idea of owning a company started in 2013 however it came to light in late 2018, Naming the company after my daughter, the mission was to break the communication barrier between the coffee chain through education. With a lot of cafes and roasteries opening I saw education as the missing element."he says.
Tanaka is a team of passionate individuals with different strengths but one goal. We want to educate and uplift women in coffee and this was the right time to showcase our talent and do justice for what we love without any restrictions from company policies in my opinion."
"l wanted to give Tanaka Coffee the attention it deserved and explore the Consulting avenue. In this path l have been privileged to work with Mark and Christine at African Roots Coffee. The synergy is amazing and here l'm allowed to share my passion with a wider base of coffee connoisseurs."
When asked about finally winning the National Cup Tasters title, Wency is typically humble and sees it as part of an ongoing journey: "The win means a lot to me, not just in coffee but in life. I had a lot of challenges along the way. I spent days not eating preparing my pallet, there were the financial hardships of competing, there was pressure from a lot of people who were supporting me and I was trying to activate my own Tanaka brand in a tough competitive industry as well."
Wency is also quick to point out that many of the people he competes against are still his role models. "Competing against tough competitors like former SA Champions like Thabang Maluleka and people like Nicodemus Nabakwe in the Finals were surreal to me. For example, l had a chance to be mentored by Nico at Sevenoaks early in my career while learning the ropes on roasting. Winning this Cup Tasters at Nationals was indeed a special moment because I have so much respect for these coffee professionals."
Muneri says: "We worked tirelessly for the Nationals as we pushed to make sure he improved his palate. Months of tasting different coffees together to prepare went by and we were rewarded with Wency clinching the title at the Nationals. We will be together at the World Champs once we get the greenlight from WCE as we still have a mission to accomplish. We work hand in hand till today and support each other in the different paths we have followed."
With COVID-19 currently affecting the Global Coffee Events schedule, Wency is remaining focused on training and waiting for his chance to compete at World of Coffee in Poland. The big question is, how will he do on a global stage? No South African has ever made the semi-finals at World, which is the top 16 after Round 1. "We are a country which is fast growing in the coffee industry and we are privileged enough to have past SA Champions comes back from World Champs and share theIr experiences. This helps us to improve year by year as a nation. I will be working with a variety of local coffee suppliers and roasteries and taste as many coffees as possible to prepare my pallet for the Worlds. The standard will always be high but l can rest assure South Africa that l will do everything to the best of my ability l really want to make not only South Africa proud, but Africa as a whole. Looking forward your support and input as we prepare for the Worlds." Says the Champ.
---
Accolades:
2020 National Cup Tasters Champion
Certified AST (speciality coffee trainer) 2019
2016 & 2019 KZN Cup Tasters champion and 2020 SA National Cuptasters champion.
2018 Barista Trainer of the year nominee (CMA)
2019 Jonson Workwear brand ambassador in hospitality,
2018 Shot in the Dark top 10 finalist.