In our latest edition, Issue 39, we featured a story from Aramse Coffee on their Universal Recipe Builder and were delighted to find out that they have created a product that encourages the use of the tool and inspires you to cherish your daily coffee ritual.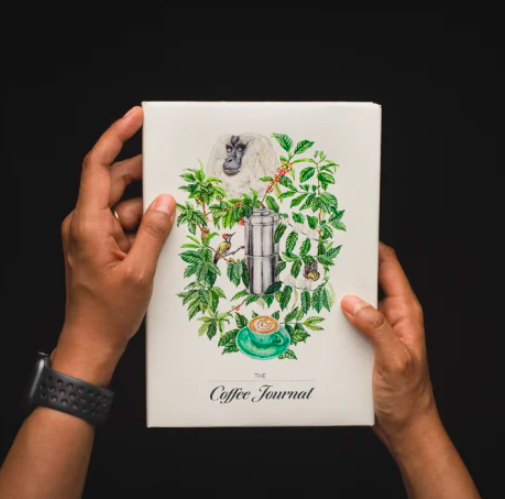 Introducing The Coffee Journal.
In their own words:
"At Aramse, we are big believers in ritualising our daily coffee brews. The Coffee Journal helps you improve your brews by logging key variables such as grind size, water temperature, brew time, and more. This journal not only helps you improve the coffee you make through tracking and consistency, but also helps you focus by developing the powerful habit of writing things down. Simple additions like the airplane mode checkbox serve as a gentle reminder to switch off distractions and be fully present during your coffee ritual. We commissioned Indian artist Manali Patil for the first edition of our journal. This piece was created exclusively for Aramse and will not be available elsewhere. The detailed artwork is the result of our creative collaboration and showcases Indian coffee landscape — a rich ecosystem where coffee plants thrive under the shade of the protective forest canopy, amidst wildlife such as the endangered lion-tailed macaque, black-rumped flameback woodpecker, elephants and butterflies to name a few. This diary is an homage to coffee, a beautiful addition to your coffee routine, and affordably priced."
You can be part of the first run of this beautifully produced journal by supporting their Indie Gogo initiative.