Gino Fabbri is one of South Africa's most loved entertainers. Hailing from Gqebs (PE!) he is a musician, comedian, actor and all-round entertainer. He is also an avid coffee lover, so much so that he's launched his own range of coffee! We caught up with the legend himself to get all the news behind his coffee - Gino Caffe.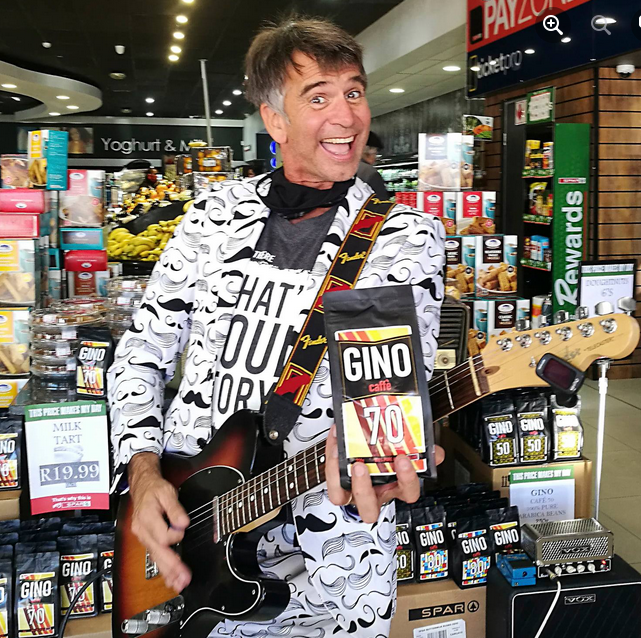 Gino - Rockin out at the local Spar with his new brand Gino Caffe - ©Mike Holmes
Gino, The Coffee Magazine first met you back in 2014 when you were roped into MC'ing the PE Regional barista comp and it's been downhill ever since then!
Gino: Yes you have a great memory! I was co-opted as the only comedian/MC in the vicinity by Angeline and Don McLagan (super champ cup taster and barista and roaster!). It was the SCASA compo I think and I was literally blown away by the quality and passion of these young guys and girls doing so much in so little time .. with so much calm, deliberate skill!! I was mesmerised! And of course meeting you guys at the Coffee Mag too, you were most patient with me and my silly questions!
I would never have thought I'd get into it in such a big way. I am still in touch with quite a few of the judges and even some of the entrants that day who are all still very successfully navigating the coffee business! Apart from Angie ( who eventually trained me too ) I have made fast friends from that chance meeting .. Karen Esterhuizen from East London was a judge, Shaun Aupiais was there setting the grinders, Alessandro was doing the beautiful Simonelli machines … all these people and others have helped me so generously along my journey!
Tell us firstly, about what you NORMALLY do for a living, for those who don't know…….
Gino: Well, I'm a muso and a comedian and entertainer!! I have done comedy for about 20 years now and before that played in a pile of bands as a drummer. The last time I came to Durban I was with Ian Von Memerty at the Sneddon and we got held hostage by rioting students!! Quite an ordeal! I have done many shows in all the main centres and many not so main centres too .. From Splashy fen to Oppiekoppie to Sun City, the Baxter, Namibia and beyond!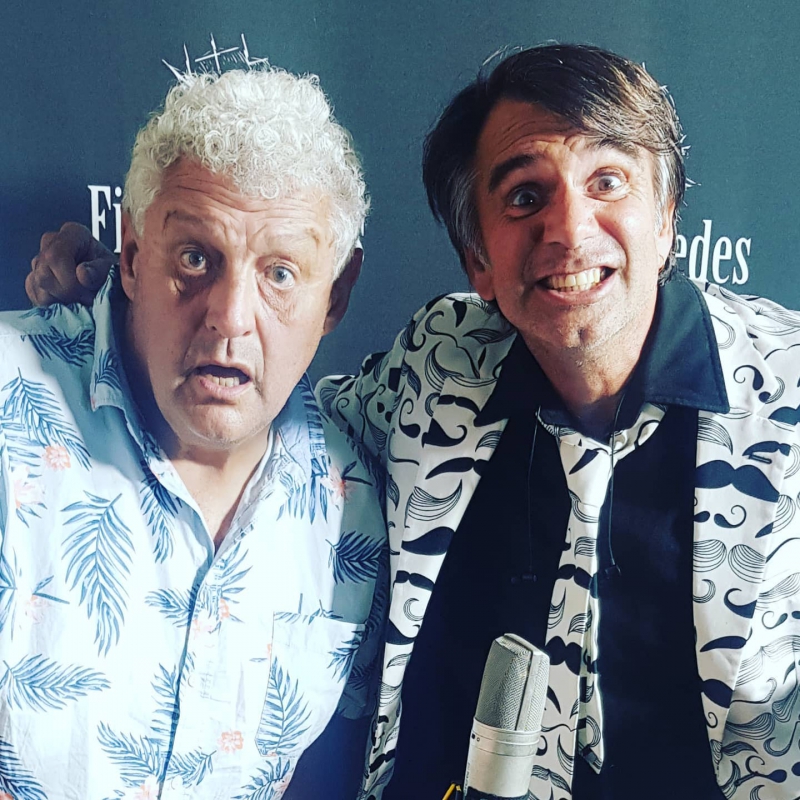 "My Cuuuuzzziiin"... Bary Hilton, and Gino. Recognize the suit? ©Gino
……and now a little about your journey into coffee?
Gino: Since that fateful few days in 2014 Ive been fascinated by the coffee business. I never looked at coffee in the same way after that. I completed a barista course at Ciro with Angie and Pika and then started messing with latte art. In order to get that right I had to look at my machine and how I was brewing. Once I researched that a bit I started looking at the roasting - such fun! My brother was making us coffee tin roasters with long handles to put in the fire!! Different types, with "agitators" in the tin to keep the beans moving ! What a hoot! Then the kind sisters from Sumatran here organised me a small roaster (these ladies are bloomin marvelous!)… it was pretty much a barrel with a blowtorch and it allowed me to control my small roasts and get a feel for the single origins. It was small, but it taught me how the process works. I got myself a nice little Wega Mini Nova and an industrial grinder and started experimenting!
Then a few years later, entertainer that you are, you popped up again and entered the Coffee Magazine's Latte Art Video Challenge! How was that experience? Can you still do any decent latte art?
Gino: Hey yes ! That was fun! I think I won my section!! I've still got the kit! :) It was latte art with almond milk! Quite tricky but it was fun to do the video and have a lark!! My latte art is best when nobody watches!!
Now you've launched Gino Caffe. Tell us EVERYTHING!
Gino: So I was happily roasting beans and in a state of coffee drinker subsistence.. roasting for myself and family. Lockdown hit and my online show was born - Gino's Spot ( Saturdays and Tuesdays every week at 18h30!)
Doing these shows during this ridiculous time has really made me re-access whats important to me, plus my wife Philippa is a crazy entrepreneur so I started posturing on what I really loved, what my interests are .. I love history, design, music , ...and coffee.
I decided that one of my shows had to be a coffee show and I had to include all the coffee peeps in PE (Gqebs) - and it was a great show, I loved it .. but it helped me to reconnect with Shaun Aupiais whom I'd met in 2014 and with whom I'd stayed in touch. He's so passionate about his coffee that I don't think he actually EVER talks about anything else! :)
He told me he was starting to roast and he'd got a really nice roaster.
It took me about a month or 3 but I realised that I had a lot of contacts in retail with my shows and they'd be keen to help me start something, so I dived in .. head first!!!
Obviously it's music inspired! Tell us how.
Gino: This is going to be the culmination of ALL the things I love, carefully and lovingly placed together in one bag!

1 - Great blends of top quality beans - using the beans that I've tried and tested ..
2 - Art Deco, Bauhaus, brutalist, moderne, art nouveau and all the schools of design - I LOVE the art of design - how things look and how it makes you feel!
3 - Music - particularly guitar sounds. The old amps and how they were used in the various forms of rock and roll! The 50s, when they had beautiful valve amps that they turned to optimum volume and got a warm yet full bodied sound. Think the shadows, early Elvis and chuck berry. The 70s where they realised that they could overdrive those same amps - and get a smooth and warm distortion out of it .. think ZZ top and Boston! Then the 80s and back to electronica, the 80s moved solidly in transistor amps and the guitar sound for me is clear, with chorus, reverb and delay.. atmospheric - think the the intro to Purple Rain! These 3 sounds are captured in my coffees. It sounds a little over the top but I wanted to sit down, have my 70s blend, check out the 70s packaging that reminds me of my moms 70s lounge suite and listen to some Boston. Somehow it all fits together, taste, ears, and eyes!
I've also used images of my (Italian) grandfathers old radios ( I inherited a couple of dozen beautiful old radios), as they seem to encapsulate all the visual elements I love.

Who are the team behind the coffee - Roasters, packaging designers, distributors…who's responsible for this mayhem!!!!
Gino: Ha! this is the kicker!! My oldest coffee mate, Shaun Aupiais along with his roasting partner Ryan MacGeoghegan (Brew the Bean) - these two genius roasters have come to the party with absolutely top class blends. They work on that stuff with such gusto and energy that I really get inspired every time we roast. Now that the blends have settled and the tasting is done, I've taken on the marketing and packaging and these two legends are handling the production side. I trust them implicitly and they have taken on the task - working to their strengths. Ryan with the tech side and Shaun on the tasting. I would be hard pressed to find two guys more skilled at this to back my brand.
During lockdown you really pivoted to the Online Platforms for your art. Tell us how that happened and who was your favourite guest during 2020? Tell us a funny story :)
Gino: I did indeed, and our online show has grown from strength to strength! I have learned that online and live are two different art-forms, live stuff will always be my best! But the online show has allowed a worldwide audience and that's been marvellous!! I have, to date, thoroughly enjoyed every single show and ALL the guests have been fun! Funny stories abound, and they usually involve tech issues!! We have had to learn the hard way that EVERYTHING needs a backup plan for online shows. Chef Ralf was on as a guest when I got loadshedded and he had to handle the show on his own for about 3 minutes!! Have you ever heard of a show, where the guest gets left to fend for himself!! Lordy! So we now have backup batteries and internet. I've had guests get on their plonk too - one too many whiskies - but it all adds to the excitement!!! :)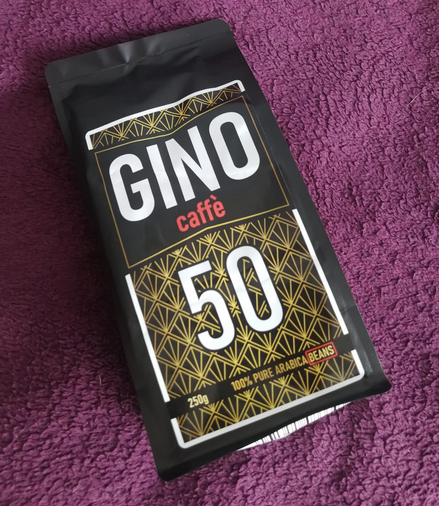 Gino Caffe can be contacted at www.ginocaffe.co.za and @ginocaffeSA on FB and the products are available in most Eastern Cape Spars in Gqeberha, East London and St Francis.