The last few years have seen a boom in the alternative milk market as many consumers seek an alternative to dairy. Initially the plant-based options weren't very varied for coffee and consumers were limited to just a few brands in the local health store. Fast forward a few years to 2020 and now there are not only a wide range of brands, but the plant options are many! Almond, Soy, Oat, Coconut, Macadamia, Rice... and what's more, many of the brands worked with baristas and coffee professionals to add a few secret ingredients to ensure the alternative milks steam and stretch just like dairy, hold their shape in the cup, don't separate under heat and keep an nice even consistency in mouthfeel.
Here at Coffee Magazine we have been working closely with Alpro this year, who have been phenomenal in supporting the coffee industry during the COVID-19 Lockdown by offering free cases of Alpro for Cafes that need a boost and by committing to supporting initiatives like the Coffee Magazine Awards 2020 which is sorely needed during these dark times to uplift and celebrate the wonderful people in coffee .
In order to highlight this we sent a few of SA's favourite coffee people some Alpro to try out...
Winston Thomas of Winston Douglas Coffee, current and three time SA Barista Champion:
"World Plant Milk day is this week. As an inexperienced barista a couple of years ago I would have pulled a face at the thought of a day dedicated to plant based milk alternatives (just being honest :)). Today it is pretty evident that these products have a role to play in coffee and it is quite fitting that I post about these #alternativemilks sent to me by Alpro (@danonesa) a couple of weeks ago.
I use and teach about alternative milks in my SCA Barista Intermediate courses and this range of soya and almond from Alpro has given me a great balance of taste and stretching ("frothing") consistency to apply theoretical teaching to practical application.
Coffee aside, the almond milk is great with corn flakes! (confirmed by the wife :))"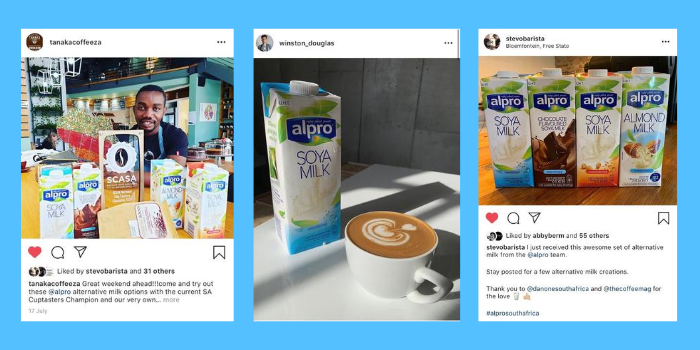 Wency Masawi of Tanaka Coffee, our current SA Cup Tasters Champion:
"I enjoyed the soya milk not only for health reasons but also because it's very compatible with any coffee, easy to foam, and great for latte art as well. Especially when you foam it to a lower than usual temperature thats when you provoke the goodness in it. Although the whole variety of milk options were so unique in their own way."
Sibongile Rakgatjane of Mo's Bakery in Mamelodi:
"My favourite is the sweetened almond milk, I think its the most tasty milk alternative *maybe my love for almonds played a part however the milk tastes great and my lactose intolerant customers loved it.*
I sampled the milk with a few of my well known lactose intolerant customers when I had a market a few Saturdays ago.
Let me tell you a story about lactose intolerance... growing up in a black family, the term lactose intolerant was non-existent so when I had anything with milk I would have stomach issues, it's now that I actually realise I was lactose intolerant all those years and did not know...
So I have observed a lot of people of colour are now having the AHA moment and we realise its just lactose intolerance and we have alternatives and its exciting to experience coffee, ice-cream and a lot of other milk based products we could not enjoy before.
Ok now I am digressing... Back to Alpro... It steams very well as well and the texture is lovely. I made a vegan chocolate cake using the soy milk and it also worked well. I made an observation that soy milk works well in baking."
Stevo Kuhn of Urban Brew Coffee in Bloemfontein had this to say of the Alpro range:
"I particularly enjoyed the unsweetened options. They didn't alter the natural flavour of the coffee that much.
Some of our alternative milk clients also did a taste test with me and opted for the unsweetened options.
However, the chocolate flavoured soya was also a favourite. Whether steaming this or just drinking it over some ice, it was amazing! Comforting and tasting like a holiday."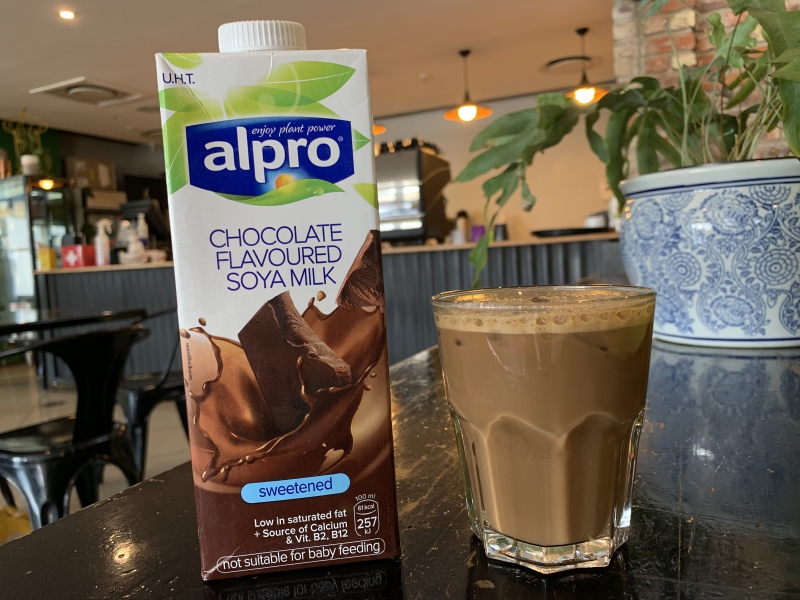 Win a sample case of Alpro!
All you need to do is send us an idea for your favourite Plant-based milk beverage by emailing mel@magazine.coffee here - if you attach a photo, you get extra points!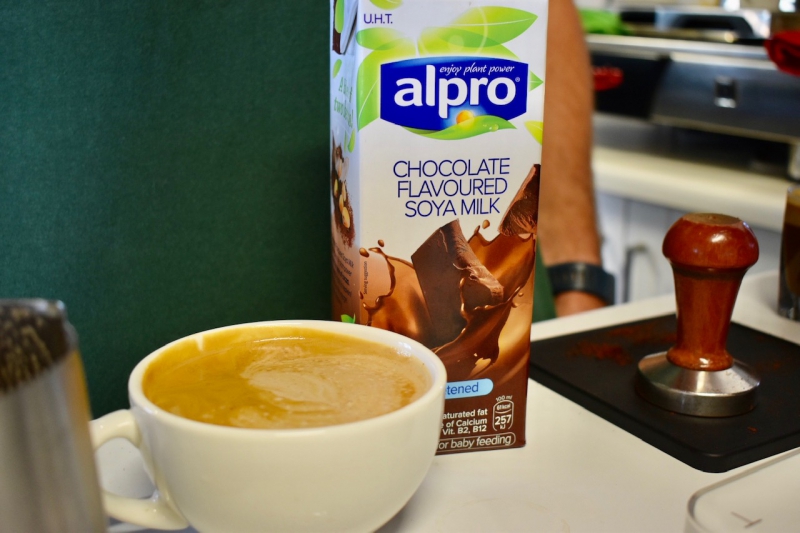 Iain made a drink which he named the "Sweet Umgeni Latte" (what??) which is a shot of espresso, steamed Choc Almond milk with a pump of vanilla! It's sweet and will kick you right in the pants!