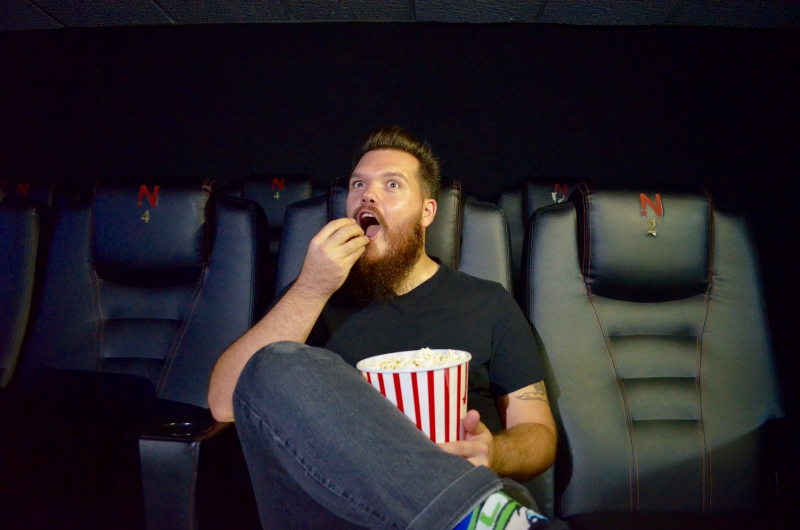 When Harry was growing up, his mom, a movie critic by profession, took him to the cinema and they would talk about what made the movies great. As the images flashed before his eyes they discussed how the cinematography moved the story along and how the soundtrack and score punctuated certain moments and conveyed emotion. Perhaps this is why when it came to putting together his set for the National Barista Championships, his flair for performance and the way each move was planned and nuanced made it all look so effortless.
Harry Mole won the South African National Barista Championship title in February 2019 and at the time of this interview was just beginning his preparation to go on one of the greatest adventures of his life to represent his country on the World Barista Championship stage in Boston. He has been competing for many years now. When we first saw him on stage, surprised by his gentle and passionate nature underneath his rambunctious appearance, we knew he would be a force to be reckoned with and he quickly propelled himself into the Top 6 where he would find himself falling just short of the Champion title for a couple years. Did he let that stop him? Of course not. For a movie buff like himself, his story so far reads like an indie movie about a tattooed man with a crazy beard that finds his purpose and people in a weird subculture a la Cool Runnings, fighting his way to achieve his ultimate goal. The weird subculture in question is speciality coffee competitions.
Coffee competitions, in particular the Barista Championships, are really weird. They require a huge investment of time, energy and money and they have very little to do with the service you receive at your local cafe. Or do they?
Harry is currently Barista Trainer and Key Accounts Manager at TriBeCa Coffee Company, best known as the team behind the W Cafes sprinkled around South Africa. The company has produced a Champion barista no fewer than five times (including three-time champ Ishan Natalie). Their barista trainers are invested in the global standard of coffee competitions so the skills that they are imparting to each new barista are top class. One of the standards of competition is the technical aspect and managing your equipment, the skill of being able to repeat the same actions consistently to produce the best possible coffee every single cup. This is surely relevant to any cafe.
Winston Thomas, the outgoing SA Champ, was pondering at the end of his two-year reign, just what it would mean to the South African coffee community to have a barista place somewhere near the top? How does it benefit our coffee industry and trickle down to us drinking coffee at our favourite cafe? It's a question we haven't been able to answer yet and maybe Harry will take us a step closer. We hope that one of the outcomes will be to help uplift the profession of being a barista. Certainly Agnieszka Rojewska's win as the first female Barista Champion sent positive ripples through the broader industry.
The Champions are representatives for our SA community abroad just like any sport and Harry was a humble, imaginative and quirky representative for us in Boston earlier this year. In the famous words of Doc Brown, "Your future hasn't been written yet. No one's has. Your future is whatever you make it. So make it a good one." Good luck, Harry!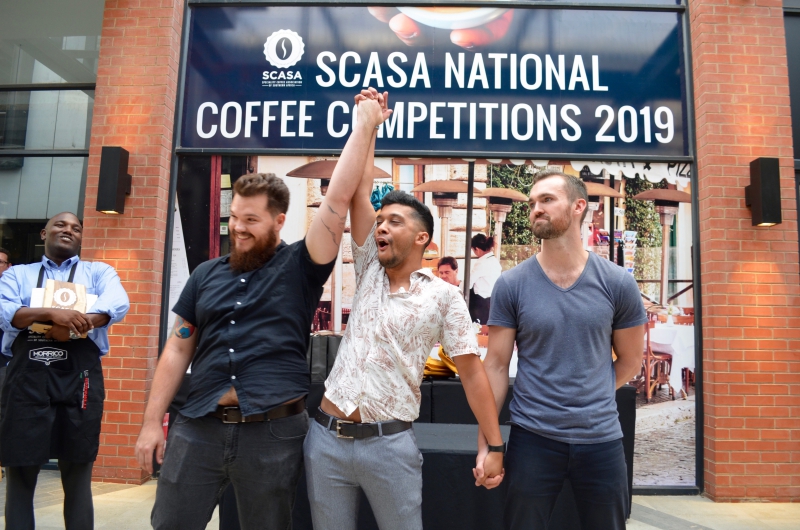 Who was Harry before the coffee industry and how did you get into it?
I was working in the corporate scene in a call centre, managing a team and calling potential customers to sign up for memberships. That's right, I was that guy phoning you, haha! I got really good at dealing with rejection. After four years in a sales career, I woke up and sat on the side of my bed, sipping at my morning brew and I realised I was no longer happy and had to make a change. I approached my brother in-law, Martin Ten Krooden, then the Roast Master at TriBeCa Coffee who was eager to teach roasting. A month later I was a roaster's apprentice and began my journey down the coffee rabbit hole.

Tell us a bit about the most influential coffee people on your journey so far.
My mentor Martin Ten Krooden, who we called 'Bob' to prevent confusion with TriBeCa's Director Martin, took me under his wing 6 years ago as a roaster. His extraordinary passion, knowledge and love for coffee inspired me to pursue coffee. He taught me the beautiful rebellion in coffee; a hands-on approach, to touch, feel and smell, to push the limits of brew ratios, break the rules in grind settings… Because of this experimental and eccentric principle, I still follow today, I have learnt more than I could have ever imagined. He introduced me to barista competitions 5 years ago to help me understand roasting principles and its influence on extraction. He is the unsung hero who watches from the back of the room, his humility and encouragement fills my heart for coffee.
I met Ishan Natalie and Matthew Carter at an impromptu cupping session many years ago in a bicycle shop. I will never forget, "Hey bro, aren't you our new roaster?"... Ishan would, over the years, make me a coffee disciple as I transitioned from roaster to barista trainer. His encouragement, teaching and friendship inspired me and instilled a pursuit of excellence in me. He is the Mr Miyagi to this Karate Kid, thank you Sensei!
Matt Carter has opened my eyes and heart to the adventurous and beautiful journey coffee has in our lives. His advice and encouragement pushed my limitations which fuels my love for origin. There are so many more stories and friendships (John Evans, Shannon Venter) which stems from my coffee journey… I could go on forever, but know that I love you all!
What is it like working for TriBeCa Coffee, one of the biggest coffee companies in the country?
I am so incredibly grateful to our Directors, Martin Fitzgerald, Dale Mazon and Ernst Penzhorn, who have built a legacy for the past 22 years. Their pursuit for excellence and genuine love for coffee makes my work my passion and pushes the coffee industry forward. We are encouraged to push boundaries, speak our minds, blast music and play on the pinball machine. The work-hard-play-hard ethic connects us to what is real and keeps us grounded. I currently head our TriBeCa Wholesale division, Barista Training and Customer Service departments; the freedom Martin gives us instills trust and growth in our lives and as coffee professionals.
Tell us about the relationship you built with the producers of your Tanzanian coffee.
We ventured to beautiful Tanzania on our second sustainability project, building another dairy for a widowed farmer. Later that week we heard of the Tudeley Estate which was recently revitalised by a legendary ex-Zimbabwean farmer. We met with Trevor Gifford and he took us around the estate, I was blown away! This 400kg tortoise called Tommy plods up to us like a puppy, I find out that he is 200 years old and has lived on the estate since its was established. The Peaberry I used at competition was the first batch Trevor produced for us; he uses sap analysis every 15 days from every coffee tree and adjusts soils or water to ensure the coffee reaches its full potential. We established a relationship and the coffee tastes so damn good we bought the whole micro-lot! Trevor's love and passion for coffee is inspiring and I'm so happy to play a small part in their beautiful story.

You climbed Mount Kilimanjaro last year, how did the experience affect you?
It was one of the most life changing experiences in my life! Part of that journey was climbing with my "Kakas", Swahili word for brothers, all amazing individuals in the coffee industry. Our bonds grew, our friendships blossomed and to share one of the toughest mental and physical climbs of my life together was magical. It was a 6-day journey headed by an amazing man, Sean Wisedale, a Durban boetjie who is the first South African to summit all 7 summits in the world. We were above the clouds for days, in the heavens, a marvel I still dream about to this day and long for…

You now hold the platform as The Best Barista in the country. What does that mean to you and what do you aim to achieve while you hold this title? And yes, this a bit like answering questions for the Miss World pageant ;)
I'm humbled and honoured to represent our coffee community at WBC! It's a surreal experience to finally achieve what I set out to do so many years ago. I am pretty stoked!
My hope would be to inspire and share knowledge with the future generations of baristas, coffee professionals, competitors and to connect with the community through real engagements and build friendships along the way. Like my mentors, they set the perfect example.

What area of coffee is most important to you at the moment?
Methodology in coffee is super interesting to me, it's a rather broad term, but specifically how we brew and prepare coffee. I'm always keen to test different perspectives as it normally forms foundations in training that result in a butterfly effect. They form core values for many baristas and if we are not open to new approaches and learning we prevent an evolving industry.
What are your Top 5 films and why?
Back to the Future Trilogy (1985):
My favourite films by far… It's about a kid who's friends with a scientist who invents a time machine out of a Delorean. Each film takes you through a different Era as they try to fix a problem they caused by altering life events. One is in the present (1985), one in the future (2015) and lastly in the past (1885). It's totally relatable and I can talk about them forever… the 2015 ideas are hilarious (flying cars) and I love the 80's.
The Secret Life of Walter Mitty (2013):
An everyday career following guy is plunged into adventure and ultimately it is about exploration and the purpose of life. It's open for interpretation, but it makes you laugh, cry and grow all at the same time. It's a masterpiece and inspiring!
The Lord of the Rings Trilogy (2001):
Wow, don't even get me started, I'll recite the Dark speech of Mordor man! What an epic journey in a fantastical realm filled with elves, orcs, wizards, dwarves and Hobbits. A beautiful story of good defeating evil and the true love of friendship. "Don't tempt me Frodo!" - Gandalf.
The Fifth Element (1997):
A futuristic action sci-fi space opera… That's right! Just a great slapstick action for a Sunday.
Mandy (2018):
A psychedelic horror piece starring Nicolas Cage. It's super brutal and not for everyone, but it's about love and the beauty of a meaningful relationship at its core and what happens when it's lost. The cinematography and score is outstanding!
Check out more reviews from Harry on Couch Potato Reviews.
If you weren't in the coffee industry what do you think you might be doing?
That's a tough one, I love what I do! I would probably have pursued industrial design. I wanted to be an inventor of sorts, like the guy who designed your favourite toothbrush or like a nerf gun. Things that are super mundane but beneficial.
Below is our video with Harry and his coach, John Evans (who he is coaching this year!), after they received feedback from the judges after Harry's performance in Boston at the World Barista Championship 2019.