5 of the Wildest Places to Drink Coffee
We have always advocated for the fact that coffee really can take you places, but when we met and heard the stories of Ozan "Ozzy" Emre Yerlikaya a.k.a Travel Designer, even we were in awe of the amazing locations that he has had the opportunity to brew coffee in. We asked him to take you on a journey to explore the possibilities. Hopefully this inspires you to make your next coffee experience just a little more on the wild side.
---
The world is your oyster…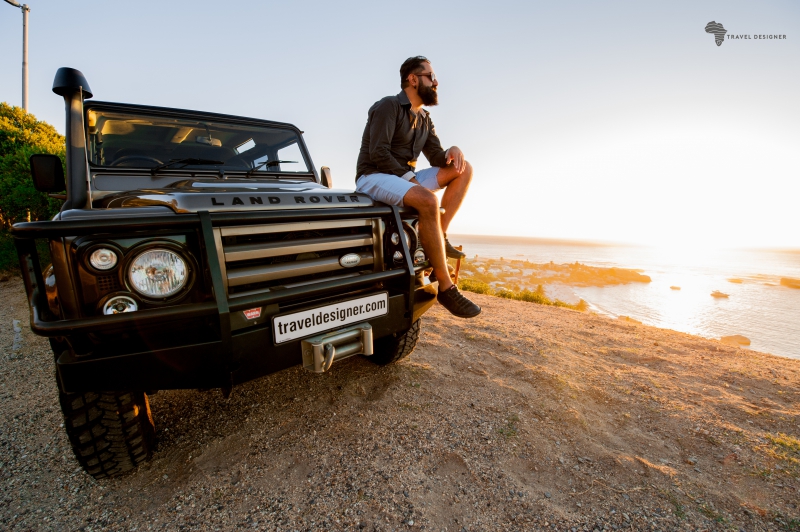 In Cape Town, the ocean and mountains are our playground and I love nothing more than finding the perfect vantage point, parking my beloved Land Rover Defender complete with its mobile brewing bar, laying down a Turkish carpet and setting up some Melvill & Moon safari furniture. My guests can relax into the scenery and I go to work making them coffee.
My setup includes an alternative Thule box that is attached to my tow bar and holds the coffee making equipment in a specially crafted wooden case. I grind the selected (always) African beans with my pre-charged electric drill attached to my hand-grinder (this always gets a good laugh) before brewing it and serving it steaming hot in specially designed glasses so that the colour and flavour can be equally appreciated. I created my mobile alternative coffee brewing kit or bar a couple of years ago and called it 'Just in Case'. The reason for the name is that I carry everything I need to make a quality coffee just in case we need one, whenever or wherever that may be. I traveled with my "Just in Case" set and end up serving quality coffee with African beans at impromptu moments all the time.
I have set up in the meeting rooms of big companies and at relaxed picnics with friends. Everything is crafted in wood. I dress up too with wooden sunglasses, a wooden bowtie, wooden designer watch, wooden ring, wooden earrings and an imprinted leather apron.
The whole idea of being able to make quality coffee whenever and wherever I want to and sharing it with friends and clients gives a great sense of freedom. Seeing the delight and appreciation in their eyes when I surprise them with this kind of coffee tasting experience on the side of the road or next to the ocean, is immensely satisfying. It's in my nature to look after people. Serving them good coffee is one of the ways I do so.
---
The Sacred Cup
One of the most amazing places I have ever made coffee was at the Deyrulzafaran monastery in Mardin. Set in southeastern Turkey, Mardin is known for the Artuqid architecture of its old city, and was a strategic trading spot on the silk route many years ago. Built in 493 AD for Syriac Orthodox Christians, the monastery is also known as Mor Hananyo or Saffron monastery and was the patriarch seat for the church until 1932. It is an incredibly spiritual place to visit.
Here the father of the monastery allowed me to show them how to make coffee with alternative brewing techniques. The opportunity was part of a 3 months travel experience in my own country a couple of years ago. I made a list of the places I had never been to in Turkey and travelled non-stop like a backpacker. I carried my alternative brewing bar concept 'Just in Case' and always set it up where I could meet the local people and make them free coffee in exchange for a chat. I must have met 100's of people this way, while collecting amazing memories.
The coffee beans I was serving were African and from Cape Town's Origin Coffee Shop, but I also tried traditional coffee beans for making Turkish coffee, using a simple AeroPress and blending my coffee with their coffee. The result was exceptional. This was another way for me to focus on experimental travel that allowed me to meet people, coffee being the bond that brought us together.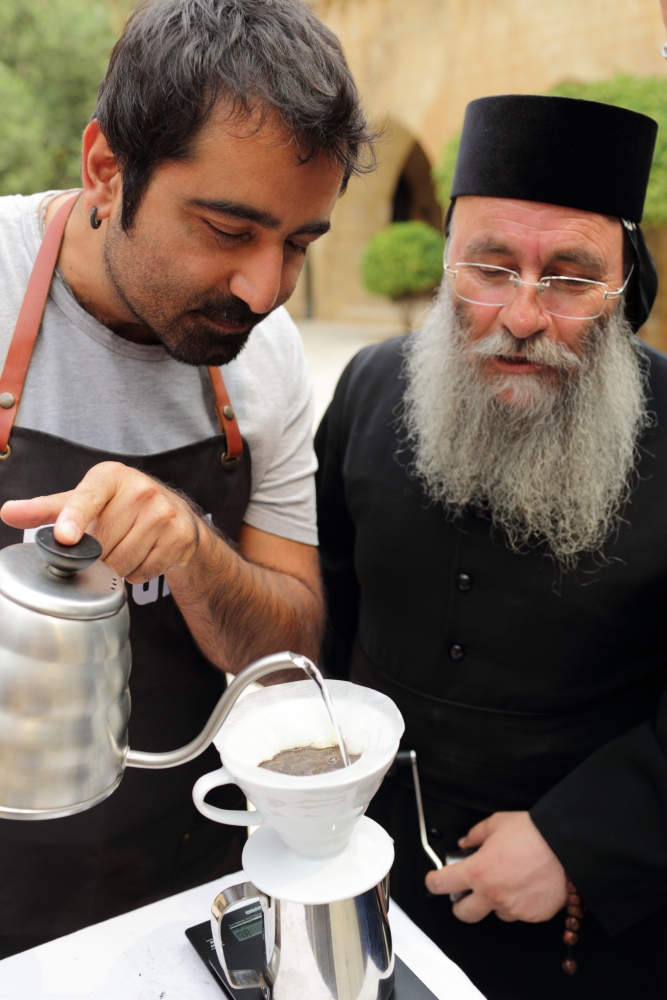 Coffee is Art
In Cape Town, being able to make coffee for renowned artist Lionel Smit in his Strand studio, surrounded by his massive sculptures, meeting him and learning about his incredible work, was a treasured moment for me.
While I set up my coffee station and went about brewing and making him coffee, my passion and chosen art form, we talked about his life, the inspiration for his work and how growing up with artist parents defined his destiny. Sensing the curiosity of a well-know artist in my coffee making brought me true happiness and I could feel us connecting on a deeper level as a friendship was formed.
Lionel Smit is considered one of South Africa's most talented artists and is best known for his contemporary portraits that he creates on canvas, as well as his evocative series of sculptures with their shades of blue and bronze, touches of red and grey, each face he works on revered for it's unique beauty and characteristics. I love visiting with him.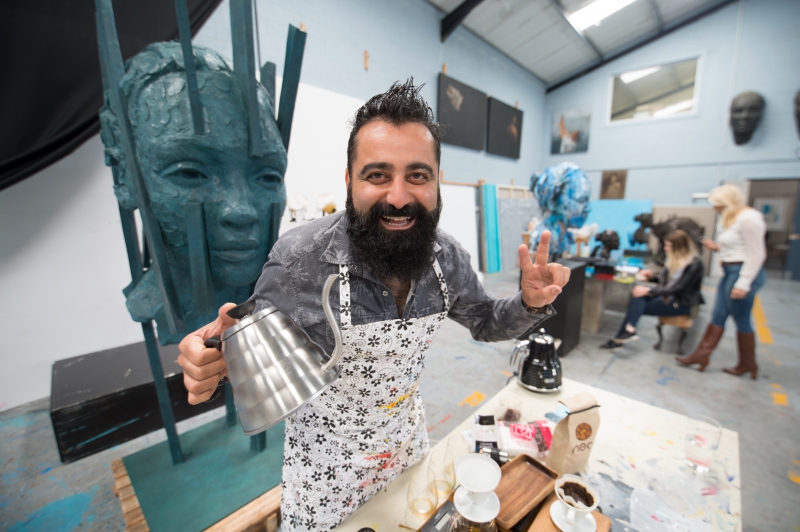 Of Mountains and Men
In the beginning of the year I was approached by local tour operator Rhino Africa to design a four-day itinerary for European travel journalists that would be visiting, and writing about, Cape Town.
On one of the days the focus was specifically about experiencing the city with locals. Picking them up from Ellerman House, they were accompanied by one of my Cape Town legends Doug and his dog Stout. We proceeded to hike to Wally's Cave on Lions Head, a rather unknown and treasured spot on the landmark mountain that visitors need to be guided to.
Here we were met by 2012 and 2016 Barista Champion of South Africa Wayne Oberholzer for a coffee tasting and in depth lesson in the history, value and appreciation of coffee. Settled in the ancient cave, with a view of the city below, it was an exceptional moment for me, and for those I was hosting.
From here we headed to the Oranjezicht organic market for breakfast before joining Master Chef SA Jade De Waal at her home for coffee with famed cartoonist Zapiro, and a casual lunch by Jade. It truly was a day to remember.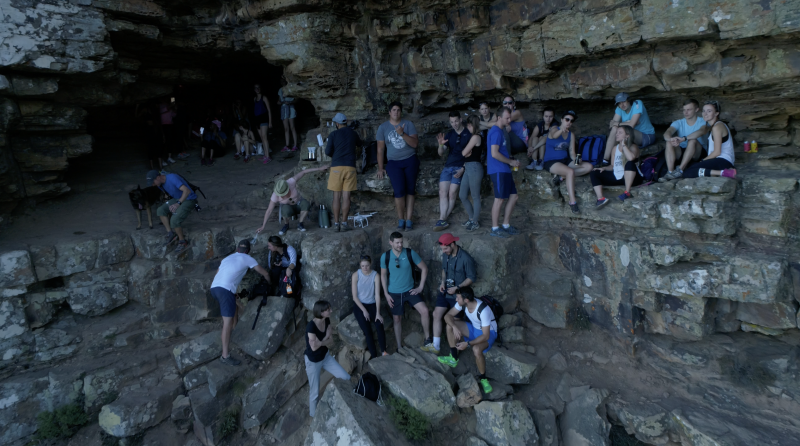 Coffee in the presence of Greatness
In all my years I never imagined that I would make coffee in the company of 15 elephants in the middle of the African bush, but that is exactly what happened when I travelled to Zimbabwe and Zambia earlier this year to visit some African Bush Camps.
I always carry my 'Just in Case' mobile alternative coffee brewing bar with me and this time the focus was on demonstrating that you may be in the middle of nowhere, but that does not mean a compromise in the quality of your coffee when you stop for a break. All it takes is a hand grinder, an Aeropress station and the will to do things right, and you have it.
My coffee date with the elephants came about when I was set up next to a watering hole at one of the camps, facing the guests and talking them through my passion for this black liquid gold. As I was serving them, the elephants approached quietly from behind for a drink of water. I never even knew they were there at first, until one of the guests whispered that I should turn around.
My heart was beating at the privilege that just two meters away from me were these majestic gentle giants. They may have been there for the water and not for my coffee, but for me it was a moment that marked my love for coffee making in the wild, and of course for all things Africa.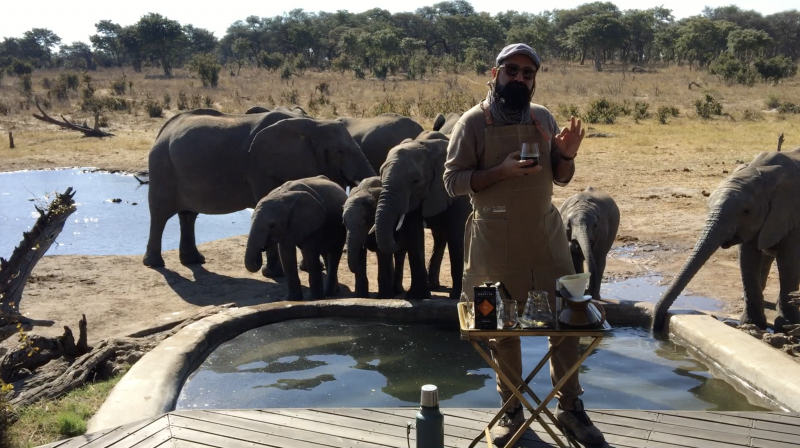 ---
Who is Ozan 'Ozzy' Emre Yerlikaya?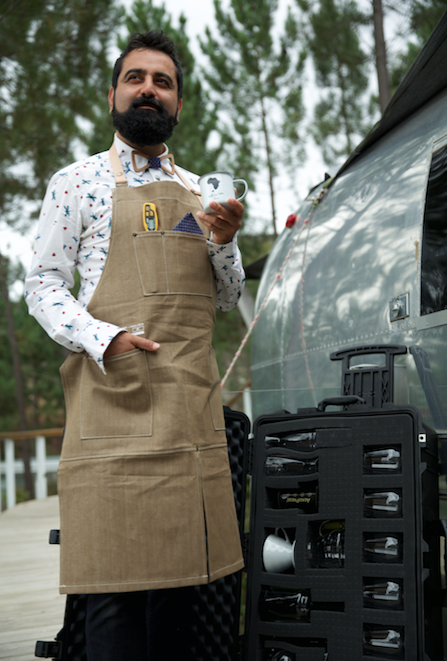 How did you end up in Cape Town, South Africa?
Born in Istanbul Turkey, I started working and traveling as a scuba diving instructor, spending time at many of the top dive sites the world over. While I was living on a beautiful tropical island in Malaysia, I was offered a job at a Johannesburg based Turkish travel agency. Giving up island life and the ocean for an office job in a large metropolis did not really appeal to me, but I wanted to use the opportunity to come to South Africa. The transition was a huge cultural and emotional shock to me and I struggled to settle.
I thanked them for the opportunity and left with every intention of returning to Malaysia, but decided to do a three-month trip from JHB to Cape Town, including Swaziland and Mozambique, before leaving. At the time I did not know that this decision would change my life. The trip led me to meet hundreds of people and fall in love with the Southern African landscape and it brought me to Cape Town.
It was the first time I'd been truly wowed by a city and it made me instantly want to live here. I cancelled my flight back to the Malaysia and resumed work in Johannesburg, knowing that in time Cape Town would become my home. In 2009 I was able to make that dream come true and settled in the Mother City. Motivated by a burning desire to offer the very best travel experiences I could, Travel Designer was formed.
Travel Designer is a pretty ambitious way of conducting tours, tell us what inspired you to start this business and what exactly people can expect?
Travel Designer is a human inspired travel concept that was born when the people living in Cape Town who have became my best friends, encouraged me to turn this lifestyle of mine into a business. I love meeting people. Its something I have to do daily. If I can't meet a new person every day I literally cannot sleep.
I realised that when I travel I prefer to sit in a coffee shop in a small town run by the person who knows everybody, having long conversations and finding out the daily routines of the residents there, rather than visiting a museum or famous tourist attraction. That is how I choose to travel, surrounding myself with new and interesting people to meet, and I wanted to offer this style of travel to others. Travel designer is a personal transformative travel concept based on the that.
I believe in the quote by Pittacus Lore: "A place is only as good as the people you know in it. It's the people that make the place". That's why I created the 'Cape Town Legends' series in the beginning of 2017, which allows you to not only experience Cape Town like a local, but also with a local, ensuring an in depth exploration of the Mother City.
We have got amazing people on our list of legends and when I'm asked to design a holiday my guests can prepare for a somewhat unusual and sometimes spontaneous itinerary.
Who are your favourite Legends to visit?
It is hard to pick a favourite as I love all of my legends, but these are the most popular:
Meeting famous cartoonist Zapiro in his studio for a political conversation while I make coffee with freshly ground African beans.
An exclusive dinner at Ree Treweek's home, a sculptor, painter, illustrator, animator and director, you will feel like you've been allowed access to a small museum as you listen to how she creates her parallel worlds, all the while young chef Johnny Hamman prepares the meal.
Spending time with female car collector Michelle Hambly-Grobler, who has an unrivalled knowledge and enthusiasm for cars. We meet her at Cape Town's Crossley Webb showroom for coffee as she talks about her impressive collection of high-end cars, specifically Porsche. Learning about the origin of her interest and ultimately taking a ride with one of Michele's cars, always blows people's minds.
Street art is clouded with mystery and the prospect of meeting a famous graffiti artist is almost unheard of. Yet we bring you Mak1one, who will walk you through the streets and point out some of his work, you will even have an opportunity to paint on the walls with him, leaving your own mark.
What do you think it is about coffee that inspires and brings people together?
We drink coffee with family, business associates and lovers. You only have to walk down the nearest high street to see the number of coffee chains to realise the extent of our love affair with this delicious caffeinated beverage. The origin of coffee beans can be sourced to Ethiopia, the story goes that a 9th century goat herd noticed the stimulating effects on his goats and began experimenting. I couldn't be more grateful that he did. I think grinding the beans and brewing the hot drink as you chat, drinking it and inhaling the aroma, tasting the full-bodied flavour breaks down barriers, relaxes and brings people together.
Which of your projects is inspiring you right now?
At the moment I am busy setting up the first alternative coffee brewing bars at a very good friend of mine Beks' from African Bush Camps lodges in Zimbabwe, Zambia and Botswana. Beks is the founder of African bush camps and they have 12 lodges that offer amazing service in the middle of nowhere in the beautiful bush. We thought, why don't we serve the best quality coffee in the African bush? I'm currently planning my second visit to set up the bars and to do more training. As you see coffee makes me travel too, yet another reason for me to love it!
---

Seeing the Wild through Bekezela Ndlovu's eyes: African Bush Camps
How did African Bush Camps begin and what is your ethos behind the business?
I started my career as a professional guide, and African Bush Camps was born out of a desire to promote the concept of privately guided safaris through remote parts of Africa. I passionately believe that your guides and hosts in Africa are the key to making your safari the most memorable African experience and I created a safari company that really celebrates and champions guiding. Our passion and our quest as professional guides is to explore the wildest and most remote parts of Africa, away from the crowds or influence of today's developing civilisations and to share these unspoilt locations with our guests. To compliment this vision, I took on a number of Safari properties and operations under the African Bush Camps brand. These facilities enable you to experience an authentic view of the old 'untouched' Africa, with minimal impact on the environment whilst enjoying the best wildlife encounters with outstanding professional guides.
Why is a good cup of coffee important to you and to your guests? And why do you think good coffee has been taken for granted for so long in the hospitality industry?
Coffee is something that has always been associated with urban culture, not bush culture. We want to give our guests all that they desire when they travel with African Bush Camps, and coffee culture has become a big highlight of discerning travellers, so we are just looking at how we can enhance our guests' experiences. It is really just taking peoples preferences and making them available in the bush. It is no different than having your favourite bottle of wine or whiskey in camp.
How did you meet Ozzy of The Travel Designer and what led you to work together?
I met Ozzy through a mutual friend and very quickly felt his creative nature and was immediately drawn to the "out-of-the-box" tours he does around Cape Town and how he enhances the Cape Town experience. I identify with him, his passion for travel and how he goes the extra mile in innovating ways in which you can make someone's travels in a particular destination a very special and memorable experience.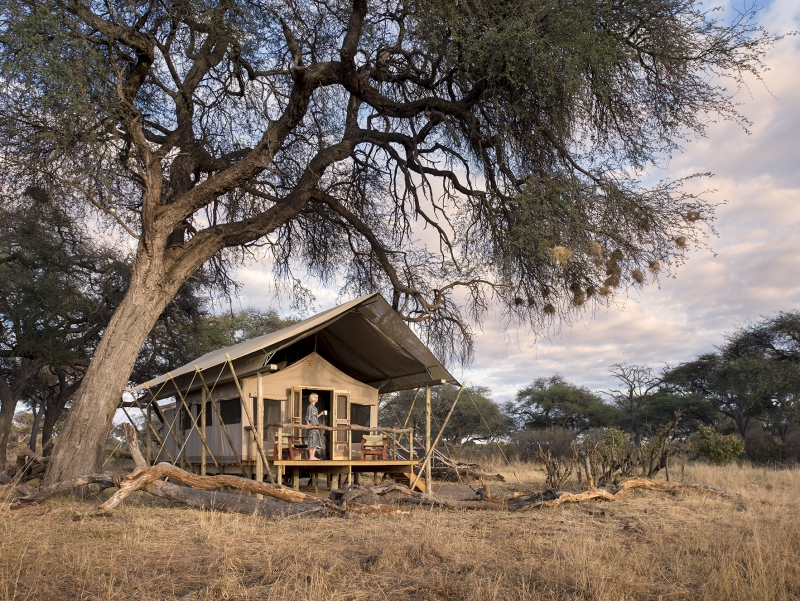 Can you tell us about some of the exciting projects happening for African Bush Camps?
We opened a new property in 2018, Bumi Hills Safari Lodge, at Lake Kariba in Zimbabwe. We are very excited to have a new product to offer our guests and add something really special to our safari circuit through Botswana, Zambia and Zimbabwe. I am also very excited to be part of a collaboration with Eleven Magazine, a design magazine based in the UK. We are working together on a 'Design A Safari Camp' competition, which has recently launched. We are asking people to design an eco-friendly safari camp using the principles of biomimicry, which is a relatively new field of study that looks at the design and production of materials, structures, and systems in our human/man-made world that are modelled on biological entities and processes in nature. We are really looking forward to seeing the ideas that people come up with.