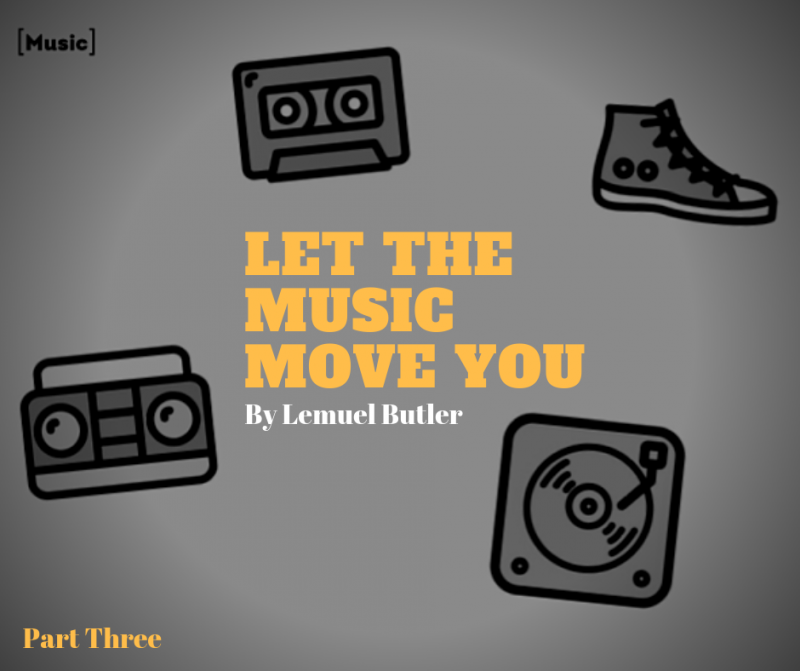 In Part 3 of our 4-part series with the inimitable Lem Butler, we challenged him to tell us about the Record and coffee that never fail to move him no matter how much he listens to it or drinks it. This is our favourite in the series so far. An education in music and coffee!
Words by Lem Butler
---
I can't live without music and coffee! Actually I could, but life would be very drab and colourless without the two. Music and coffee are both centred around emotions; we attach certain emotions based on experience to both coffee and music where these attached emotions connect people with themselves and others. Music has always been a focal point in my life. When I was younger, I submersed myself in music because I was surrounded by it growing up. I dived ears first into the disciplines of both woodwind and brass instruments; studying both clarinet and euphonium which eventually led to hip-hop production and dj-ing later in life. I was a late bloomer when it came to coffee, but even though it wasn't until my thirties, coffee still managed to take centre stage along side music mainly because of how the two brought people together.
When I think of music and coffee that, through the years, still move me; there are two coffees and five albums that accomplish this consistently. Five albums I could listen to from start to finish as if it were the first time are Prince's "Sign of the Times"; De La Soul's "Buhloon Mind State"; Tears For Fears "Songs From the Big Chair"; John Coltrane's "Giant Steps" and A Tribe Called Quest's "People's Instinctive Travels and the Paths of Rhythm". Coffee is very similar in that I would never tire from drinking Gesha Village from Ethiopia and Finca Nuguo from Panama. As we have limited space, I will focus this article on A Tribe Called Quest and Finca Nuguo and how they are related in experience and emotion.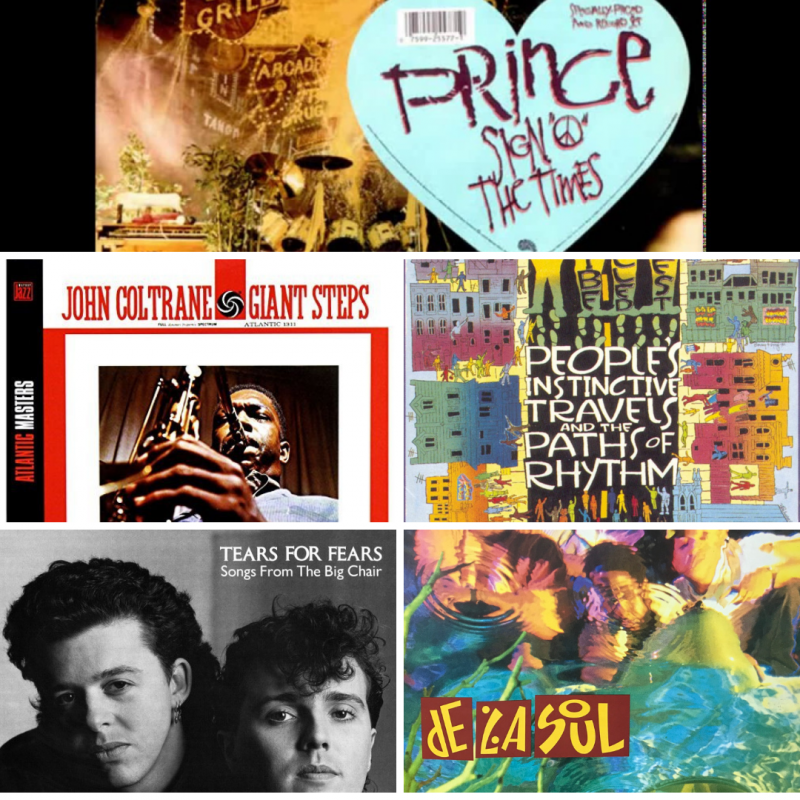 The sun was the hottest it had ever been in its history and the windshield of my friend's 1983 Honda Civic magnified that heat to a point where I could barely keep my eyes open without squinting, but I was headed to the beach with friends and no amount of heat was going to keep me from my weekend of waves and sand. With temperatures reaching 95-100F and my eyes practically shut from the bright sun, I was in and out of sleep so I never knew who brought the cassette tape that was placed in the barely functional cassette deck. It was not important once I heard what flowed from the speakers next to my resting head in the backseat. A completely unorthodox start to the album but it began with a fade in of a child crying. Then the beat dropped. And so did my jaw. By now a cool breeze is flowing through the Honda. Soft keys, low end bass, an infectious guitar riff and then:
Q-Tip is my title, I don't think that it's vital
For me to be your idol, but dig this recital
If you can't envision a brother who ain't dissing
Slinging this and that, cause this and that was missing
Instead, it's been injected, the Tribe has been perfected
Oh yes, it's been selected, the art makes it protected
Afrocentric living, Africans be givin'
A lot to the cause cause the cause has been risen
Up until this moment in my life I had never heard anything like this in hiphop or in music. Push it Along is an incredible track that was perfect for that moment and moments to follow. It was the sound that resonated with me. It was a sound that was indescribable. Years later, I can still sit with that album from beginning to end without skipping a track or any of the call and response skits in between tracks. People's Instinctive Travels and the Paths of Rhythm by the hiphop trio, A Tribe Called Quest, is one of my all time favorite albums.
QTip's distinct monotone rap style stands out in the industry and when I heard his rhapsodic delivery I was mesmerized by the eveness Q-Tip creates over the 808 drum machine beat loops and samples in which he produced. Q-Tip is the texture that holds the entire sound together.
Phife Dog comes in on the second verse adding contrast to Q-Tip's almost textured lyrics. Phife brings lyrical brightness to the track. The perfect complimentary pairing of two talented emcees. As we continued along our costal journey, the tape continues into more outlandish quirky awesomeness. "I Left my Wallet in El Sugundo", to "Bonita Applebum" to "I Don't eat no Ham and Eggs..." I was transfixed in a synchronized head nod with everyone in the car and I could only do one thing; turn up the volume. When I listen to this album, a small part of me reconnects with that moment in time (I can actual imagine the heat from the sun that day) where I experienced the true essence of the album for the first time and still to this day my head nods as I reach for the volume.
Coffee can have a similar effect on me when all the variables in a perfect sensory experience are aligned. There is one coffee in particular that can move me every time I drink it; mainly because it transports me back to a time in my life when there was an intense level of excitement, adventure and the unknown. Continual competing in the United States Barista Competition after only reaching the semiFinals seven times, elevated the experience more when I finally won. That sparkle from winning increased during the month leading up to the World Barista Competition in Dublin, Ireland. In between our national competition and the world competitionI had to visit Finca Nuguo in Panama to taste through 30 different coffee lots form Jose Gallardo. I met Jose in 2015 after he had won the Best of Panama competition with his coffee. He was visiting Counter Culture Coffee where I worked. He walked into the training center where I was preparing espresso form 5 different coffees and Jose asked if I could prepare his coffee as espresso. He had never had his coffee as espresso and wanted to know how it tasted in a different brewing method. So I did. We were both impressed from how more floral the espresso machine made the coffee. One year later that same coffee, even a year past harvest, would win the 2016 United States Barista Competition.
After winining the US Championship, I realized that there was not enough of this incredible coffee left for the World Competition, but Jose Facebooked me to let me know he had 30 lots of new crop and wanted me to come down to Panama to sort through these lots to find what I wanted to compete with. I wanted to find the Jasmine florals, cane sugar sweetness and lime acidity I experienced in 2015 which won the US Comp in 2016.
With my sparkle and my palate, I boarded a plane and started my journey into understanding coffee flavors. When I arrived on Jose's Finca Nuguo, I immediately understood. 5 hectare situated in the volcanic mountains bordering Costa Rica and one of the largest Nature Reserves in Central America L'Amistad National Park, I learned about the cultivation of the impressive Gesha Variety where the lime acidity is only indigenous to this specific farm because of the bacteria produced from over 600 species of bird that migrate through Finca Nuguo on their way through L'Amistad. I learned how different elevations on his farm will produce more or less of the elegant jasmine fragrance present in the coffee. Every time I drink a cup of Finca Nuguo, I am reminded of the 1900 meters above sea level where the farm sits slightly above clouds which gather over the valley of Jurutungo appropriately named after the reverberating sound the howler monkeys make in the surrounding rain forest.
Drinking a cup of Finca Nuguo is like sitting on the farm watching a cloud bank from the Pacific Ocean roll into the valley just as the floral jasmine notes glide across my palate becoming the perfect segue for the lime acidity to move in balancing body and sweetness in the cup.
Very much like the track "Push It Along" by Tribe Called Quest, Finca Nuguo as espresso will move my palate like a strong bass heavy track will move my soul; Q-tip and Phife Dawg's lyrical exchange is like magic. The silence of DJ Ali Shahid Muhammed resembles the silence of Finca Nuguo's bitterness with an occasional unexplainable appearance of hibiscus like the random appearance of Jarobi ( an original member of A Tribe Called Quest) on some of the tracks.
People's Instinctive Travels and the Paths of Rhythm is a record that will always move me as if it was the first time I heard it just like a Cup of Finca Nuguo would always be a welcomed daily extraction.