We love hearing coffee success stories and we love to share them with you, our readers, so you can taste new coffees from unexpected places!
We'll let Inge from Bloemfontein Coffee Roasters tell you all about it!
---

It was toward the end of 2015 that we took the big leap to become a part of the growing coffee culture in SA.
Our work then saw us travelling extensively in not just our area (Free State & Northern Cape) but also throughout SA and we were fortunate enough to have travelled through Europe on a few occasions as well.
Our love and passion for a good cup of coffee had always been part of us and we would take various brew tools with on trips and make our own coffee next to the road, or in the guesthouses we stayed in. Let's just say we've never been fans of instant coffee!
It was on a holiday through Germany visiting family in September 2015, that we came to the conclusion that we definitely wanted to play a part in the coffee industry in SA.
We came back and started extensive research on the growing, cultivating, roasting and making of coffee. We found Neil from Genio, and after meeting with him we knew this was what we wanted to do.
Roasting coffee is an art, and unfortunately there are still some places out there that just want to make a quick buck but are not passionate about the coffee they put out.
In April 2016 our Genio roaster was delivered and we had extensive training with Neil for the next couple of days. We were blown away! How amazing to drink coffee that you yourself roasted with so much pride!
It started as a side-line for us at first, roasting out of a small flat on our property, inviting friends and family over to try and test out our various coffees. They in turn spoke to their friends and so on, and so on.
Pretty soon word got out and we decided to take part in local markets and festivals. We started with branded 3mx3m Gazebo set up, marketing and selling cups of coffee and product and brewtools. The response was phenomenal and we were super excited! Pretty soon we started picking up Wholesale customers (Coffee shops, Guesthouses, Boutique Hotels and Restaurants) who started buying from us on a regular basis. The wholesale side started growing nicely and we continued to do markets and festivals in and around Bloemfontein.
Our coffee business started picking up and we decided to participate in bigger events eg. BloemShow, Free State Arts Festival, etc.
We reached a point where we had to make a decision as to how much time was needed to grow our coffee business into the vision we had and the amount of time spent on our regular jobs at that stage.
After much deliberation, sum making, planning we quit our jobs at the end of 2016 and decided to focus fully on our dream.
We renovated a vintage Jurgens Caravan into a mobile Coffee Caravan and moved away from the Gazebo set up scenario. It gets tiring assembling and taking down a stand all the time, and we were concerned that somewhere an espresso machine or something would get hurt. So the Red and White caravan was launched in February 2017 and our plan for the following 2 years was to continue to do markets and festivals, but also to find a permanent area for a pop-up shop for the caravan during the week. We were still roasting from home and selling from there.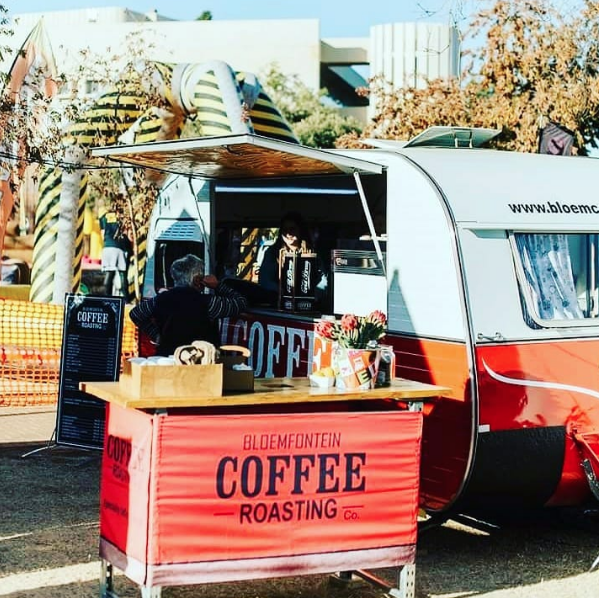 But by middle July 2017 we realized that we needed a shopfront.
As our name spread coffee lovers started looking for us more and more. They didn't just want to wait till a next market or event, but wanted to be able to come to us any time, whether it was for a quick cup of coffee, freshly roasted coffee for home or work and help with brew tool methods.
With our previous work, we were away from home almost everyday and that is why we decided that when the time would come to open up shop, we knew we wanted to be close to our home. And besides, most people who were buying from us already knew we were in Langenhovenpark, Bloemfontein. So when the opportunity came for a shop opening at the centre just down the road from us, we had to think and act quickly. The centre wanted a coffee shop in their building, and we wanted a shopfront. And so it happened that we moved into our first premises November 2017 at The Towers Centre in Langenhovenpark, Bloemfontein.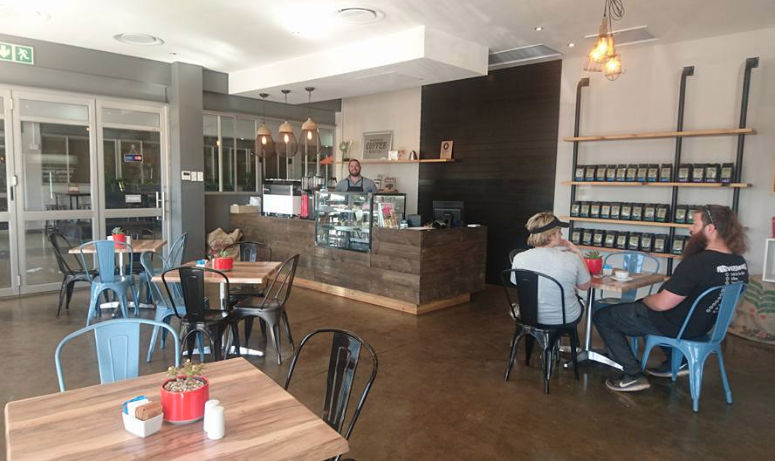 I must tell you, this was one of the most trying times of our entire lives, opening a shopfront. Because it came about sooner than we originally planned, but boy are we having some fun now!
We moved the roaster into the shop to be able to show and educate people as to how their coffee is roasted. We take great pride in every roast and cupping these coffees takes place before we are totally satisfied that it goes out to the public. Packaging and distribution also takes place on the premises.
On the retail side, we have the coffee shop , with add-ons like breakfast, light lunches and home baked cakes. We also do some off-premises catering for small events. We try to support local, bakers, farmers and businesses as much as possible when purchasing foodstuffs for the shop. We believe that if we want fellow locals to buy from us, we should be buying from them too to support each other.
It is hard to believe we have already been in our Roastery & Café for almost a year!
It isn't always easy, and we have been through some ups and downs during this time, but we have learned so much. Not just of coffee, the industry, people etc , but also about ourselves.
Our journey has just started, and we are looking forward to the road ahead. Adriaan and I are both actively involved in the Roastery & Café on a daily basis and this gives us the opportunity to become a small but significant part of our customers lives.
We have offered them a comfortable, friendly environment in which everyone is welcome and feels at home.
The shop itself has a slightly modern feel that features a timeless design with functional style and simple sophistication – in a corner are books dating from my grandparents era, books about gardening, travel destinations and story books, creating an area where you can just slip away from the world and enjoy a good cup of coffee.
Our music is a mixture of jazzy, bossa nova and occasionally even some light reggae vibes – depending on the crowd.
Currently we have 3 blends and 4 single origins in our range and a decaf option.
As we continue to grow we look forward to what the future will have in store for us and the growing coffee culture.