We had a meeting just after the launch, so we trotted just down the corridor in The Zone to local business Motherland Coffee Company which was also extremely busy on this exciting day.
"We like to think it's a good thing for coffee all round and I mean look at the vibe in the centre today, it's pretty amazing and we're still busy too, so everyone's happy" Seb Schneider told us while we sipped on our delicious cortados.
He also poured us a beautiful sun dried Kenyan pour-over which was light and sweet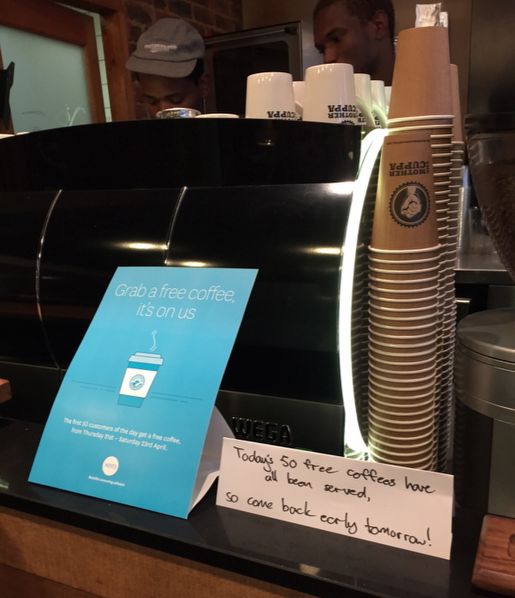 You've only got one morning left to enjoy 50 free coffee from Xero, so get on down there Rosebank!



---
Official Press Release

Xero caffeinates South Africa's small businesses to boost productivity
150 coffees up for grabs at Motherland Coffee to fuel local entrepreneurs
Wednesday 20 April The small business market is brimming with potential. Around the world, small business owners are the largest job creators and contributors to GDP. However, without the right support, economies miss out on the benefits these entrepreneurs deliver.
In South Africa, small businesses make up the majority of all enterprises and contribute a third of South Africa's GDP. They are the engine room of the economy. Despite their valuable contribution to the country's economy, small businesses face significant challenges, not least competition from global giants like Starbucks – set to open their first South African store in Rosebank, Johannesburg this Thursday, 21 April.
Xero provides accounting software to more than 600,000 customers worldwide and understands the problems small businesses face better than most. To help champion South African small businesses, Xero has teamed up with local coffee shop, Motherland Coffee Company, in Rosebank, offering the first 50 customers of the day a free coffee, from Thursday 21st – Saturday 23rd April.
Founded in 2010, Motherland Coffee Company is run on sustainability and fair trade principles. Owners Rob and Kirstin Maud, and Seb Schneider work closely with local coffee farmers in countries including Rwanda and Ethiopia to source their beans, and serve great coffee as a result!
Motherland Coffee's Seb Schneider comments, "As a local café, we're familiar with the challenges small businesses across South Africa face, and we're fully behind Xero's mission to empower small businesses. With Starbucks opening in our neighbourhood today, we're thrilled to be teaming up with Xero to champion small businesses and entrepreneurs like us."
About Xero
Xero is beautiful, easy ­to ­use online accounting software for small businesses and their advisors that is launching in South Africa next month. The company has over 600,000 subscribers in more than 180 countries. Xero boasts more than 500 third-­party integrations, and was ranked No. 1 by Forbes as the World's Most Innovative Growth Company in 2014 and 2015.
Details:
The Motherland Coffee Company, G22, Phase 2, The Zone, Oxford Rd, Johannesburg, 2196, South Africa
www.motherlandcoffee.com
Mon-Fri: 07:00-19:00
Sat: 08:00-19:00
Sun: 08:00-18:00