Words by Jaimi Shields, jaimi@ragandbone.co.za
Pictures by Adrian Shields, adrian@adrianshields.co.za


---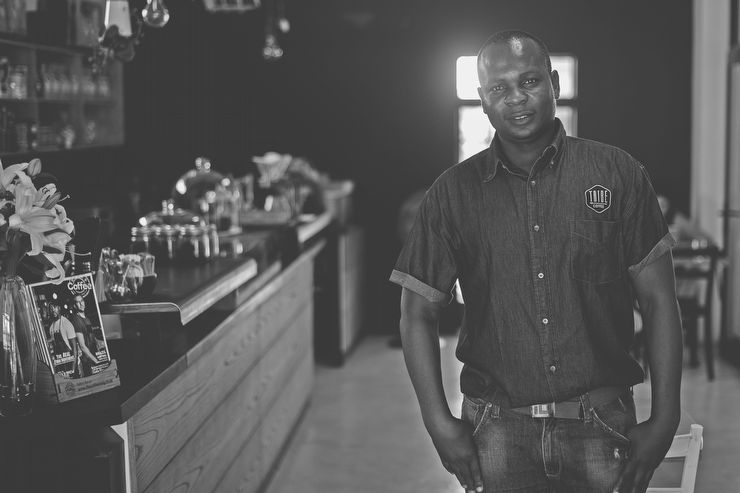 Barista :: Ken
As you walk up to the counter in Tribe you find yourself greeted by the beaming smile of Ken, their Barista. We had spoken to a few coffee maestros that day but Ken stood out for me. He genuinely used the word dream to describe his coffee journey many times! He is the kind of guy who you can describe as absolute salt of the earth.
Each coffee shop is different, the vibe, the décor, the way the cups are stacked and the kind of people that occupy the space. Tribe's location on the well-known Albert Road in Woodstock supports its relaxed vibe with a hint that you know serious creativity and business happens there. At 2:30 in the afternoon this is the perfect café to wind down with a neat courtyard and gorgeous light flooding in through the windows.
But back to Ken. Ken started his coffee journey about 4 years ago. He did his training with Origin Coffee Roasting in Cape Town and has been working at Tribe Coffee for just over a year. Ken starts his day with a Flat White, his reasoning is that he needs to set his grinder and make sure that his brew is perfect, his favourite cup to make is a Flat , specifically a three-quarter Flat White, something about the foam ratio just does it for this friendly chap. One question I often ask Barista's or coffee fans is whether or not they enjoy their cup with a spoon of sugar, Ken tips his head and says with a grin "No sugar for me thanks". In commenting about his adventures with Tribe, Ken tells me that Tribe is a great bunch of people, there is always space to learn and grow and he loves meeting new and different travellers who visit Woodstock.
One thing that impressed me about Ken is his humility… I don't think he envisioned his life in South Africa to lead him down this road but he is of the opinion that you should always be willing to learn. His parting words with me were that he loves sharing his knowledge with others, he loves training others who find coffee to be their passion and even after brewing out 250 cups a day, he loves every cup he makes because he is in love with coffee.
I hope this gentle friendly man remembers our faces when we visit his own coffee shop one day, he can definitely teach us a thing or two, not only about coffee but about life.
Tribe Coffee
The Woodstock Foundry
160 Albert Road, Woodstock, Cape Town
021 448 3362