Lucy Markewicz: Freedom Café and Lucy's Cake Shop
Interview by Megan Pilditch
How would you describe yourself- baker, owner, creative?
I'm an energizer bunny and completely ADD. I would say I'm highly creative, an ideas person but also someone who actually gets stuff done. I am pretty much lastminute.com. I'm a baker but I'm also a cook, a mom and I operate the two businesses that I have, Freedom Café and Lucy's Cake Shop.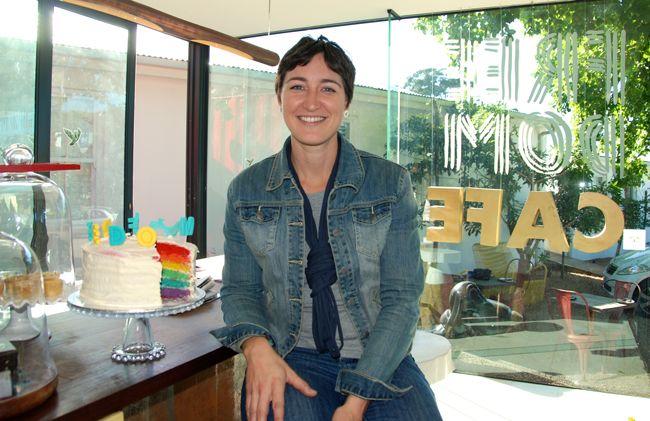 What has the move been like from Vanilla Café in Kloof to Freedom Café in Durban?
I think it was all part of my life journey- I spent a decade of my life up in Kloof and Vanilla was the first time being in the industry in terms of owning my own spot. It was a huge amount of fun and an amazing creative experience. I think the move down to Durban was just the next phase. Durban is where I'm from- I grew up in Durban North, attended Maris Stella and have never been oversees so it was almost like coming home.
And how has the change been?
It was actually quite funny because for the last bit of Vanilla I did start to change my personal likes and dislikes in terms of design and what I enjoyed- it was almost like I was growing as a person and then my business did exactly the same.
I moved from a country style, Francophile, folksy, shabby chic at Vanilla to a edgy, trendy, modern and contemporary feel of Freedom. The move followed my personal journey in terms of food, life and design.
Do you have any changes in mind for Freedom Café- possibly taking it in another direction?
Freedom Café will stay as it is and I will continue to operate it but I'm going to be spending a lot of time on my cake shop and growing it as an online business. I am also working on a new brand, which is rolling out right now as we speak. It will be a mobile brand that focuses more on street food and will be even more edgy and 'out-there' from what Freedom currently is.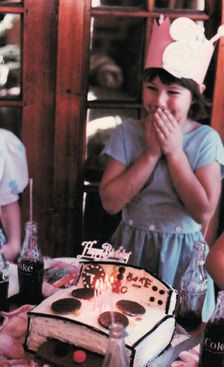 The obsession with cakes began early.
What are some of your best moments of being in a café?
I think some of the best moments are when everybody leaves and you just get to enjoy the space that you work in everyday. My fondest memories of Vanilla, and even here, is when everybody has gone home, the sun is setting, I can sit with a glass of wine, read a magazine or work on my computer and just enjoy the space that I watch everybody else enjoy.
What local cafes are you enjoying at the moment?
Glenwood Bakery and Parc. in Glenwood. My ex head chef from Vanilla, Brett Gentles, has opened up his own space, Parc. It's exciting for me to see someone that I have worked with open his own place. I love going there for a bit of classical music, a chillax, croissant or pain or chocolate. It's a nice space for me just to be quiet in, which I don't get to do often.
Where do you gather your inspiration from?
As I happen upon things that are cool I come up with ideas. I spend a lot of time on the net looking at local and overseas blogs, and seeing what the States is doing in terms of diners and street food. I do try and stay on top of global food trends but my inspiration is generally always to use local, seasonal produce and make it into something that is somewhat nostalgic. So think of pancakes, frittes, and the kind of food that your granny or mom would make but with a modern twist. I'm just trying to do the classics well.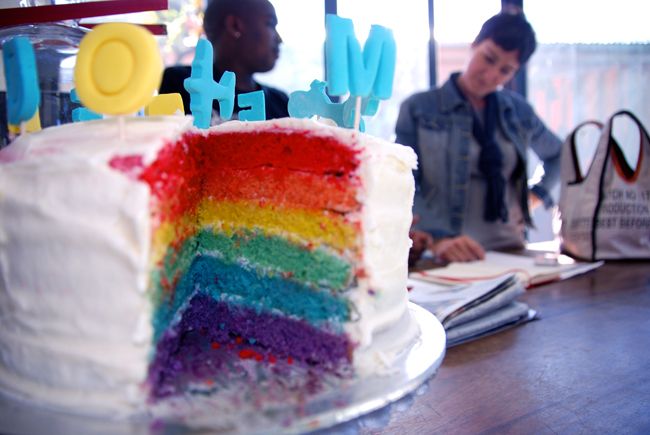 The Freedom Cake
Do you think coffee and food work well together? Is coffee used a lot in your baking?
Interestingly coffee was something I never knew about before I had my restaurant. My partner who I opened Vanilla with was a coffee-aholic and was as passionate about coffee as I am about food. She taught me everything I know. Coffee works with everything, it's just another ingredient like chocolate and if you're willing to attempt to try different things with it you'll find tones of different uses. I recently just did an espresso and hazelnut sponge with a coffee-butter cream. Because I can't drink on the job I just love drinking cold press on ice out of a wine glass, it's almost like drinking a glass of wine. I have also created a coffee cocktail called the "orange espresso milk bottle". Served in a milk bottle it's cold press, Triple Sec and milk.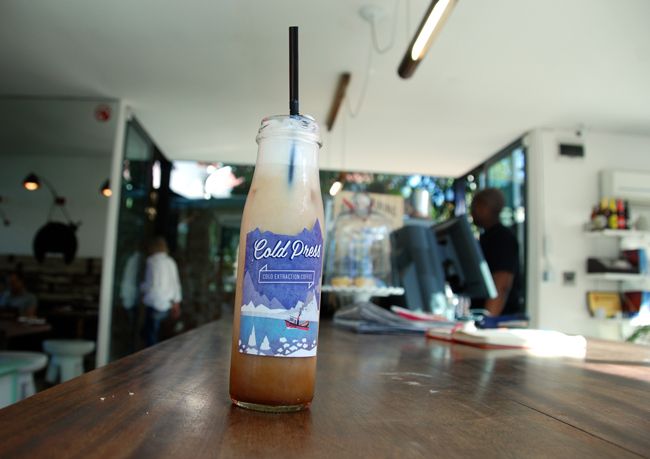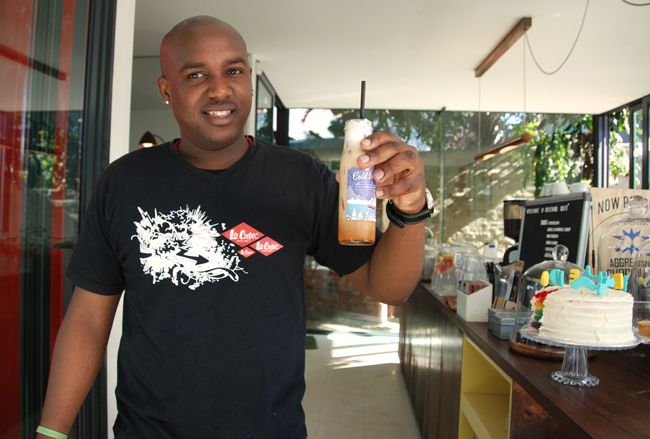 Right now, what are you enjoying baking?
I'm working a lot with biscuits and cookies and for winter I have created a biscuit box, which is a throwback to the old school Bakers box. I am heading into a more natural, simple, classic direction and away from the caricature style that I have done in the past. I am busy working on a couture range of cakes for next year, which are wedding and celebration cakes and sweetie and dessert bars.
And your favourite thing to eat?
Baked apples and pears with custard. I even used to eat pear and apple Purity out of the jar in high school.
Any words of wisdom you live by?

"You can only be truly accomplished at something you love" by Maya Angelou. And,"I learned that courage was not the absence of fear, but the triumph over it. The brave man is not he who does not feel afraid, but he who conquers that fear," said by Nelson Mandela. Despite the clichés that they are they really just say don't be afraid to do what you want to do.
---