Interview by Iain Evans
Deborah and Ard, Welcome to TheCoffeemag!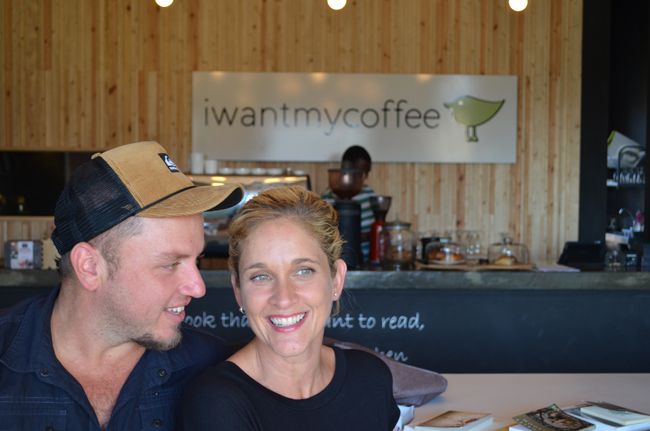 What inspired you to open a coffee shop?
Ard: "The name was inspired after a trip to Espressolab at the Old Biscuit Mill in Cape Town, where we had one of the most amazing cortados ever. Deb's woke up next morning and just said "I want my coffee" and I knew exactly what she was talking about! We both love a good cup - and it's hard to find great coffee in Durban. Soon after that trip we found the Bean Green Roastery and Peter Winter and had an equally amazing coffee experience there. We want to create a place where people in Durban would wake up and say "I want my coffee."
How did things progress from there?
Deborah: Back in Durban, we spoke to Espresso Lab and Bean Green a lot. We felt like we should support a local Roastery from Durban and The Bluff Bru sealed the deal, since Ard is from the Bluff. We also found a uniquely indigenous, naturally decaffienated bean from Zululand that we wanted to stock. 5 months later we opened the doors.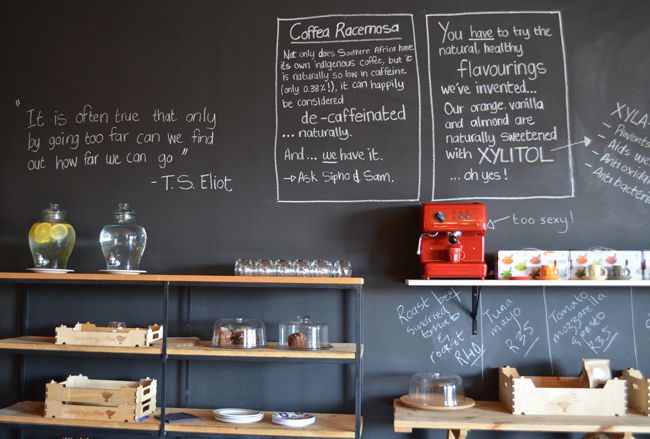 Tell us about the radio station and studio in the back of the shop?
Ard: The radio station
(Iwantmyradio)
within the coffee shop is an idea that Deb sparked. It makes our spot different, you know, because I'm a musician and on the back of my last album being rejected by radio stations - we decided to do it ourselves.
Deborah : It's almost like a baby, this little shop. It's got strong elements of both of us - I'm a photographer and I've done interior design, and with Ard's music, it's like two creative forces coming together.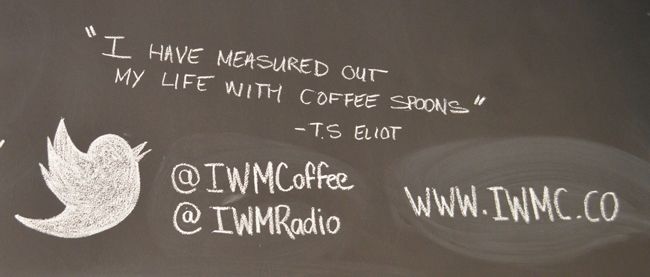 Ard in his studio with his special brew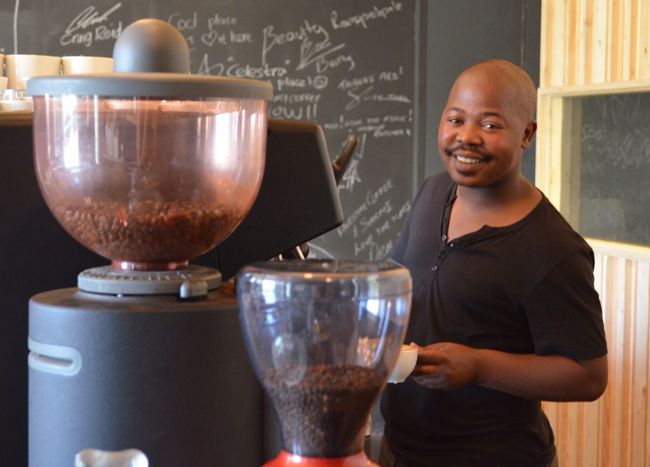 Sipho is one half of a formidable barista duo.

Tell us about the Coffee Racemosa beans that you're stocking - they're so tiny!

Ard: We're possibly the only people stocking Racemosa in KZN right now - it comes from a tiny plantation outside Hluhluwe in Zululand, and it's one of the only naturally occurring decaffeinated beans in the world. The farmers-cum-suppliers are great people, and really special. Their harvest is pretty tight and it's so rare - which we like - It's local and it's an original South African single origin which is awesome!
So how do you divide your time?
Deborah: We've been open for 2 weeks and so far planning date night is tricky! With Ard's music, my kids, plus everything else. But our mornings are generally focused here, after that we just tackle whatever comes our way.
We see you've been experimenting with flavours, Ard?
Ard: Yes! My own creations. Flavoured coffees. I've been making my own flavors with Xylitol (a naturally sweet polyalcohol, extracted from berries and other fruits or veggies and often used by the dental health profession) and other secret ingredients. Sips and Sam have been sworn to secrecy.
Deborah: Ja, he's been in the kitchen with his lab coat on! From Ard living in LA, where everyone is into customizing and adding their own items to the menu, we wanted to do the same here, so we are encouraging the regulars to add their own input to the coffee menu. So far we have Orange, Vanilla, Almond.
We tried the orange cappuccino - it was good! Definitely an accurate orange taste and certainly no sugar needed!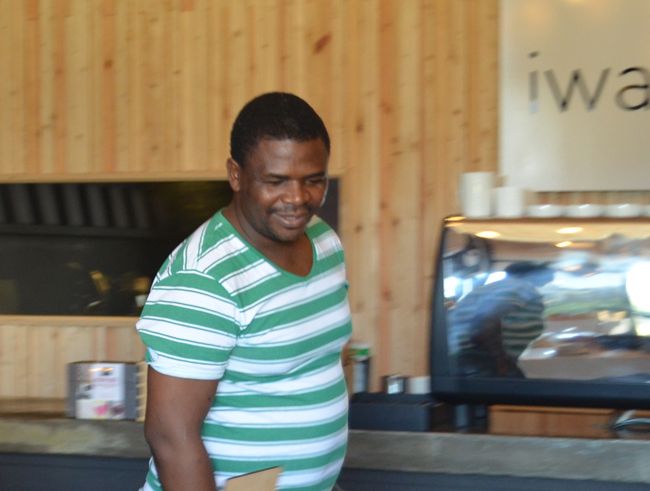 The other partner in barista domination, Sam. You'll recognise him from the original vida e at the top of Florida Road.


What have been your best moments so far?
Deborah: Looking through the doors and seeing our very own cafe - exactly how we envisioned it and as the renders showed it would be. We had the vision and now it's real.
Ard: For me it was putting the sign up outside. We did a little dance on the pavement. It wasn't a very well co-ordinated dance but we danced!
Final thoughts....?
Deborah: There's been a wonderful flow throughout the experience. We've formed great relationships and met amazing people along the way.
Ard: We're pretty proud of this - having followed through on the whole project and the fact that we stuck to our guns. A lot of people talk about doing something, but few actually ever turn that talk into action.
You can find iwantmycoffee
opposite the Chris Saunders park behind Gateway on Umhlanga Ridge, you can't miss the sign!