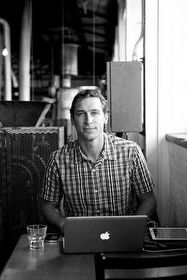 by Iain
---
I walk into a boardroom of serious looking people. They look like they've been waiting a while for me, notebooks open, pens at the ready. Even though I'm wearing a fashionable collared shirt, my best jeans and closed shoes (for a change) I feel underdressed. "This looks serious" I say as I introduce myself. "Don't worry, we keep a spare suit in the cupboard for our visitors and hipster-types like you" one of the boss-men says jokingly.
You see, these serious looking folks deal with some serious coffee customers. 5000 corporate traders, bankers and commodity brokers to be specific, in 4 high-rise buildings, across 6 coffee bars. No wonder the crew from The Daily Buzz can work the serious corporate mojo.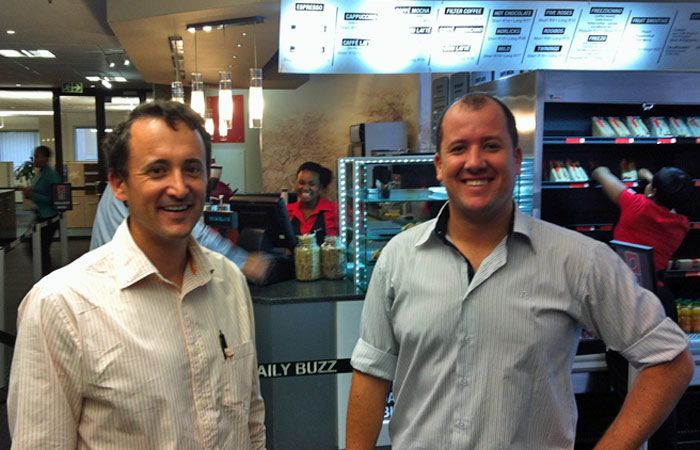 Andrew and Chris Brown.

Brothers, Andrew and Chris Brown started The Daily Buzz when Andrew, a former banker in said building, saw an opportunity to provide a quality coffee and fresh food offering that superseded the canteen-style fare on offer. Andrew's brother, Chris, who after traveling abroad and experiencing coffee culture in Portland Oregon, Seattle and London, was also inspired by the opportunity and together the Brown's set about establishing The Daily Buzz, quickly growing and refining the business, which today employs 40 full time staff, has 5 coffee bars and provides the fuel that runs one of SA's largest financial institutions.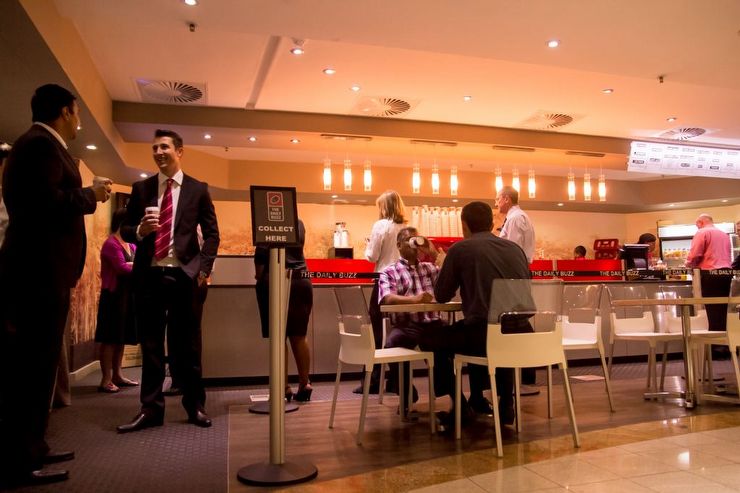 Not your average cafe society crowd. These customers are all business!

Says Chris "Our customers are all bankers and our sales literally reflect the ups and downs of the market. Our best day ever was the day the stock market crashed in 2010"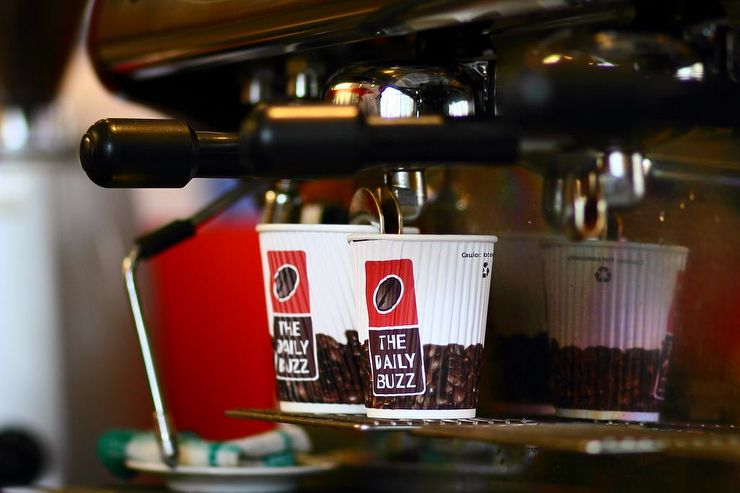 The heart and soul of The Daily Buzz. Damn good coffee.

All 5 coffee bars serve a specially selected Arabica blend, and coffee is prepared using Caramali machines and Mazzer grinders. "Our baristas train for 6 months just pulling espresso shots before they're even allowed to touch milk" says Chris, who has been involved in the SA coffee competitions over the last few years and has worked and trained with the likes of Intelligentsia and Stumptown in The States.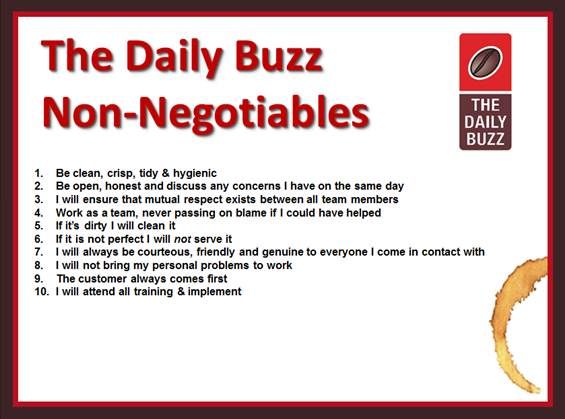 "We have very high standards and take our coffee seriously but we also try to make each and every order a fun experience for our customers. After all, these guys have high-paced, stressful jobs, so taking a few minutes to order a quality coffee and a fresh sarmie is their brief escape. Our baristas are trained to remember their names, share a joke with them and make them feel like they are the most important person in the building"
They're certainly Moving Forward.