The glory that is Cold Drip

All words and pictures by Wayne Oberholzer
You know that moment when you are trolling the Internet and you come across something that blows your mind? A sneak peek at a new Ferrari? Is this the iPhone 7G S? Is that really Scarlett Johannsen?
For us coffee nerds... well for me at least, it's the off chance that 3 years ago you come across this crazy device from Japan.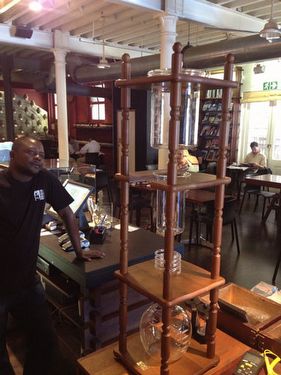 Cold drippers have been a constant feature in my caffeine fueled dreams for the past 3 years. So when we finally got one in at Origin, I dropped everything I was doing and started playing. And let me tell you, the playing hasn't stopped!
So what exactly is cold drip? I liken it to the wine making equivalent of brewing coffee. It takes anywhere from 8 - 12 hours to brew a single batch, so you can only know the next day how much you've got it right, or how much you messed up a R600/Kg coffee. So like wine, your every move becomes calculated. You want to reduce the risk as much as possible of a failed batch. I like that. I like calculated.
We start with the coffee. I find coffees with a naturally higher acidity and fruitier profile to be best for cold drip. Central and South Americans have really been working well, as well as our Ethiopian Yirgacheffe.
I use 210grams of coffee for each brew. This will be used with 3litres of ice water. So about 70grams per litre of water. This is ground at slightly finer than filter grind.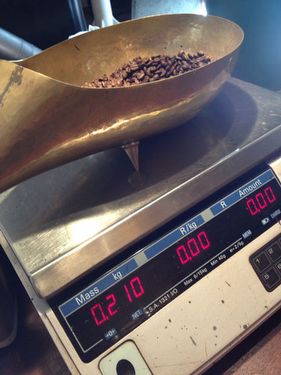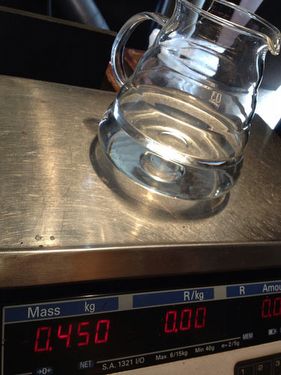 We then add ice to half of the top section. This is then blended with cold filtered water.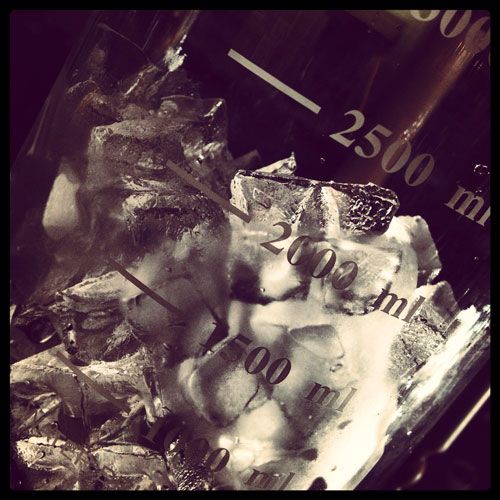 The next job is to blend the ground coffee with some water. If we started dripping on dry grounds, we would get an uneven extraction. So we need to blend some filtered, cold water, with the ground coffee. At the bottom we add a wet ceramic filter.
The ceramic filter will be enough to hold the grounds back but let the water through. Please ensure this is kept clean, you wouldn't want foreign tastes effecting the coffee.
We now need to blend the coffee in the middle chamber. 450ml of water seems to do the trick. A word of caution, blend in stages. Pour in some ground coffee, add some water, pour some more ground coffee and add more water. Do this until the coffee and water are are finished. Take your trusty paddle and stir nicely until everything is nicely blended and consistent.
A little bit of the water from the slurry may come out, this is totally normal, just plug it with your finger until you are finished.
The paper on the top of the coffee helps distribute the water a little more evenly, as well as forms a barrier to reduce the risk of dust and other foreign stuffs getting into your brew.
A little bit of the water from the slurry may come out, this is totally normal
Now we set up the drip rate. This is one of the many factors that can effect brew and taste. I shoot for a drip rate of 38 - 48 drips per minute.
Too fast and the water may pool on the top and extract to quickly. To slow, and when the valve warms up, it starts to seal and will stall the water flow. Check on the flow rate every 2 hours or so. This will ensure you don't stall the drip.
All that is left to do is wait for the brew to finish. Once finished, you can expect a sweet taste profile. Generally lacking in bitterness, a nice balanced mouthfeel and relatively low acidity.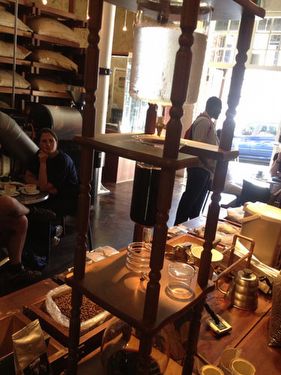 The reason behind this profile, mainly has to do with the cold water. The leeching of the grounds helps reduce the amount of tannins present in the brew, thus reducing the bitterness of the brew.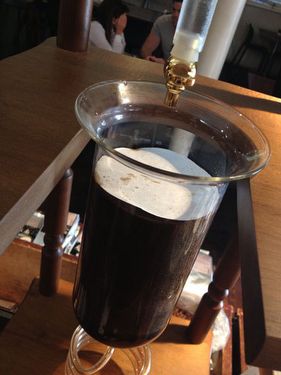 I like to enjoy my Cold Drip with some ice and milk on a very warm day, but generally just pour it over some ice in a good sized wine glass, and you got yourself a delicious drink. The perfect substitute for a sugar infused blended iced coffee that tastes nothing like the coffee.
I love cold drip, I love brew methods that are meticulous and relatively time consuming. They always have a fantastic story behind them, and the ability to get people to ask questions. The more people ask questions, the more I get to impart what little knowledge I have.
---
Thanks Wayne, wow I want one! Get down to Origin or Rosetta Roastery or The Factory Cafe. Do you know any other cafes that serve cold drip?
Not everyone is lucky enough to have one these at hand or at their local cafe, we'll bring you a cold press home brewing method soon!