Ok, yes, we have shared an Irish coffee recipe before. But perfecting the Irish coffee, is like perfecting any coffee brewing method, you've got to play around with it!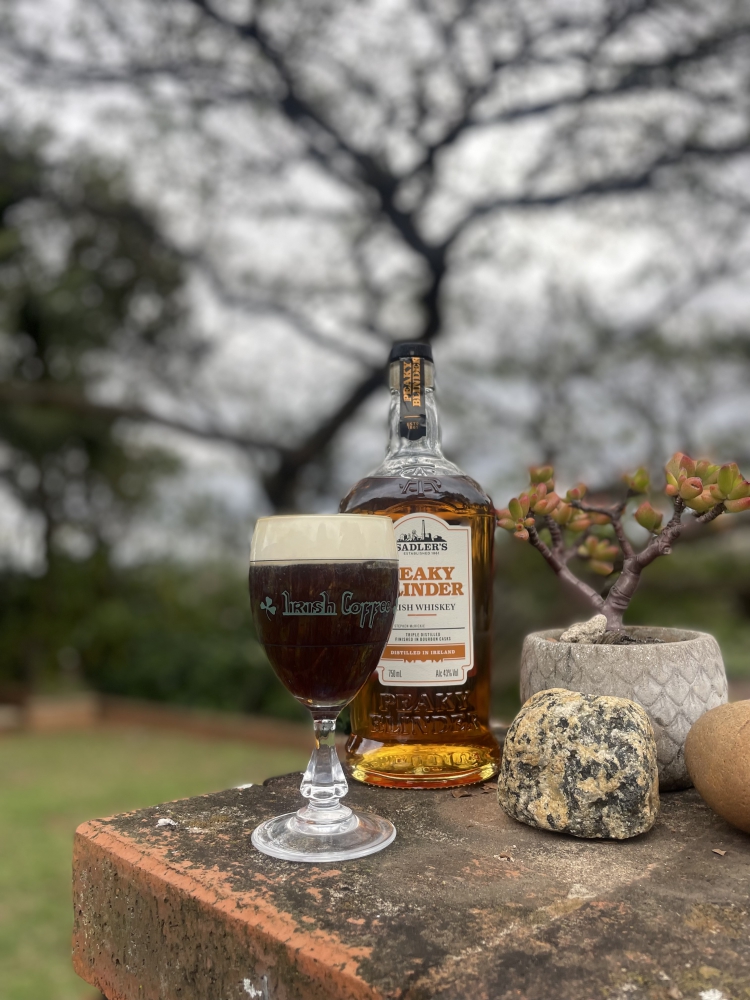 So when we had an opportunity to taste Peaky Blinder Whiskey, you know the first thing I thought was, how will this pair with coffee?!
It is a Winter family tradition (that's me, I'm Mel Winter) to have a Sunday Irish Coffee on the deck to cap off the week.
My dad is the king of getting the cream just right on the top of this iconic beverage.
The recipe gets updated regularly (this is one I like for a more peaty whisky) depending on the whiskey.
So playing around with the Peaky Blinder which has a lovely amount of sweetness and vanilla notes, I came up with the below which has a few adjustments, specifically around added sugar, when combined with coffee:
- Generous shot (around 30ml) 

- 1 teaspoon brown sugar

-  1 x espresso shot, topped off with 100ml hot but not boiling water.

- Prepare the cream. The important thing to remember is that it needs to be smooth, thick pouring consistency. Not fluffy, we don't want to spoon it on top, that's the magic of this cocktail.

- When the coffee is ready combine the coffee, whiskey and brown sugar. Then to achieve the divided line of coffee and cream, you need to get a real swirl going in the glass, stir your spoon to create a mini whirlpool. Very carefully pour the cream over the back of a teaspoon so that the cream sits on the top of the coffee, creating two distinct layers of deliciousness. Don't be afraid to try it, the spoon thing works, I promise!
Why is this important? The point is to let the hot liquid be drunk through the cold cream, which floats beautifully atop it. This will leave you with that killer white moustache after each sip.
---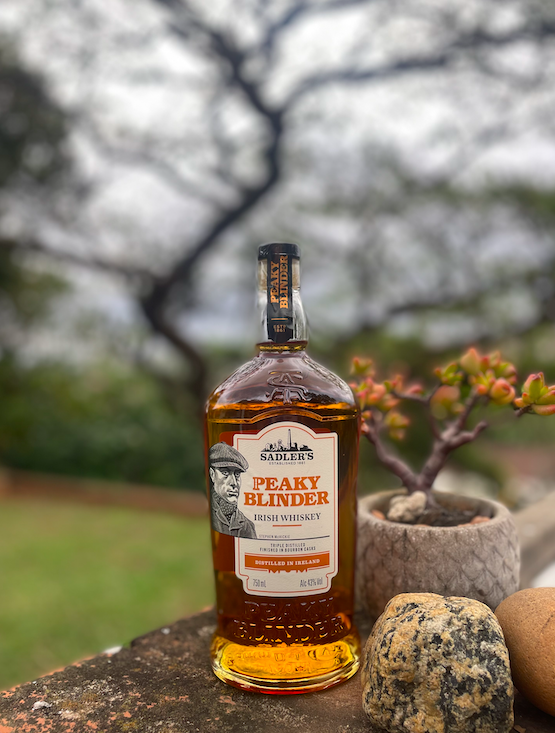 PEAKY BLINDER IRISH WHISKEY INVITES YOU TO TASTE PURE IRISH HOSPITALITY  
The Irish Coffee is a traditional after dinner drink or desert alternative that continues to impress young and old thanks to its unique flavour combination. Coffee naturally complements the smoothness of whiskey and the warmth of the coffee creates a harmonious and satisfying mouthfeel. 
Peaky Blinder Irish Whiskey is described as a bold yet smooth triple-distilled blended Irish whiskey with a fruity nose of apricots and orange peel, a touch of sweet vanilla and honey on the palate and finished with a hint of chocolate and cinnamon. If that doesn't scream that it's a match made in coffee heaven, then you haven't tried a real Irish Coffee yet. 
Originating in Ireland it was created in the 1940s by a man named Joe Sheridan, who was a chef at Foynes Airport in County Limerick, Ireland. Foynes Airport was a busy hub for transatlantic flights at the time, and travellers often faced cold and turbulent flights. 
According to the story, to warm up and comfort passengers, Joe Sheridan came up with the idea of adding Irish whiskey to hot coffee, along with a touch of brown sugar to sweeten it and topping it off with a layer of whipped cream. The combination of hot coffee, whiskey, and cream created a delicious and soothing drink that became known as Irish Coffee.
The most traditional recipe to try is combining a cup of hot brewed coffee with Irish Whiskey, a spoon of brown sugar, and a layer of lightly whipped cream. The cream is carefully poured over the back of a spoon to create a distinct layer that floats on top of the coffee. Interestingly in 2017, the village of Foynes, Ireland, where the Irish Coffee was first created, set a Guinness World Record for the largest Irish Coffee. The drink was made using 100 litres of Irish whiskey, 200 litres of coffee, and 300 litres of cream. Irish Coffee is an iconic representation of Irish culture and hospitality and is often associated with cozy pubs and the warmth of Irish hospitality. 
Peaky Blinder has a rich and vivid history dating back to 1861. Five generations ago, the Sadler family started brewing and distilling some of the finest beers and spirits in Birmingham's famous Black Country, known for its coal mines, foundries, and factories during the industrial revolution. With their hardworking ethos, they battled through war and economic depression to keep the family business alive.
Today Sadler's distillery is run by Chris Sadler, a direct relative of Billy Kimber, a 20th century gang leader of the of the Birmingham Boys. As the rumour has it, members of the notorious Peaky Blinder gang regularly visited Sadler's pubs and establishments at the turn of the 20th century. As a nod to this, the bottle label features the mug shot of Stephen McHickie, a prominent Peaky Blinder gang member who was infamously photographed after being charged with breaking into a draper's shop. 
Launched in South Africa in 2021, the whiskey is crafted from a fine blend of grain and single malt Irish whiskey that has been aged in bourbon casks and is available at most leading liquor retailers and online at Takealot and Liquor Drop and distributed by Halewood South Africa.