Yes, it is 100% as delicious as it sounds.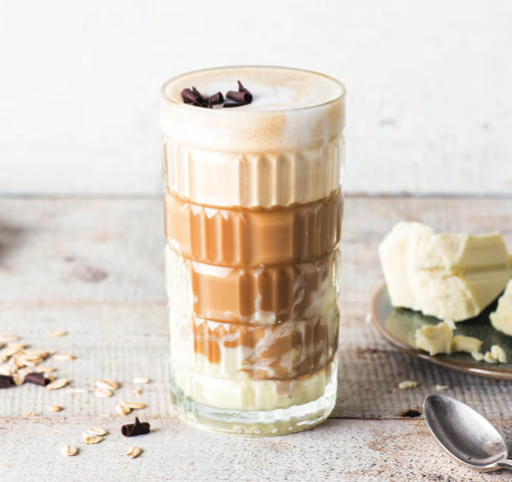 BLONDIE OAT LATTE
INGREDIENTS
210 ml Alpro Oat
1 espresso made from fresh beans from your local roastery
35 g White Chocolate
INSTRUCTIONS
Put the chocolate in a glass and add the espresso

Stir until the chocolate has melted

Froth the Alpro Oat and add to the espresso
---
WAVE: AN 'EVERYONE WELCOME' PLANT-BASED CAFE AND COFFEE SHOP IN LONDON'S HACKNEY CENTRAL Meet co-founder, Cait Badham-Thornhill
All vegan locations are still a bit of a rarity here on the Souther Tip of Africa, but if you're looking for inspiration or support in making the move to plant-based, there are some amazing international examples. When ocean-loving Cait and travel addict Sophie first set up shop, it seems almost too right that it should be in an upcycled shipping container! Cupcakes and Shhht started life as cake and coffee stop, selling their to-die-for home bakes out of suitcases. Now, nine years later you'll find their latest success story, WAVE, in a huge, bright and airy space, all white walls and blonde wood. And all grown up and 100% plant-based.

What made you take that plant-based step?
We didn't start out vegan. But when Cupcakes and Shhht got to the stage where 80% of our food was meat and dairy-free, plus Sophie and I had both become vegans, it made sense to make the business 100% plant-based, too.
So what's so good about plant-based?
We are on a mission here! Number one, plants taste great. They're good for our health. And it's better for the planet if we all eat even just a little more plant-based. Everyone seems to walk out of our door smiling, vegan or not. Job done!
What does WAVE stand for?
WAVE stands for We-Are-Vegan-Every- thing. And that means ev-er-y-thing! From our 'Save the Salmon Bagel' (actually carrots, totally yummy!) to our standout pancake stacks with plant-based cream.
What's your food philosophy?
We want to serve food that's delicious, comforting, ethical and honest, in its most natural form.
We love adding healthy twists to familiar favourites. We aim to prove to everyone (vegans and non-vegans!) that eating and drinking plant-based doesn't mean missing out on a single mouthful of pleasure!
How do you choose your suppliers?
Every ingredient we use has to be the best we can get. We're lucky here in this foodies' paradise part of London to have amazing markets all around us, and stores selling stuff from all over the world.
We always look for suppliers who share our values, who care as much as we do about humanity and this little planet we live on. We don't use meat substitutes – we like the taste and texture of the ingredients to shine through. What's wrong with beans and pulses just the way they are? We do use plant-based drinks, especially soya, almond and coconut in our bakes. Alpro ticks our boxes in all sorts of ways. The variety of products, sustainable sourcing, energy and waste management. Even their packs are going plant-based.
Anything that takes a little more plastic out of our eco-system is fine by us!
And in your coffee?
Plant-based alternatives for coffee have come such a long way since we started. One regular refused to believe he'd been drinking oat for weeks – until I showed him the carton! It's got that good. And we love the choice of flavours.
Any tips for start-ups?
Get a good accountant straightaway! Sounds so dullsville, but so important. Stick in there, stick to your values, keep going and something good WILL happen. Eventually!
Where next?
Definitely plant-based! WAVE is our baby and we're looking forward to watching it grow even bigger and better.
>>> @we_are_vegan_everything