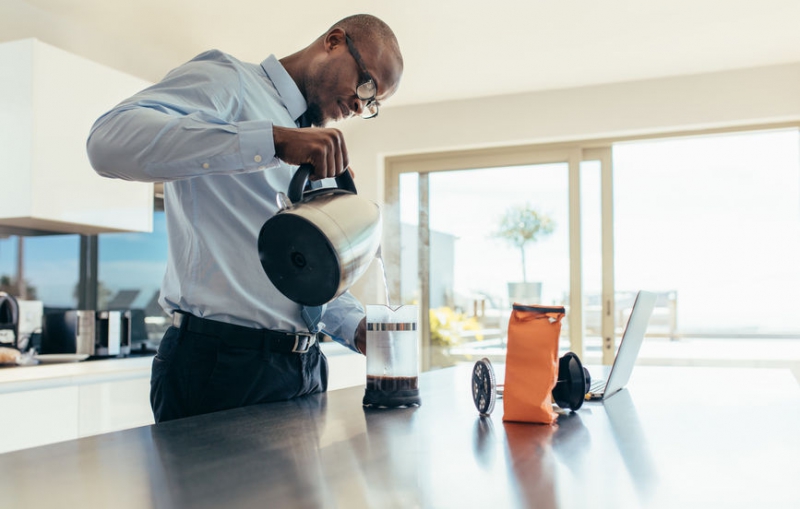 Some people are morning people … and for the rest of us, there's coffee. And if there's one thing we non-morning people love – it's that first cup that kick starts the day. Your first coffee in the morning is usually the quietest and most content moment of the entire day if you're enjoying it at home, so it's worth investing in to make sure you get the most out of it.
Coffee lovers around the world can attest to the benefits of setting up your own coffee station at home – placing everything you need for that perfect first cup within arm's reach. If you can't free up counter space in the kitchen, find a drinks trolley or a cabinet corner where you can dedicate the space purely to your caffeine fix. The advantage of a drinks trolley or bar cart is that it's mobile, so you could even have it in your bedroom if you don't want to wander too far from your bed in the morning.
Organise your morning
The purpose of a coffee station is to keep everything you need for that perfect cup in one place, clutter-free, lined up, stacked and organised just the way you like it so you don't even have to think too much. Simplifying this one little thing leaves you free to really savour your coffee. So how can you start your morning off on the right foot? To set up your very own coffee station, you will need some (or all) of the following coffee accessories, depending on what you find essential to your coffee making process:
Coffee container (filled with beans, ground coffee or pods)
Coffee maker of your preference (filter machine, French Press, Chemex, Nespresso)
Filters for your chosen method
Kettle
Grinder - Hand or electric
Milk frother, optional for a little bit of decadence
Mugs or teacups
Espresso cups
Sugar or sweetener
Teaspoons and a spoon rest
A tea towel
A coffee station is an inexpensive and easy way to bring some style to your early morning routine, not to mention the convenience of having all the essentials on hand. Bringing some structure to your morning coffee routine can help to make the whole process more relaxing, easing you into the day with a caffeine fix that's truly satisfying.
Do you have a coffee station set up at home? Share a photo with us and tell us if it helps you get going in the mornings.