We as official Media Partner to SCASA will keep you up to date with news, the New Board voting process and the coffee competitions.
---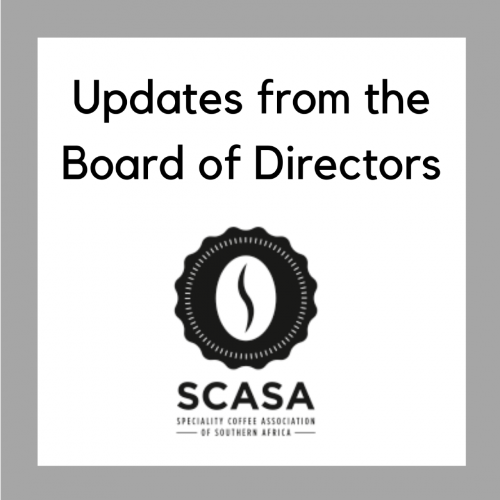 Dear SCASA Members

That time of the year has come ... and Membership Renewals are due. There has been NO increase for the second year running. While our costs and expenses of course have increased, we feel that this gesture of good faith is "due" to all our members, and validated for the intention of collaboration, growth and support to each and every coffee community member out there - so please engage and get your friends on board too ...
Getting past the accounting and housekeeping we want to move on ...
2022 is also the year of re-voting in the SCASA Board Members, to lead us into what we hope, is the return to some level of normality with "normal" coffee trade pricing, and hopefully some regular procurement for many of us trying to run a business.
The dates for the voting will be announced at the end of February, when we will finally have completed our financial year-end, and can hand over a good foundation and portfolio, for the new SCASA Board to take us into what will be a great year ahead and further.
Interesting News
As many of you would be witnessing, in particular our coffee roasters, the current shortage trends are now beginning to really show the challenges we will be facing this year. Pricing of 'green' has now become unstable, and in some instances, unaffordable ... riding the wave of the past 18 months of trade and supplies issues. (The recent de-caff shortages are added proof of some of these market challenges).
Brazil's frost is perhaps the biggest news out there, while the NYF are well into the record figures - speculative markets are now driving the price to new record heights. While there's constant hope that the market will settle, recent news of floods and too much rain ruining crops, could yet keep this upward market trend for some time still to come.
DO NOT WASTE YOUR BEANS ! Should anyone take their profile "darker" than they wish, don't discard of it just yet, who knows what the future brings, beggars can't be choosers ....
The graph below clearly shows the drastic change in the NY markets - adding to that is the fluctuating ZAR/USD taking our purchase and transportcosts past any possible "average" calculation - we may have to price our coffee on a weekly basis if this continues.
BUT not all hope is lost –
Moving forward we have great news, in that we will start to have coffee events again this year, internationally and locally.
The SCASA Board has secured a Main Sponsor for the annual trade show in Johannesburg later this year - they are on-board, and we are in discussions to create a "Coffee Village" with an entry platform for many SCASA members to attend, at a very affordable rate.
We will involve all our Sponsors, Media Partners as well as Equipment Sponsors and others, to ensure a success.
Furthermore, our Sponsor Members will be on board again this year, to bring our Barista, Latte Artists, Cup Tasters and Coffee Roasters the opportunities to showcase their products and skills.
BARISTA, CUP TASTERS and LATTE ART CHAMPIONSHIPS will take place in 2022 – (platform still TBC).
Furthermore, the ROASTING CHAMPIONSHIPS and COFFEE IN GOOD SPIRITS is under discussion.
While on the subject of competitions, we are very excited to inform our members of the new Equipment Sponsors for the World Barista Championships: The STORM (Tempesta) by Barista Attitude; and the new MYTHOS Grinder by Victoria Arduino.
We will do all we can to bring this equipment to our baristas and competitions in and around SA.
International News
The most recent Dubai Coffee Expo was the first one ever held, and turned out to be a huge success. While most SA coffee people had no chance to get passed the borders, we have word that it will be an annual event, so hopefully we will have our opportunity soon enough to go and sip on some great hot coffees at 45 deg. Celsius.
Next in line, for those of us that want to, and can afford to travel, is the Boston Coffee Expo from 8th – 10th April 2022 - USA trade shows usually put on an extravaganza.
We have also received news from our Association counterparts in Europe, that the coffee events will all now be joined in 2022 and will all take place in Poland at the World of Coffee in Warsaw from 23rd – 25th June 2022.
The World Barista Championships takes place in Melbourne from 27th – 30th September 2022.
(Australian COVID-19 Customs Authorities permitting of course ... Djokovic will not be attending the Barista Champs, but we should have our new local champions chosen by July, which gives our guys a chance to get ready for the World Barista Champs - albeit, 2 months!)
For now .... that's all folks, as always, we are thankful and grateful to have you all on board and for being part of this community of struggling, roasting, crazy, coffee-wired, latte art pouring and extraction-fanatical individuals known simply as "COFFEE PEOPLE" .
Please continue to write to us as you have done in the past, and keep 'posting' and 'tagging us' on your everyday coffee experiences and coffee projects. We will forward your stories to our media partners to make every one, close and part of it.
Please find below, an interesting link for your perusal and review :
https://theconversation.com/coffee-bean-prices-have-doubled-in-the-past-year-and-may-double- again-whats-going-on-169000
Yours in coffee,
Alessandro
Alessandro Morrico +27 824106150
SCASA: Registration Number 2007/010996/08