We are so excited about this competition!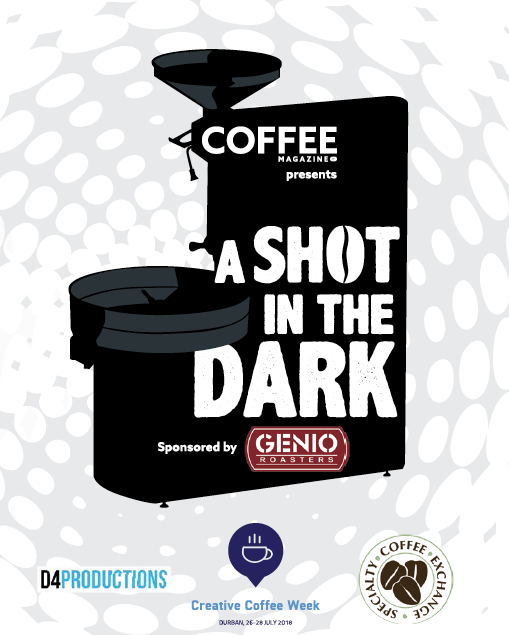 1 Micro-lot Specialty Coffee
10 South African Roasters
2 International Judges
A Shot in the Dark is a brand new multimedia coffee experience that tests the skills of 10 of South Africa's best Coffee Roasters, in an exciting competition format.

Coffee Magazine, along with Genio Roasters and Speciality Coffee Exchange, have sourced an 86+ Specialty grade, direct trade Nicaraguan coffee for this competition. Each Roaster will receive 6kgs of coffee with the brief to roast this outstanding micro-lot to its best possible potential.
The competition culminates on 27th July 2018, at Creative Coffee Week in Durban, where the 10 Roasters will bring 500g of their roasted coffee to be judged blind. The judges will not know which coffee belongs to which roaster. Who are these judges? A world-renowned coffee celebrity (who we will keep under wraps for now!) and Ben Weiner the founder of Gold Mountain Coffee Growers, the coffee producer from Nicaragua. They will assess the coffees in two ways, firstly by cupping them and secondly as espresso.
A Shot in the Dark is more than just a competition; it's an experience! There will be a Genio Roaster set up at the judging, and an additional 60KG of the competition coffee where the A Shot in the Dark audience and the roasters will be able to roast batches of the coffee on the Genio, share knowledge, techniques and roast insights, in order to experiment with the coffee and take home roasted batches of this incredible coffee.
This entire process will be filmed and edited into a documentary, which will see our country's best Roasters share their insights into roasting one of the finest coffees in the world and their pursuit of being named as the winner of A Shot in the Dark!
The 10 Roasters will be revealed soon. This is going to be fun!
---
Producer : Gold Mountain Coffee Growers : Direct trade
Origin : Nicaragua
Estate : Finca Idealista – a GMCG owned Rainforest
Crop : March 2018