25th Aug 2012
Day 3 - FINALS DAY!!
It was a day of high drama and tight finishes as the KZN Barista Regional Championships wrapped up in front of a good crowd at the Factory Cafe, Colombo in Durban.
Craig Sampson (Ciro / Lavazza) took the overall honours as the new KZN Champ, followed closely by runner up, Azah Khan (Continental Butcher, Baker Deli). In 3rd place was Samantha Moodely (Woolworths), 4th Bruce Manning (Tribeca) 5th Jamie Braun (Mokodor) and 6th Khanyisa Fica (Elangeni)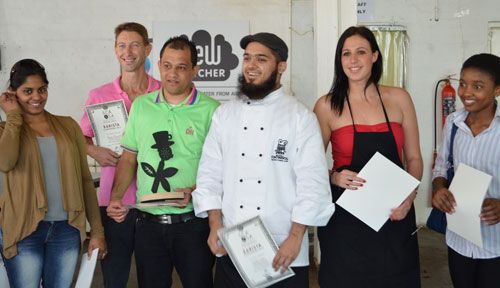 (Left to Right) Samantha, Bruce, Craig, Azah, Jamie, Khanyisa
All the speciality awards (Best Overall, Best Espresso, Best signature drink, Best cappuccino ) were shared by Samantha and Azah.

All these baristas will travel to JHB for the Nationals at the end of next month.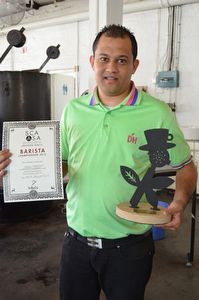 The new champ! Craig Sampson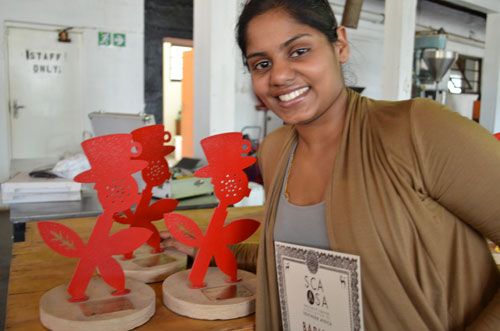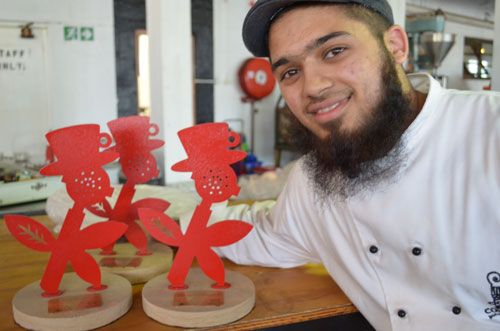 Samantha and Azah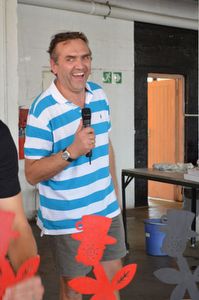 George Karatzas from SCASA at prizegiving.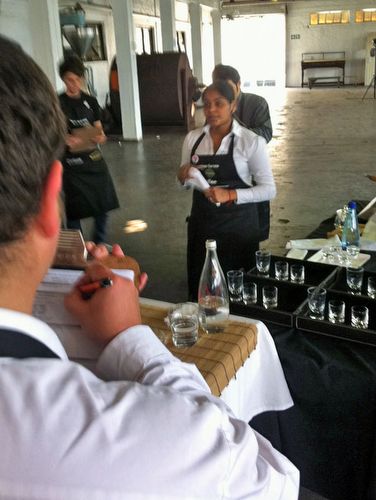 Samantha in action.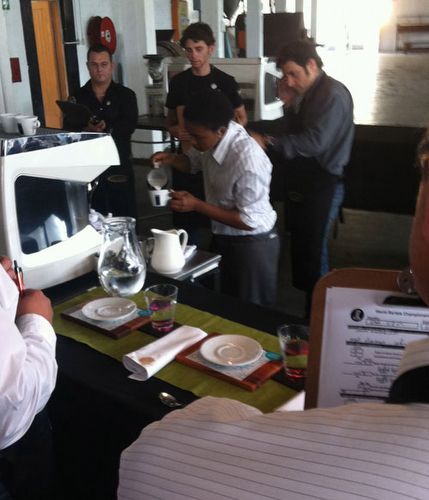 Khanyisa pouring her cappuccinos
---
24th Aug 2012
Day 2. Round 1. Inspiration comes standard.


By the beginning of Day 2, everyone was well into the groove of the competition. The baristas had seen the standard to beat and were focused and determined. The judges seemed to move a little faster. The crowd had grown as word had spread about what was happening down at The Factory Cafe. The MC, our own Iain Evans, had the spectators prepped and kept things running as smoothly as possible with a Greek and an Italian as the Head Judges and supposedly in charge.
Samantha Moodley, no stranger to the competition, got things off to a cracking start with an elegant and exciting performance. Rory Rosenberg of Bean Green Coffee Roastery weaved a story of his Burundian bean that had the judges entranced. Chris Rootman of VDP Distributors treated the judges with a smooth performance . Lindo Bhengu of Hilton Hotel kept his cool under pressure as he experienced some trouble with his grind.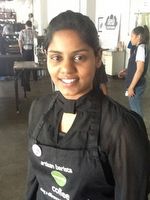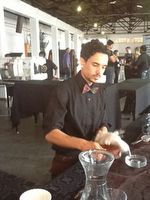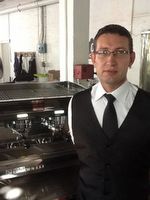 Samantha, Rory, Chris

Phumelele Nzama, oozed confidence and enthusiasm that had us all convinced this couldn't be her first time. Dayle Visser (with a strong homeground crowd cheering him on) was classy and sincere, his passion for coffee obvious. The day was rounded out by two knock-out performances from Ayanda and Khanyisa, both of The Elangeni Hotel and both having placed in the Top 6 last year, hoping to repeat that result again this year.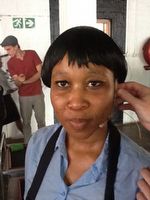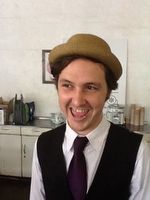 Phumelele, Lindo, Dayle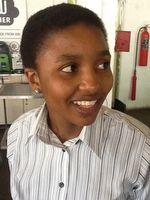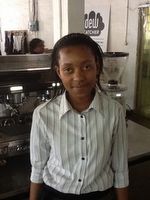 Khanyisa, Ayanda
There was an excruciating wait to hear the announcement of the Top 6, all of whom have booked their places through to the Nationals in Johannesburg at the end of September.
And then it was time. KZN's Top 6 Baristas are (in no particular order):
Samantha Moodley
Azhar Khan
Jamie Braun
Craig Sampson
Bruce Manning
Khanyisa Fika
They are competing today again to determine the order. Who will win and be crowned the KZN Champ, follow @iainevans on Twitter for updates!
---

23rd Aug 2012
Day 1. Round 1. Things are heating up.


As the espresso machines were turned on and the judges and competitors trickled into the Factory Cafe this morning, the anticipation was palpable. The KZN Barista Champs had landed. Soon International Hotel school students were being directed every which way, setting up the competition stations. The sound guy stood on the side of Magwaza Maphalala Street eagerly awaiting the mics for the baristas. The cafe was pumping out coffees at a rate of knots for their normal trade plus all the coffee industry addicts waiting for the games to get under way.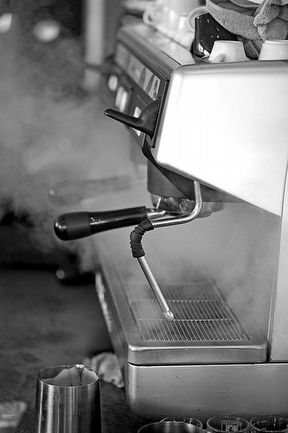 First up was the lovely Jamie Braun of Mokador Coffees. She played the floor like a pro even though she was first up and it was her first time competing. Azhar Kahn of Continental Bakery and Deli delivered his signature professional performance. Clint Singh of Nino's, also a first-timer, was passionate and slick serving up an all-african blend.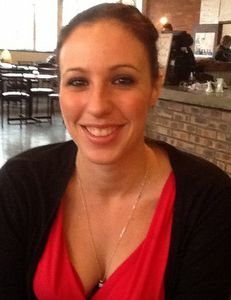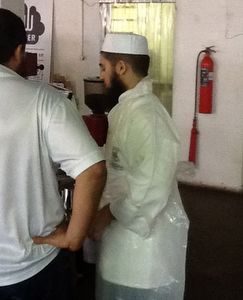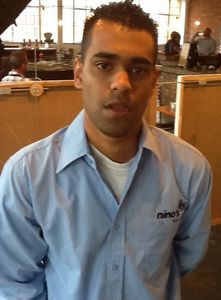 Jamie, Azhar and Clint
Craig Sampson of Ciro and Lavazza charmed his way through a set that included a very impressive set of Italian glassware in a 007-esque briefcase. Bruce Manning challenged conventional rule of thumb by playing around with some heavily roasted and oily beans in a very interesting display. Hassan Kahn has a wealth of experience and it shone through in his delivery.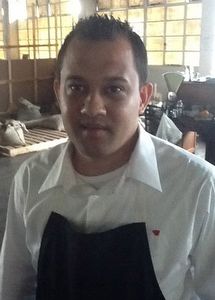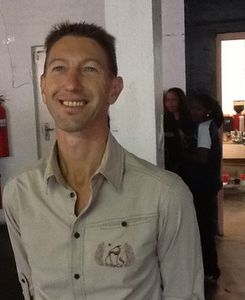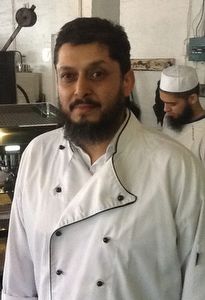 Craig, Bruce and Hassan
Ishaad Naicker delivered a lavender and saffron infused signature drink called "The roadtrip" which had the judges entranced and finally Liesl Gibson from the Hilton Hotel, also a first-time competitor flowed gracefully through her set with time to spare.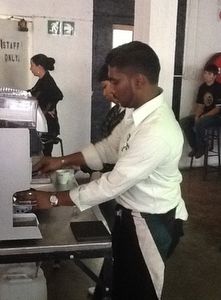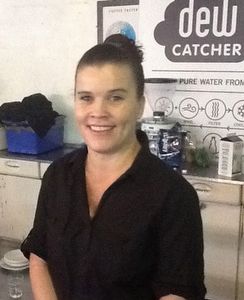 Ishaad and Liesl

The first day's competitors certainly set a high standard for the remaining baristas to follow. It all starts again at 9.30am at The Factory Cafe. Here is the line-up:

Samantha Moodley - Woolworths

Rory Rosenberg – Bean Green Coffee Roastery

Chris Rootman – VDP Distributors

Lindo Bhengu – Hilton Hotel

Phumele Nzama – Nino's

Dayle Visser – Colombo

And 2 competitors from The Elangeni Hotel

---

22nd Aug 2012

This week the KZN Regional Barista Championship will take place at Colombo Tea and Coffee.
What exactly does that mean?
The competition showcases individual barista's skill, knowledge and flair. Each competitor has 15 minutes. In that quarter of an hour, they need to make 4 espressos, 4 cappuccinos and 4 signature beverages (a coffee cocktail if you will, no alcohol allowed) on a beautiful Simonelli (pictured below). Their every move is being watched by 7 judges, 4 sensory, 2 technical and the Head Judge. No pressure.


The goal is to achieve the best possible drink in each category, meeting the high World Barista Championship standards. At the same time you have entertain and explain. You can pick your own music, you can use any exotic flavours (one year there was a curried beverage in Durbs-surprisingly tasty!), but the main thing here is your knowledge of the coffee beans. Did the barista use the bean to the best of it's ability? That knowledge only comes from experience and to see the top guys in action is truly inspirational!

The baristas will need to draw inspiration from their coffee surroundings to produce a performance worthy of taking them through to the Nationals in September and then hopefully, Down Under. Yes, the 2013 World Barista Championships will held in Melbourne, Australia, a world leader in coffee culture, with a specialty coffee shop and micro-roastery on every corner, watch the Star Wars (I kid you not) promo here.

If you are a barista in Melbourne, you are a god.

2013 World Barista Championship & 2013 World Brewers Cup from World Coffee Events on Vimeo.


Support your local barista!
Come down to The Factory Cafe, sip on a delicious coffee and watch the baristas in action.
Thursday 23rd: Round 1
Friday 24th: Completion of Round One.

Saturday 25th: Finals (Top 6)