If you told me in March last year that we would live through 2 editions of A Shot in the Dark in lockdown, I would've laughed (albeit nervously) in disbelief. Well, here we are!
And you know what, if we've given these roasters a purpose and positive activity to focus on in this time, then our mission has been accomplished! Just look at the smiling faces below, getting stuck in to learning more about their craft, an amazing coffee and the SA roasting community! That makes us happy in the midst of all the turmoil this pandemic is putting everyone through.
We're tucking and rolling with the restrictions and the judging panel of Nicodemus Nabakwe, Cuth Bland and Matt Carter, ably assisted by support team at Sevenoaks Trading in their SCA cupping room will cup the coffees over the course of three days in a random order.
We caught up with our judges to hear how they're feeling about this year's competition.
Cuth Bland
"What I've tasted of this coffee, I'm excited to see what the competitors will make of it - it's just complex enough to be a challenge but still be an accessible, tasty coffee. A great example of why Burundi coffee is being sought after across the world. And it's always good to see independently owned and operated washings stations producing coffee if this quality."
Head Judge, Nicodemus Nabakwe
"Excited to be part of coffee professionals involved in ASITD 2021. From roasters, judges, sponsors and event organizers, this will be an exciting competition. I must reiterate that we chose Burundi as our event coffee because of its delectable taste, nuances and overall being an African coffee. I would like to wish all competitors the best. You know your roast so bring it on…. We are ready!"
Matt Carter
"ASITD 2021! What an exciting time to be in the coffee industry. I am looking forward to tasting some of the best coffee's roasted by some of the finest roasters in the world. With everything going on at the moment in the world, i am looking forward to a delicious distraction!"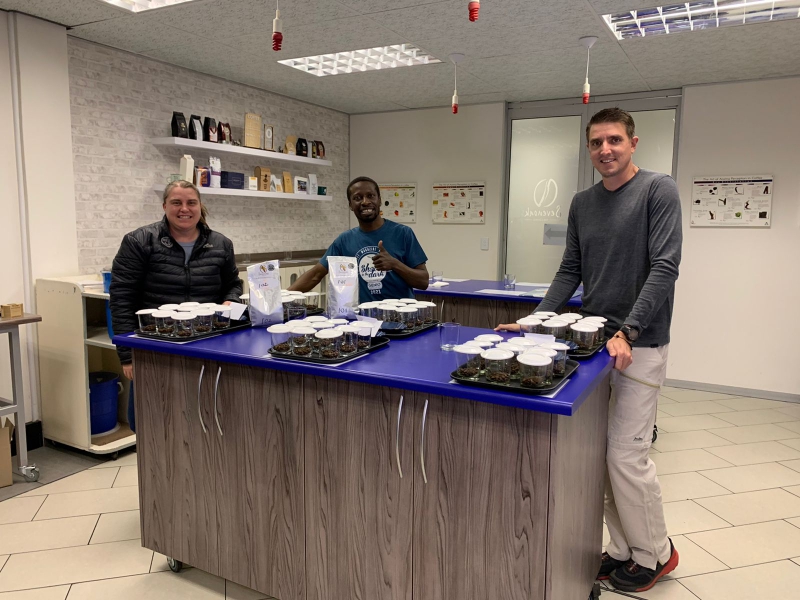 The coffees have arrived in JHB and we couldn't be more excited !!!
Huge thanks to the positivity of the team that makes A Shot in the Dark possible! Genio Roasters, whose unfailing belief in the SA coffee community is truly inspiring! Sevenoaks Trading who are hosting the judging and are responsible for the delicious coffee in the preliminary round. BWT and Equipment Cafe who undertook to send perfect and standardised water across the country for all competitors. And Lizzard for the epic tees that make all our competitors fell like part of the Team!!!