We met Letsi Mailula a few years ago at an industry event and were so thrilled to see street pole ads pop up all over the country with his and business partner, Pride Radebe's faces on them! Onwards and upwards.
---
Determination and perseverance make for a strong local blend
By Libby Peacock
What's the secret to great coffee?
Moeletsi Mailula and Pride Radebe believe the origin of the beans, the altitude at which they are grown and the soil that nurtures them – combined with expert roasting and blending – are key to making the most flavoursome brew.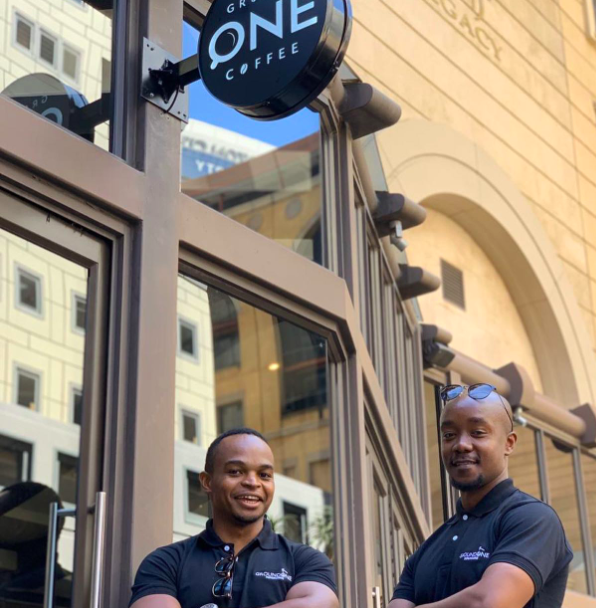 And the pair should know. As the enterprising co-founders of Joburg-based Ground One Coffee, they literally wake up to smell the coffee – every day.
The idea for their one-stop "coffee emporium" was sparked when Mailula – an IT specialist – and Radebe – who was "in the coffee game" as a salesman and trainer – started talking after meeting at the gym.
Mailula says, "We met at a critical time in both our lives – we were ready. I was interested in opening a company; Pride had been in the hospitality beverage industry and grew within the ranks … [We knew] our combination would be perfect."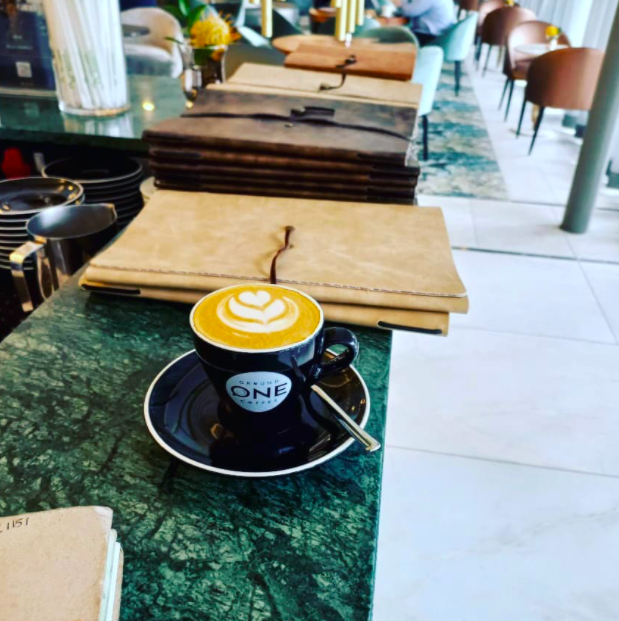 Soon, they were business partners and launched their fledgling coffee company in 2017.
It was no easy road. Applications for funding to various development finance institutions were unsuccessful and, in the end, it was family members who put their faith in the start-up and lent them the capital allowing them to source equipment so they could start selling locally roasted wholesale coffee.
"We registered our company and immediately started building our brand … We had to learn everything from scratch," says Mailula.
The venture took off, but then the pandemic hit. "Covid really crippled our momentum – it's a business killer. We're still in its aftermath … recovery is a mountain we're still climbing."
Being chosen as one of the small businesses supported by Hollard's Big Ads for Small Business campaign – an initiative in which the insurer shared its own advertising spaces with selected SMMEs to help them grow, overcome the effects of the pandemic, and enable better futures for them and their communities – was a big boost to the company, says Radebe.
"It meant a lot to us. Our brand has had exposure we couldn't imagine – people have seen us [on billboards and other advertising spaces] and trust our brand. We're fortunate and still expecting so much more [in terms of results] ..."
The visibility provided by the campaign helped Ground One Coffee secure a number of new clients. The Leonardo hotel in Sandton, for example, has a number of the company's coffee machines in use; and the business is working on plans to build capital to move into the new segment of "coffee boutique stores".
Growing and giving back
With offices (which formed a big part of their client base) shut during the lockdown, online sales became key. But, says Radebe, "we're now expanding into retail coffee stores – we have a concept store in Prison Break Market [in Midrand] where we sell our coffee and related products. It's doing well, so many should follow … We know exactly what the market wants."
From a two-person start-up with no premises, Ground One Coffee has grown to employ 10 staff members – "a small team, with everyone wearing multiple hats".
The company's safe, spacious 700m2 Roodepoort site is the perfect base for their operations, which span "anything and everything coffee": from sourcing the beans, roasting, blending, packaging and supplying, to training and providing clients with equipment and technical support.
What differentiates Ground One Coffee is its focus on sourcing beans from coffee-producing countries worldwide to create perfectly balanced blends (in March this year, for example, it focused on Brazil, Ethiopia and Colombia) – and that it tailor-makes solutions for different establishments, he adds.
Already, the enterprise delivers across the country and to several neighbouring countries – and the ambitious aim is for global reach in 2023.
Developing more products, opening more retail outlets and being present at more coffee events are all on the cards, but giving back to the community is "at the heart" of the business, says Mailula. Ground One Coffee is, for example, currently working on an upliftment programme to provide township entrepreneurs with training and products to set up mobile coffee stands.
"We're here to grow and build … We want to have an enormous impact on the coffee market and the lives of our team."
Their message to other young people who want to start a business is to believe in yourself, says Radebe. "Nothing can prepare you for the entrepreneurship journey. Your why has to be strong to keep up with your commitment. You have to strive, seek, build and never yield."
The secret to their own success? "God, discipline, hard work, commitment, unimaginable work ethic, a great team and family support."