Words by Melanie Winter
---
"Go now! Go now!"
It's panic stations and a fear of missing out as I pull my flippers on to wet feet and struggle with my pony tail to get my mask and snorkel in position. The others are already off the side of the boat, bailing backwards into the blue. Eventually I find myself submerged and within seconds a dolphin swims underneath me. Close enough to see the flecks of a life well lived on his skin. Of fights won and lost. Of nets escaped. Of playtime with the pack.
I giggle through my snorkel as a few more join him. Digger, our salty sea dog of a skipper, calls out, "You can see they're in a good mood, they want to stick around, watch the front of the boat." He makes circles around us and the dolphins are ready to play, breaching the surface and then diving down. "Dive down with them!" So I take as big a breath as my out-of-shape lungs can muster and I dive. Under the water the dolphins are talking, probably laughing at these weird floating creatures, and they twirl and show their white bellies, which is apparently a good sign! After ten minutes which feel like hours, it's us that have to call an end to the encounter, bodies exhausted, shimmying awkwardly back on to the boat. Ecstatic doesn't even begin to describe it.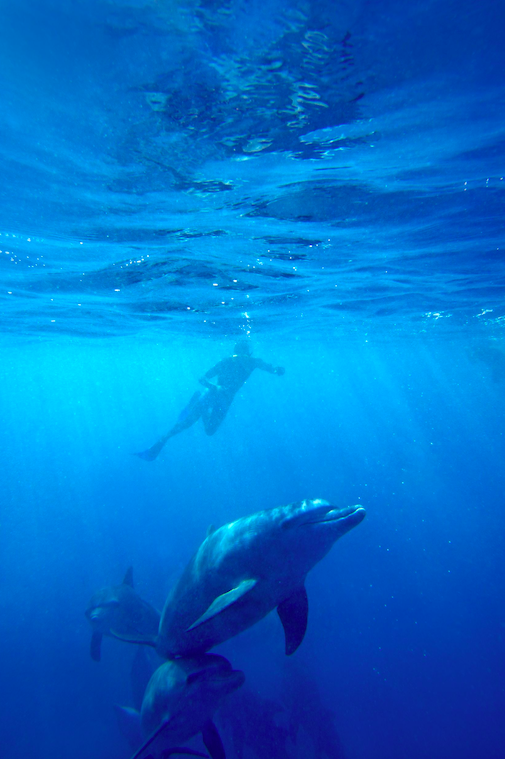 As Digger set the course to a new destination, the crystal clear water splattered up against my cheeks, now sore from smiling. At that point I would've been happy to turn around and go back to shore, dolphins would be swimming around my brain for weeks to come. But the ocean had more, much more. After travelling alongside kilometres of pristine coastline and tall forested sand dunes, we came to a stop over a section of reef called Breaking Waters. How Digger knew we were in the right place, I'll never know. I'm sure he has a system and was keeping track of how far we had travelled, but he makes it look so easy it just seems as though the ocean is speaking to him. Stop here, there's glorious wildlife below, adventurers, come join us!
From the boat you can see that it is clear and visibility is good and that there is a shelf which is what the waves are breaking over, but it's all shades of blue. Then you dive in and the world just explodes into colour. I still cannot believe the colours of those fish and coral reef. Just, insane. Little orange sea goldies with electric purple patches over their eyes. Moorish idols in comic pairs. Enormous neon wrasses cruising through. Fish everywhere, as far as one can see.
On the way back we happened upon a pair of mating loggerhead turtles and casually swam with thousands of snapper, a shoal of glittering fins.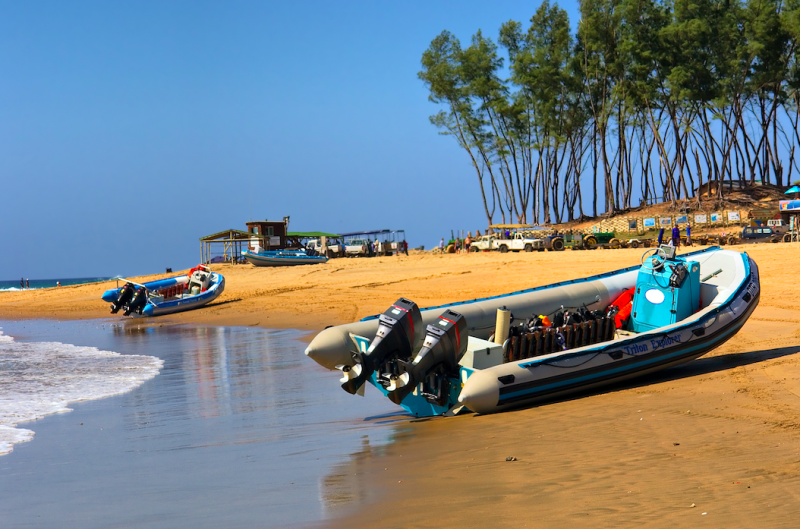 Ironically in-between what must've been the 10 000th time he had explained the secrets of this patch of sea to newbies like me, he was super interested to know everything we could tell him about coffee culture and how to make great coffee. For you see, Digger has a plan.
Sodwana Bay is, for the uninitiated like myself, a pretty strange place. It doesn't seem like much when you arrive. You can't see the ocean from any part of the 'town', due to the aforementioned dunes. You have to enter the Isimangaliso Park to even access the beach. But make no mistake, people travel to this spot from all the over the world for what this stretch of reef has to offer. Pretty much all year round you can find some part of this ocean at the edge of the KwaZulu Natal border and into Mozambique that will provide a worthwhile adventure. The town comprises solely of places that cater for scuba divers and fisherman and accommodation to house them. But you can't get a good cup of coffee from any of these outlets. A cold beer? For sure. Maybe even something stronger. Especially if there's a fishing competition in town! But I was grateful for our travelling coffee kit of handgrinder and Wacaco Nanopresso.
Seeing a pro in action in his element made me appreciate again how important expertise are and how lucky we are to have a growing number of experts in the coffee community. Also that making coffee really is a skill that is hard to do well, especially under pressure. You're only as good as your last cup! And if you don't know what you're doing, you can make really bad coffee.
That evening, back at Digger's forest abode, there sat a second hand two group espresso machine and a grinder. Both a little worse for wear, but fully operational none the less. The diving crew, masters of their art at sea, were entering the swirling waters of coffee - based purely on one of the key tenants of any successful cafe; location, location, location! They've built a kiosk situated on the main road to the beach, one of the last points before you hit the boom to the Park. "We're gonna open at 4am, and sell a coffee to every single fishing crew that drives past," Digger grins as he unveils the plan. It's a good plan. Especially if you add a few drops of whiskey or Amarula! Nudge, nudge, wink, wink. But just as we were wide eyed and trusting of Diggers ocean knowledge, so he looked to us to guide him, and his partner Michelle, through the challenges that block the way to running a successful coffee business.
After a few hours of dialling in the grinder, teaching the basics of dosing, grinding and tamping, the espressos ran thick and beautiful. "How can you tell from just looking at it, that it's a good shot?" Digger asks. "The same way you know exactly where to put the boat on Breaking Waters," I quip back. It's experience and a soft touch that comes with years of practise.
Opening a coffee business often seems romantic, and many people don't see the hard lessons, the blood, sweat and tears shed along the way. I'm sure there's many people who visit Sodwana and think "wow, I'd love to stay here forever!" and don't realise how hard the locals work just to survive in paradise. With passion and energy, Digger and Michelle are set on opening Sodwana's best coffee offering - and probably the earliest opening coffee shop in the land.
Tight lines and straight tamping!
Ed's Note: If you'd like to plan your own ocean adventure visit Amoray Diving (www.amoraydiving.com) or plan a free diving adventure with Ocean Child (www.oceanchild.co.za). We guarantee there will be good coffee when you get there!