Get to know the man behind a lot of the funny advertising content you've seen recently (Think Checkers, Kreepy Krauly), his Instagram alter-ego Xander, and Rael on Tali's Diaries Glen Biderman-Pam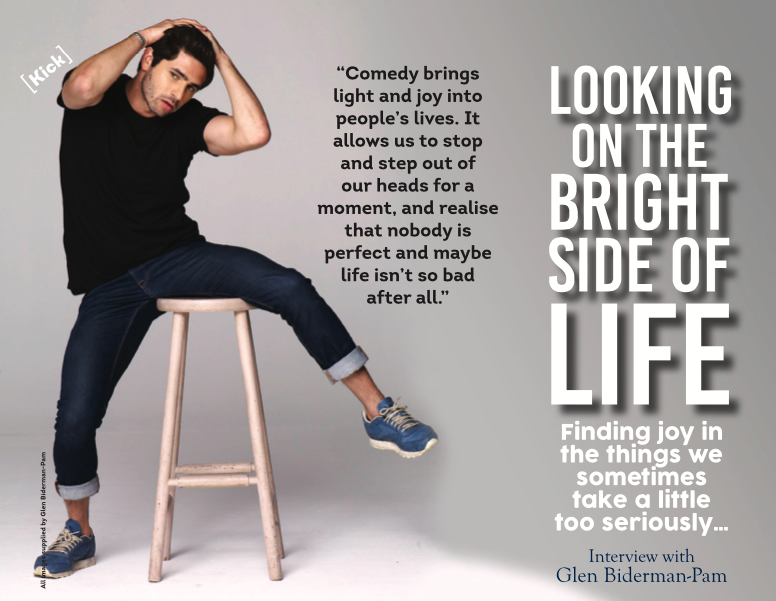 We're big fans of your work! First off, please tell us a bit about yourself and what it is you do.
I'm a director, actor, comedian and content creator, but most importantly, I'm a dog dad.
Most folks would have seen your parody with Kreepy Krauly (for which Panther Punch recently won a couple Loeries!). You encapsulated exactly what we were thinking after watching the original. We thank you. So our question is, what came first: the idea or the advertising partnership?
Firstly thank you for your wonderful compliment. As an entertainer, we are in constant need of affirmation. If I don't get some form of affirmation in 24 hours I start to malfunction. To answer your question, the spoof came first and then I had a bit of a Eureka moment in the shower (not the bath) when I realised there is an obvious paid partnership here. The rest is history.
You have created Xander and he drinks/skates with coffee. Be real with us, we're a magazine for coffee lovers, is that the way you view most coffee enthusiasts? We can take it, promise!
I think if you take anything too seriously- including yourself- you are in the market to be ripped off a little. That's our job as comedians- to observe the world with a comedic kaleidoscope, so to speak. Hopefully when we put our art out there, people will be able to get a glimpse of what we see and laugh at themselves a little.
If Xander worked as a barista, which Cafe would he work in and what would his favourite beverage be to make?
Probably Deluxe. Those guys take their coffee way too seriously.
Do you, like most Capetonians, think Cape Town has better coffee than the rest of South Africa?
I think Capetonians think Cape Town has better coffee than the rest of SA, but let me tell you something- Father Coffee in Rosebank, Johannesburg is where it's at.
What has the reaction been like to your Bootleggers sketch… mostly love or mostly decaf? (We love it!) And were they (Bootlegger) in on it?!
It's been all love, including from the Bootleggers themselves. Much like the Octopus Teacher video, the Bootlegger spoof wasn't intended to be mean to anybody. It is merely poking fun at their success. They weren't in on it, but we knew they wouldn't be offended because there really wasn't any spite or malice in the writing. I think they even retweeted it!
Serious question, do you have a Bootleggers in your bedroom or only in your kitchen, garage and in your garden?
Ha! I would not be surprised if I arrived home from work and found one there.
Why do you think that comedy is such a powerful medium? And do you think, specifically as South Africans, we have a generally good sense of humour about ourselves?
South Africans have a fantastic sense of humour. Between the load shedding, the recent water crisis and the current pandemic, I think we don't have a choice! Comedy brings light and joy into people's lives. It allows us to stop and step out of our heads for a moment, and realise that nobody is perfect and maybe life isn't so bad after all.
Where do you see your business, Panther Punch evolving to in the next 5 years?
We would love to write and produce a sketch comedy show for one of the big networks. We want to continue to make sketches, digital content and TVC's so that we can keep on developing our skills so our end goal becomes easier to achieve.
But really seriously, we sell advertising on our platforms to make ends meet, so here's a shop question: As a director, Is product placement and sponsored content the only funder of original creative productions? I mean unless you get a network deal, is that how the world of video production works now?
NO! We all have phones. We all have basic editing apps, and we all have social platforms. Don't wait around for a brand to come and offer you money so you can make your cinematic masterpiece. Go and make stuff. There are no excuses.