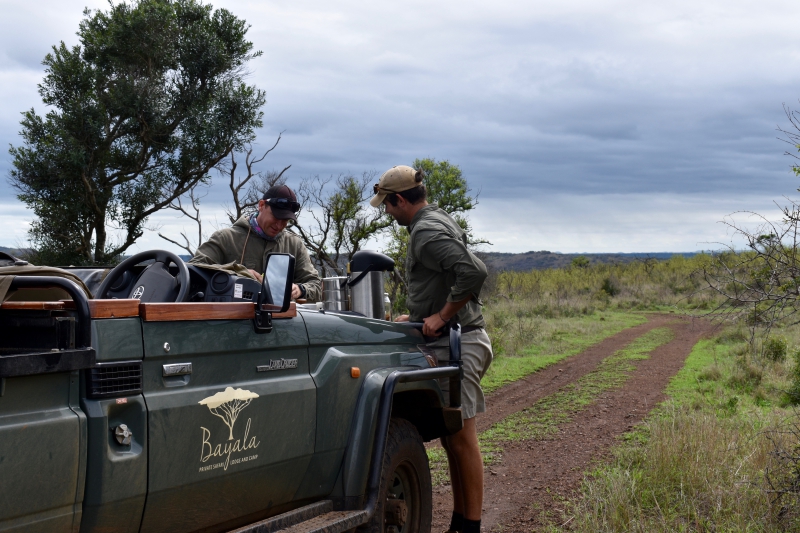 Words by Iain Evans
Golden Pipit (Tmetothylacus tenellus) : A distinctive pipit of dry country grassland, savanna and shrubland in eastern Africa. It is native to Ethiopia, Kenya, Somalia, South Sudan, Tanzania and Uganda, and has occurred as a vagrant to Oman, South Africa and Zimbabwe.[1]
God shot: noun / The perfect espresso shot. According to some it is the unreachable utopia, while others claim to be able to pull one or two for every hundred espressos they make.
---
It wasn't your typical game drive in that we only had two other passengers in the open-top game vehicle. The very polite German ladies in the back, Rafaela and Janine, didn't seem to mind that we continuously yelled to Trent, the Game Ranger, to stop the vehicle while we pointed out yet another tiny little bird flitting from bush to bush. And it was starting to rain. Which is uncommon, but welcome in Zululand at this time of year. It is safe to say, that over the years my interest in birding has grown and I am fully aware that it falls in the obscure in terms of hobbies, very much like an obsession with coffee. This label has failed to deter me from how it has changed any trip into any sort of wilderness into an adventure and similarly any new coffee experience into an adventure. So we kept our eyes peeled as this particular wilderness offered forth so many beautiful birds. Then it happened.
"It's a Yellow throated Longclaw", Mel yelled pointing into the grassland. "No it isn't, that bird is in a bush, not on the ground" I growled back in the heat of the moment.
"There are two birds there!" Trent intervened gracefully. And so there were, one easily identifiable as a yellow throated Longclaw because of its longish legs, slender body and the clear black marking around its yellow throat. Next to it, on a branch in a low bush, another bright yellow bird with what looked like a black 'V' on its chest. And so the debate about the Golden Pipit sighting ignited. And it didn't stop, slowly engulfing everyone back at the lodge and even across the neighbouring game farms.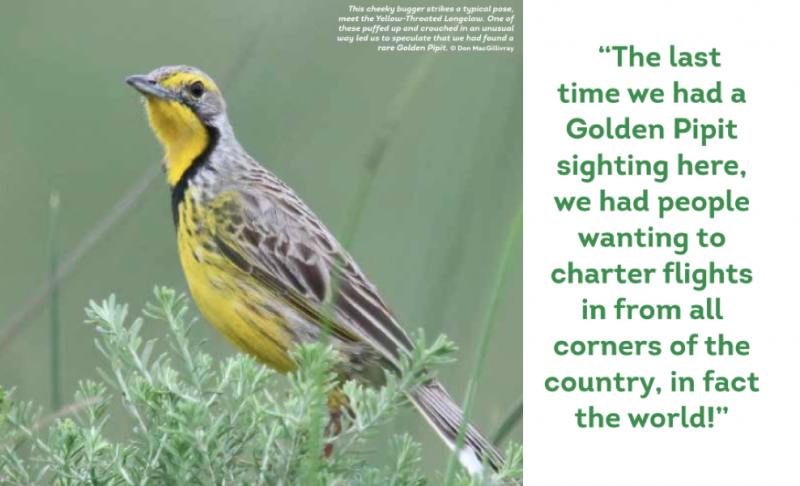 "The last time we had a Golden Pipit sighting here, we had people wanting to charter flights in from all corners of the country, in fact around the world" says Judy Veldman, our host at Bayala Lodge in Northern Zululand.
We had gone there to train the staff in basic coffee discourse, and now here we were - caught in the mother of all seasonal storms and an even larger deluge on tiny birds with yellow and black markings. Like coffee people, birding people (or "Twitchers" as they are known) are very particular, bordering on obsessive. The bush is a deeply sacred and precious resource that pretty much every South African intuitively understands and respects, yet everybody is on their own journey when it comes to what they enjoy about the bush, and similarly about the coffee they enjoy while in the bush.
"Ten years ago this place was hunting lodge." Says Bayala Head Ranger, Dave Fisher, "The brandy and coke brigade were a rough bunch but thankfully things are changing and we're evolving along with the shift to eco-tourism" he says.
Bayala was rated the highest 3-star accommodation in South Africa last year, and while the torrential rains bucket down across the thirsty Zululand veld, a fresh busload of Dutch tourists pile into the lodge, chattering away and snapping photos of the authentic African features while sipping on their welcome drinks.
"If you want to be the best accommodation in your category, you have to serve the best food and the best coffee" says Dave. At this moment, Phume, one of the service staff gets an order for a cappuccino. She's punching buttons on the Jura machine and a few seconds later she serves he guest a typical layered cappuccino and chalks it up to the guests room number. "We're not there yet, but we want to be. We know how important it is to people and we try to give them the best experience we can"
And sometimes the best experiences do come from people who are slightly obsessive. To be fair, we didn't totally hijack the game drive either. We saw lovely rhinos, giraffes, antelope, elephant and even hippo in the dams, which were initially more significant to our German friends in the back, who hadn't seen rhino before and were understandably freaking out with delight. But after several hours, and several hundred stops to look at birds, along with the replaying of the call, showing the German's the bird in the Field Guide and chatting a bit about the birds we'd seen with them, they were really grateful for something different and some insights garnered from years of guiding and looking at birds.
In many ways, our love of coffee and birding mirror each other. There are so many different, amazing coffees out there and so many ways to brew them! There are approximately 850 recorded species of birds in Southern Africa, and around 700 resident species. Each coffee brewing adventure is unique, as is every sojourn outside to look for birds. The fact that they go together so well is wonderful!
I've been talked down about the Golden Pipit sighting. I concede that it probably was just another yellow-throated longclaw sitting alongside his mate, feathers puffed out from the rains that caused all the excitement.
I'm a long, long way from both seemingly unreachable utopias of the Golden Pipit sighting and the God Shot, but, in a way I'm kind of glad about that.