We've known Mpumelelo Zulu for a few years now, he's a passionate, coffee entrepreneur and we love catching up with him. As everyone is feeling the pinch, in the heart of Joburg where the usual foot traffic from businesses in the area has severely decreased, Cafe'Naited is looking for some support from their community. get to know this black-owned coffee business a little better and show them some love!
What was it like putting together your beautiful cafe/mobile units?
Thank you Mel, creating Cafe'Naited was an awesome experience, mobile kiosks and units were great for mobility and meeting new people increasing the brand presence. The design process was also important in creating the aesthetics and look we were going for. We loved the simplicity and rustic look we ended up with.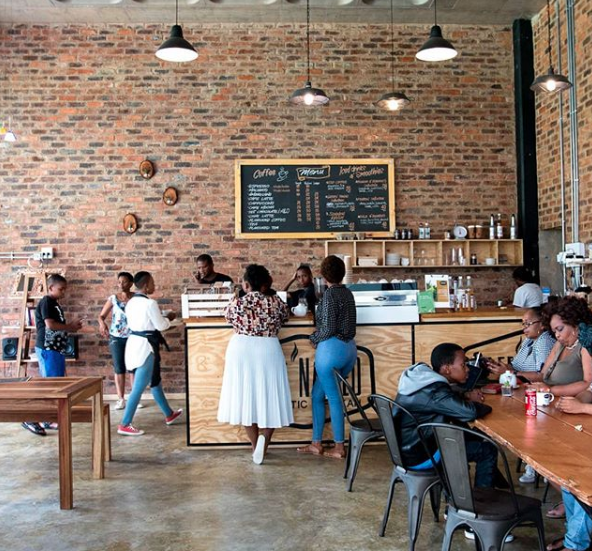 Who are the key players in your team? And can you tell us a little about each of them
The team is very tight and small, we have Sandy Maphaka and our Chef Peldrinne who are at the main store in Sandton. I cover any key areas that need attention, like mobile duties, events and all required roles.
Sandy Maphaka is the Store Manager - His roles are managing day to day operations, store requirements and being the friendly face customers get to see first when arriving at the shop. He has been in the coffee industry for nearly 9 years. Started at DoubleShot, went to Starbucks and finally joined us in 2019 to help us grow the business at our Sandton Store.
Chef Peldrinne Tshingej - Our Kitchen hero. The best meals are prepared freshly on order, delivered and served with a friendly smile. She also joined the team in 2019 when we needed to up the game on our offerings from the kitchen. We developed the menu to compliment our amazing coffee, she is responsible for all new menu items.
Mpumelelo Zulu - The Barista - I am also part of the day to day team in store, serving coffee is my highlight daily. Then my day gets hectic on caffeine, strategic direction, sourcing suppliers, Social Media Manager, Graphic Designer and cleaner if needed.
Past few months we all undertook multiple roles to ease the need for more members at the moment to assist the business to navigate these murky waters
What is the ethos of your business?
We strive for excellence. Its the driver of our business, even when chips are down, we do our best to make it a point to provide excellent service with a smile. We looking for opportunities daily on how to educate more people of coffee, so being an excellent business helps us in spreading the word.
Tell us what makes your Cafe'naited spaces special to you?
We created a space to allow for maximum relaxation, great views of the garden and a place with a chilled ambiance. The space provides an office to creatives or freelancers, provides a young family a place for the kids to enjoy the huge garden outside our door, the quick meeting space for corporates who need a space outside the office. We have tried to create a place for everyone to enjoy equally.
What do you love most about being in the coffee industry?
Since the 1st time I entered the industry as a Partner/Barista with Starbucks UK while I was there, my favorite feeling is seeing happy customers get their favorite beverages. The joy and happiness has been priceless and has remained my biggest love in the industry. That made it easy to progress within the industry to the level of a Coffee Master and wanting to remain a big part of the industry for all these years. I discovered more reasons to love my world of coffee, when realising the impact our efforts in serving coffee on the supply chain, the farmers, opportunities and educational components of the industry.
My journey has been full of lessons about coffee as a product of choice for our business, running a global brand, running Johannesburg favorite coffee company, Motherland, setting our first cafe in the township of Soweto and ultimately starting Cafe'Naited in Sandton. All these have been the most amazing experiences with every cup served or shared.
I am learning everyday, new methods to enjoy the coffee I serve daily, discovering new blends or single origins to enjoy at home daily. I have also started working on plans to ensure every person I know at least gets to enjoy a cup of great coffee in their lifetime.
How important are regulars to the fabric of day cafe life?
Our business would suffer huge losses if we lost touch with our regulars. We have embarked on learning every regular's name and their drink while also getting to know them beyond the coffee. This has helped us to keep the doors open and allowed us to grow organically, we haven't done any huge marketing, we have leveraged on the relationships with our regulars to keep us growing.
Name one menu item that we would never expect or have heard of before - a uniquely Cafe'naited creation! (food or beverage)
Our unique offering is in our Wraps, our customers love our Cafe'Naited Breakfast Wraps. It is all you get on your traditional breakfast, wrapped up for a quick filling meal.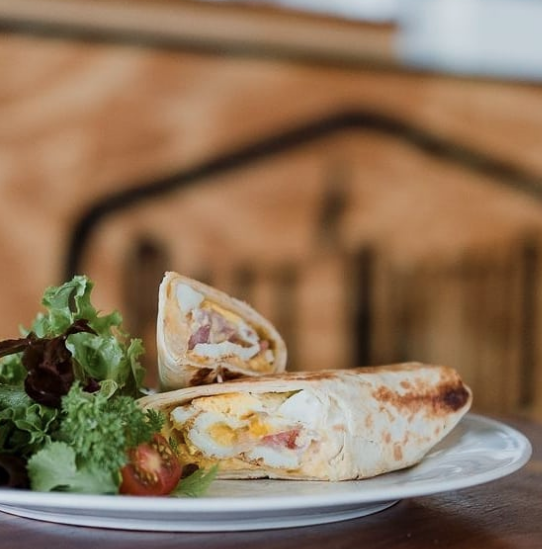 How can people get coffee from you during this time?
We are serving coffee at the shop, we are also selling via our facebook page and launching our online store soon.
What have you learned about yourselves and others that you didn't know before this?
The ability to stay the course, keeping calm in a storm and how resourceful one gets when all seems lost. The pandemic has put to test a lot of businesses and we have tried our best to stay up even when it was easier to fold.
What would you like to tell everyone in your community at this moment.
We would love to share the message of support to all the industry players, lets do our best to find ways to stay the course and help each other with information and resources where we can to help us stay sane through these tough times. Share the message, scream and shout, ask for help you never know, your customers could help more than you can imagine.