The Winter 2020 issue of Coffee Magazine is out!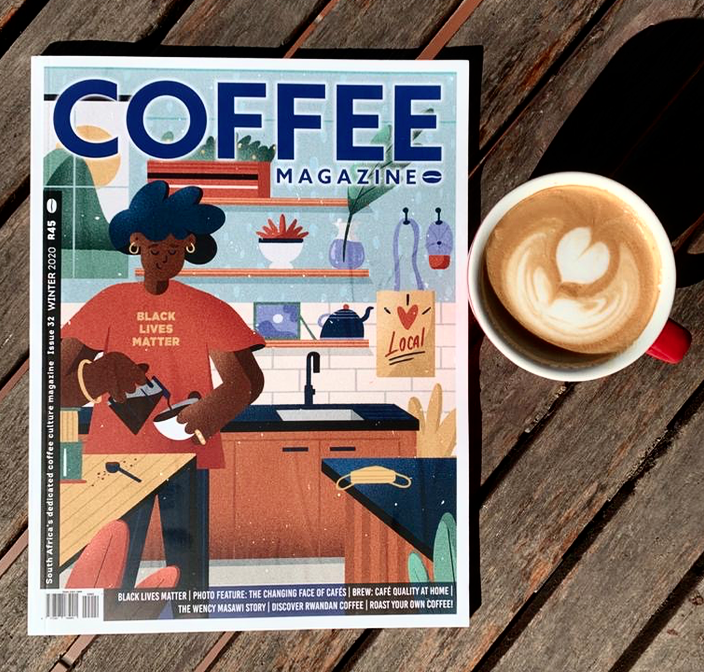 It is a bold issue, it is beautifully illustrated and it tackles some big topics in the coffee world. You can get it from any of our amazing *Distributing Partners which are usually the best Independent coffee shops, cafe and coffee roasteries in your town!
In the Magazine game there is a saying : "The cover is a promise of things to come". This issues cover illustration is by Cape Town studio Yay Abe and it says a lot about how many of us are feeling right now. Confined to our homes, making the best of a difficult time, affected more than ever by global events, connected through crisis, both ideologically and physically. We can find comfort in routine, in the small things that we can control - like a simple cup of coffee or supporting a local roaster and contributing to supporting others at this difficult time.
Following on from this, Sibongile Rakgatjane tackles the BLM movement from a local coffee owners perspective. If you haven't heard of Mo's in Mamelodi or met Sibongile yet, you are in for a treat!
We then have a photo essay from talented photographer Pang Isaac, showing how C-19 has changed the way Cafe Culture operates during the pandemic.
We share tips on how to brew perfect coffee at home.
Wency Masawi, is one of the Coffee Industry's most prolific characters! We dive deep into the current SA Cup Taster Champion's back story and find out why he is the Champ today!
The Coffee Magazine's A Shot in the Dark presented by Genio Roasters competition has gripped the industry for the last few weeks, and in this article we discover the incredible story behind the competition coffee from Baho Coffee in Rwanda.
Ever wanted to roast your own coffee at home? Find out everything you need to know!
Find out who ALL the nominees are in this years Coffee Magazine Awards 2020.
Finally, read an adventure story about a surfer escaping lockdown police while searching for waves and coffee in the Tribal lands of deep rural KZN!
*COVID-19 has played havoc with our industry - not just the coffee shops and cafes, but the suppliers, the Owners, the staff and the community - so please support them! If you can't get your copy of Coffee Magazine from one of the stores listed above - drop us a line to let us know.
You can find it at most Exclusive Books, C N A and other grocery stores around SA.